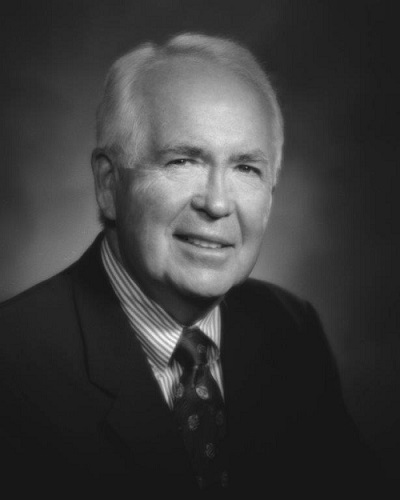 Throughout his career Herb Patriarche dedicated his time and talent to myriad organizations, helping them achieve their goals. That lifetime of philanthropy will be recognized as Patriarche receives the Ralph J. Comstock, Jr. Light of Philanthropy Award on Nov. 3 at the Stueckle Sky Center on the Boise State University campus.
In 1964, Patriarche joined the international public accounting firm Arthur Andersen & Co. in Chicago. For the next 35 years his career flourished, and he put a premium on philanthropy during every stage of that distinguished career. In 1979, Patriarche relocated to Boise, where he assumed responsibility for Arthur Andersen's major local client, Boise Cascade Corp. He also represented Trus Joist, Intermountain Gas and the Idaho State Board of Education.
In 2003, Patriarche joined the St. Luke's Health Foundation Board of Directors, focusing his efforts on making philanthropy more prominent and visible at the higher levels of management. He remained on the board for the next 12 years, and served as chairperson of the Foundation from 2009-12. During his three-year term as chairperson community support totaled $12.1 million, an increase of 37 percent over the previous three years.
"The importance that Herb places on supporting causes that matter to him comes naturally," said Pat McMurray, former chairperson of St. Luke's Medical Center Board. "Herb saw and recognized the needs at St. Luke's and chose to make a difference. … His influence has provided a foundation for a healthy health system."
The Light of Philanthropy Award is given annually to individuals who reflect the spirit and philanthropic leadership of the late Ralph J. Comstock, Jr., demonstrating remarkable qualities in leadership, philanthropy and humanitarianism benefiting St. Luke's and other worthy community charities.
Each year, the award recipients are honored at the St. Luke's Ball. This year's event will be conducted on Friday, Nov. 3 at the Stueckle Sky Center. A cocktail reception begins at 6 p.m. with dinner and award presentation at 7 p.m. Music and dancing will follow, and formal attire is suggested.
Tickets are available. They are $125 each and can be purchased by contacting the St. Luke's Health Foundation at 208-381-2123 or by email at [email protected].