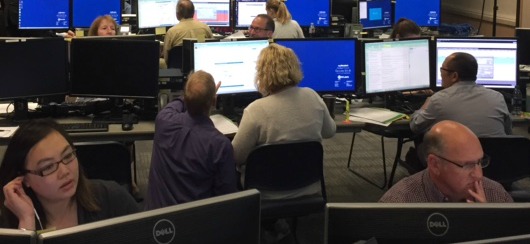 In October 2016, St. Luke's transitioned to electronic medical health records, providing thousands of health care providers the ability to access the same patient medical records.
Idaho's largest health system is among the top when it comes to using technology to improve and advance patient care. St. Luke's Health System is included on the 2017 HealthCare's Most Wired® list put together by the American Hospital Association and released this month.
The annual survey examines close to 700 health care systems representing almost 2,200 hospitals across the country. Hospitals deemed "most wired" rely on smart phones, telehealth and remote monitoring to provide patients with more ways to access health care services, interact with providers and keep track of their vital health care information. Those new tools allow patients to be more actively involved in their care, while improving safety.
In October 2016, St. Luke's became one of the largest health care organizations in the country to make the simultaneous switch to electronic medical health records, providing thousands of health care providers the ability to access the same patient medical records in an instant.
"St. Luke's is honored to be acknowledged as a Most Wired health system," says Dr. Marc Chasin, St. Luke's chief information officer and vice president. "We are committed to continuously investing in and implementing technologies for the advancement of safe and quality care for our patients. This award serves as validation that we are doing the right things when it comes to transforming care in the communities in which we serve."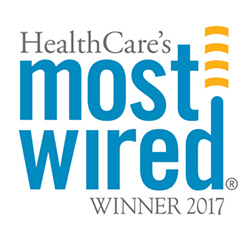 "The Most Wired hospitals are using every available technology option to create more ways to reach their patients in order to provide access to care," said AHA president and CEO Rick Pollack. "They are transforming care delivery, investing in new delivery models in order to improve quality, provide access and control costs."
This year's Most Wired hospitals survey results show:
76 percent offer secure messaging with clinicians on mobile devices.
When patients need ongoing monitoring at home, 74 percent use secure e-mails for patients and families to keep in touch with the care team.
68 percent simplify prescription renewals by letting patients make requests on mobile devices.
62 percent add data reported by patients to the electronic health record to get a better picture of what is going on with the patient.
Nearly half of the hospitals are using telehealth to provide behavioral health services to more patients.
40 percent offer virtual physician visits.
More than 40 percent provide real-time care management services to patients at home for diabetes and congestive heart failure.
While emerging technologies and innovation in patient care are a major step forward, there is an increased need for secure patient information exchange. Hospitals increased their use of sophisticated IT monitoring systems to detect patient privacy breaches, monitor for malicious activities or policy violations, and produce real-time analysis of security alerts.
97 percent use intrusion detection systems.
96 percent perform data access audits.
Nearly 90 percent run targeted phishing exercises to teach employees to question suspicious emails.
Most Wired hospitals are transforming care delivery with knowledge gained from data and analytics. They are investing in analytics to support new delivery models and effective decision-making, and training clinicians on how to use analytics to improve quality, provide access and control costs.
82 percent analyze retrospective clinical and administrative data to identify areas for improving quality and reducing the cost of care.
Three-quarters use sophisticated analytics such as predictive modeling and data to improve decision-making.
Nearly 70 percent interface electronic health record data with population health tools for care management.
More than 70 percent are providing data analytic tools training to physicians and nurses.
45 percent initiate a patient pathway using health IT to follow a care plan.
Nearly 40 percent deliver quality metrics to physicians at the point-of-care.
32 percent have tools for real-time patient identification and tracking for value-based care conditions, such as chronic obstructive pulmonary disease.
HealthCare's Most Wired® survey was conducted between Jan. 15 and March 15, 2017, and is published annually by Hospitals & Health Networks (H&HN). It's considered to be the leading industry barometer for measuring information technology (IT) use and adoption.