Given the progressive development of antibiotic resistant organisms over many years, it is no surprise that health care is now being confronted with the very real threat of antibiotic resistant "superbugs" that may soon have no effective treatment options.
This threat makes the very important work of antimicrobial stewardship being performed by dedicated teams of staff and physicians across St. Luke's even more critical to the safety and well-being of our patients, staff and community. These efforts are well-established at St. Luke's and continue to grow and enhance their ability to improve the quality and safety of care while being effective stewards of healthcare resources. Please take a moment to read more about the St. Luke's Antimicrobial Stewardship Program and the important work that they do.
- Dr. Bart Hill, St. Luke's Health System vice president and chief quality officer
Antimicrobial Resistance is a topic gaining international attention as an issue of increasing importance. Reports of "superbugs" and infections that don't respond to any currently available antibiotics can sound like science fiction, but now comprise a very real and tangible threat to patient health.
Last year, President Obama issued an executive order "Combating Antibiotic-Resistant Bacteria," referring to antimicrobial resistance as "a national security priority":
Detecting, preventing, and controlling antibiotic resistance requires a strategic, coordinated, and sustained effort… Success in this effort will require significant efforts to: minimize the emergence of antibiotic-resistant bacteria; preserve the efficacy of new and existing antibacterial drugs.1 (To read the entire executive order, click here.)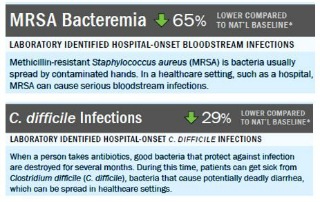 The executive order is a first-of-its-kind effort to address antibiotic resistance, and highlights growing awareness of the issue. In Idaho, we are fortunate to experience relatively low rates of antibiotic-resistant bacteria. Shown here are two notable examples identified by the Centers for Disease Control.
To maintain these positive trends and to protect our patients from the significant consequences of these bacteria, we must diligently follow the recommendations found in the executive order. At St. Luke's, judicious use of antibiotics is a priority. We realize that antibiotics are a resource that must be preserved to assure they remain effective for years to come. We are fortunate to have a robust, multi-disciplinary antimicrobial stewardship team leading our efforts to assure our patients receive the right antibiotics for the right duration of time. Our knowledgeable teams consist of:
Infectious diseases physicians
Hospital physicians (hospitalists)
Clinical pharmacists
Infection preventionists
Microbiologists
Quality and patient safety specialists
Our stewardship team members follow best practice guidelines published by the Infectious Diseases Society of America2, Society for Healthcare Epidemiology of America2, and The Centers for Disease Control3. The tremendous work of our team members dovetails perfectly into St. Luke's Triple Aim of improving the patient experience, improved patient outcomes, while at the same time reducing cost.
Reaching these goals requires an "all-hands-on-deck" collaborative effort across our diverse health system. Here are several key strategies to improve our antibiotic use:
Prospective audit and feedback: Pharmacists in collaboration with our antimicrobial stewardship coordinators review patient profiles for opportunities to optimize antibiotic therapy then contact prescribers to develop antibiotic plans.
Prior authorization: To prescribe certain antibiotics, prescribers need approval from an infectious diseases physician or another member of our antimicrobial stewardship team
Automatic IV to PO changes: Pharmacists l review patients who meet criteria for an automatic change from intravenous to oral antibiotic therapy.
Antibiotic timeouts: Providers and pharmacists should perform a review of all antibiotics 48 hours after initiation of therapy to determine appropriateness.
Order Sets: Providers are encouraged to use order sets to order antibiotics.
Thus far we have seen good results come from these efforts. Due to our focus on antimicrobial use, patients have experienced fewer days on antibiotics commonly linked to adverse outcomes such as C. difficile-associated disease (CDAD). Patients are transitioned earlier from expensive IV medications to oral medications, which can mean they leave the hospital earlier. Utilization of antibiotics has improved by adjusting infusion times to better optimize the effects of the medication while reducing the total number of doses administered. In addition to providing improved drug therapy for patients and reducing the development of super-bugs in Idaho, antimicrobial stewardship saves money. In two years, cost-adjusted antibiotic spend has decreased by $600,000 at St. Luke's.
Goals for the upcoming year include implementation of a new antimicrobial stewardship surveillance program at all St. Luke's sites as a part of myStLuke's implementation. St. Luke's is also partnering with statewide and regional stewardship programs to help work together to keep these superbugs out of our communities and to continue to help improve the health of the people in our region.
We encourage everyone at St. Luke's to join us as we strive for excellence in our antibiotic use. For questions or more information on how to become involved with antimicrobial stewardship please contact one of our antimicrobial stewardship coordinators:
East Region: Kenny Alexander, BS, PharmD
As a founding member of St. Luke's Magic Valley's "Bug Squad" over a decade ago, Kenny was an early adopter and proponent of antimicrobial stewardship. He has a background as a microbiologist and medical technologist and currently works with St. Luke's Hospitalists in Magic Valley. Phone: (208) 814-4100, email: [email protected].
West Region: Charles Jensen, BS, PharmD, BCPS
Charles joined St. Luke's in 2015. A former microbiologist, he has completed the MAD-ID Advanced Training Program in Antimicrobial Stewardship, is board-certified in pharmacotherapy, and completed a Pharmacy Practice Residency at St. Joseph's/Candler Health System in Savannah, Georgia. Phone: (208) 381-2472; email: [email protected].
References:
Executive Order -- Combating Antibiotic-Resistant Bacteria. (n.d.). Retrieved May 3, 2016, from http://www.whitehouse.gov/the-press-office/2014/09/18/executive-order-combating-antibiotic-resistant-bacteria
Dellitt TH, Owens RC, McGowan JE, et al. Infectious Diseases Society of America and the Society for Healthcare Epidemiology of America Guidelines for Developing an Institutional Program to Enhance Antimicrobial Stewardship. Clinical Infectious Diseases ; 2007 ; 44 : 159 -77
CDC. Core Elements of Hospital Antibiotic Stewardship Programs. Atlanta, GA: US Department of Health and Human Services, CDC; 2014. Available at https://www.cdc.gov/antibiotic-use/healthcare/implementation/core-elements.html