On Aug. 1, St. Luke's will begin accepting applications for its annual Community Health Improvement Fund (CHIF) grants. Non-profit, government, and public education institutions working in concert with St. Luke's mission, "to improve the health of people in our region," are eligible to apply.
This year, priority consideration will be given to grant proposals that support the top ranking community health needs as identified by St. Luke's 2016 Community Health Needs Assessment:
Improve the prevention, detection, and treatment of obesity and diabetes
Improve the prevention, detection, and management of mental illness and reduce suicide
Improve access to affordable health care and affordable health insurance
The grant application deadline is 5 p.m. Friday, Sept. 30.
In 2015, 74 recipients were selected to receive CHIF grants. These partners play a crucial role in solving our community's most significant health needs, from obesity to mental health services to access to health care.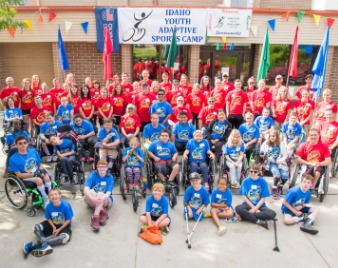 Boise Parks & Recreation partners with St. Luke's Rehabilitation (formerly the Idaho Elks Rehabilitation Hospital) to host the annual Idaho Youth Adaptive Sports Camp. For 29 years, the camp has been improving the lives of children with physical disabilities by instilling positive attitudes, increased independence, sportsmanship, and lifetime recreational skills. St. Luke's supported the 2016 camp through a CHIF grant as well as in-kind services that included planning, organizing, and nursing staff.


Being active comes naturally to kids, and grant monies from St. Luke's CHIF are supporting area nonprofits in their effort to positively impact our community's youth, especially those who are most in need.
CHIF funds are helping the Boise Public Schools Foundation's "Lifetime Movers" program in Title 1 schools (50 percent or more low-income families) to provide the resources necessary to promote healthy behaviors that combat obesity and promote lifelong physical activity.
At the Boys & Girls Clubs of Ada County, Nampa, and Western Treasure Valley, CHIF grants are supporting the Triple Play program, which inspires young people to practice healthy habits, eat well, and be active every day.
A CHIF grant is also making a difference for the Canyon County Community Clinic in Caldwell. The grant supports the clinic's "Where Health and Wellness Meet" program, whose ultimate goal is to more adequately equip economically disadvantaged and uninsured patients for management of diabetes.
According to Tom Bowman, executive director of the Canyon County Community Clinic, the CHIF grant from St. Luke's has helped the clinic to provide medication and procedures free of charge to patients, many of whom have chronic health issues such as diabetes. "We are grateful to any and all who help us as a nonprofit," said Bowman. "We take no government money and everything we do comes from the goodness of people and organizations who believe in what we're doing."
While monetary gifts are greatly appreciated, "Beyond the gift is the incredible collaboration in place for getting people in need appropriate and effective treatment," said Bowman. "Together, we're making a difference in the community and we're glad to partner with St. Luke's and others to improve people's health."
Learn More
The CHIF program extends beyond the Treasure Valley. St. Luke's Magic Valley will begin accepting CHIF applications on Aug. 12.
For information about St. Luke's CHIF program and how to apply for funds, visit www.stlukesonline.org/chif.