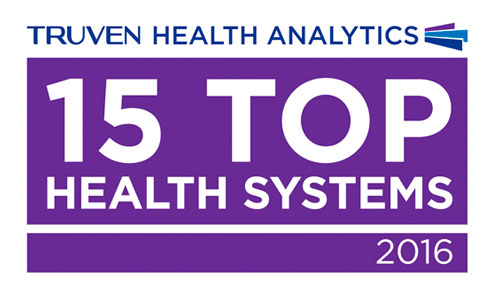 For the third consecutive year, St. Luke's Health System has been recognized as one of the Truven Health 15 Top Health Systems.
Truven Health Analytics™ released its eighth annual study today, April 25, 2016. The study identifies the top U.S. health systems based on balanced, system-wide clinical and administrative performance. Truven Health Analytics, based in Ann Arbor, Mich., is nationally recognized as a leading provider of healthcare data and analytics solutions and services.
The Truven Health 15 Top Health Systems study is the only study of its kind to aggregate rigorous analysis of individual hospital performance metrics into system-level data that identifies the 15 best health systems in the nation. This annual, quantitative study uses objective, independent research and public data sources. Health systems do not apply for consideration, and winners do not pay to market their award.
The 15 Top Health Systems study provides healthcare executives and boards of directors with crucial, evidence-based insights into the effectiveness of health system leadership, organizational performance, and management alignment.
Building on the Truven Health 100 Top Hospitals® balanced scorecard concept, this research allows health system leaders to understand how they compare to both peers and national benchmarks in terms of quality of care, operations, and patient satisfaction.
The top-performing health systems were recognized for the following:
Saving more lives and causing fewer patient complications
Following industry-recommended standards of care more closely
Releasing patients from the hospital a half-day sooner
Fewer patient readmissions and fewer patient deaths within 30 days of admission
Shorter emergency department wait times
Lower Medicare beneficiary cost per 30-day episode of care
Higher scores from patients rating overall care