St. Luke's team brings new chronic pain group treatment to help Idaho adolescents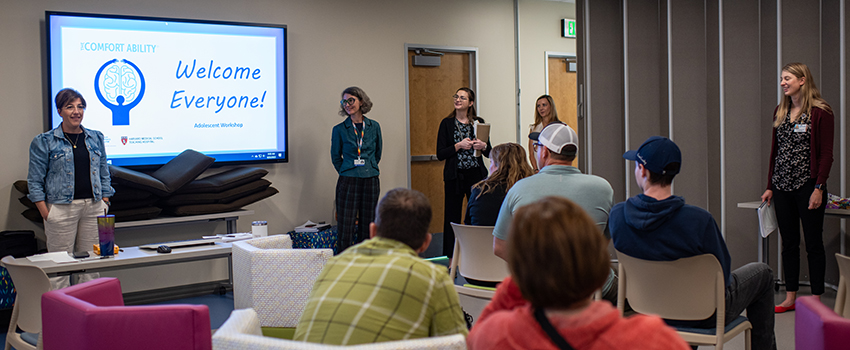 Julie Schmidt, far left, addresses the first meeting of the Comfort Ability Program in Idaho at St. Luke's Children's Hospital in Boise on Sept. 22. Dr. Kelsy Newton, far right, looks on.
By Dave Southorn, News and Community
When she joined St. Luke's as a pediatric psychologist four years ago, Dr. Kelsy Newton quickly recognized a need in the community — one she could not address alone.
Newton had many referrals from providers seeking ways for patients to cope with chronic pain, and utilizing cognitive behavioral therapy is often effective.
But the need continued to grow and Newton found an innovative way to help multiple patients — and their families — in one session.
Known as the Comfort Ability Program, founded by Dr. Rachel Coakley at Boston Children's Hospital, it is an evidence-based intervention for adolescent patients with chronic pain and other functional disorders, such as irritable bowel syndrome or postural orthostatic tachycardia syndrome, which impacts the heart rate.
"We had this huge need and there's this program where we can get 10 kids in at a time plus their caretakers, and we can get services to them a lot quicker, not having to sit on a waitlist," Newton said.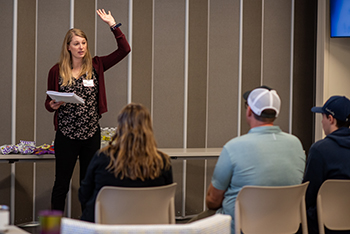 The first group of patients, and their families, met for a six-hour session on Sept. 22 at St. Luke's Children's Hospital, a successful launch for what Newton hopes will be a monthly CAP meeting with new patients and families each time.
"It's easier to make that happen, than to find six one-hour sessions with all of the challenges that comes with scheduling for them and their families," Newton said.
At the first CAP group, Newton led the session for the caretakers, while St. Luke's licensed clinical social worker Julie Schmidt oversaw the teen/adolescent session. Dr. Simona Bujoreanu from Boston Children's was also on hand to oversee the program's implementation. Newton applied for a Children's Advisory Board grant through the St. Luke's Treasure Valley Health Foundation to license the program to use in Idaho.
"It went really well. We got some great feedback from (Bujoreanu)," Schmidt said. "It's important because it's a unique intervention for adolescents who are often not getting much relief or are limited in the things they enjoy. Parents often can feel frustrated and helpless. This is a way to understand it differently and engage in things that have evidence-based outcomes to get back to a more normal life.
"This is a way to provide more access to our communities, to our patients and families who are struggling with significant limitations."
Newton and Schmidt traveled to Boston in May to learn more about CAP and see it in action. In turn, they have begun to train therapists to help run sessions in the future.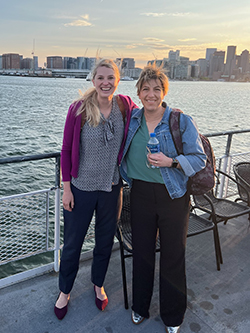 Dr. Kelsy Newton and Julie Schmidt in Boston in May.
During the six-hour day, patients and their caretakers learned how to "do things differently than their intuition tells them," Newton said. Instead of treating the conditions like acute pain, they learn that function improves before pain — that doing the things they've always enjoyed tends to lead to positive outcomes.
"We tell them the nervous system is 'wound up' and need to teach wind down skills, relaxation, communication — when there's a better sense of what's happening inside and the kids and caregivers are on the same page … we see decreases in pain ratings or how much they worry about pain," Newton said.
In addition to the families' involvement, which Newton said is "one of the best things," the fact everyone comes together at the same time is an important component.
"Everything they're going through, it can be lonely or isolating, so the normalizing and shared understanding is significant for the parents and the patients," Schmidt said. "Not having to explain or validate their experience, going into a space where people 'get it,' it can increase a sense of hopefulness."
With the program's positive debut, Newton is eager to see more patients and families in the program and see it further mesh with their care.
"I think we had a great group of teens and parents who really related to the material," Newton said.