Magic Valley man meets crew that helped save his foot in accident: 'this one stands out'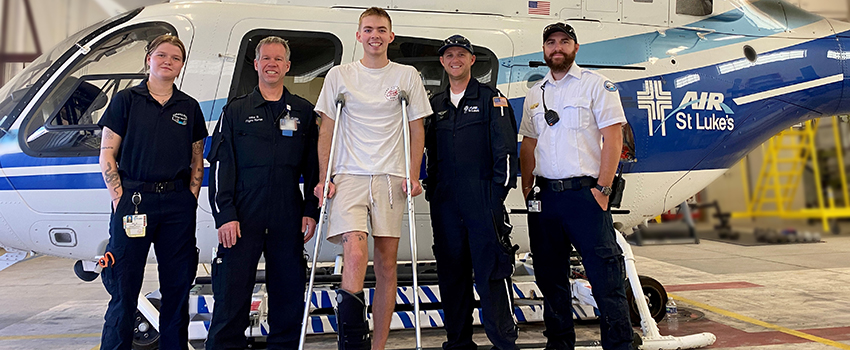 Morgan Crane, middle, with members of the crew that helped save his right foot after a boating accident.
By Kelly Franson, News and Community
Morgan Crane walked to the helipad at St. Luke's Magic Valley Medical Center on crutches, his right foot in a boot.
"I know most of these people," Morgan said while looking at the group assembled to meet him near an Air St. Luke's Helicopter.
While he didn't know all their names, he remembered many of the faces. They sure recognized him.
"I remember the flight," said Air St. Luke's flight nurse Mike Boughton. "This one stands out."
Always looking out for the needs of patients, Boughton quickly grabbed a folding chair so Morgan could take a seat while he talked with the team that had worked together to help save his foot — and his life.
Their first meeting, in late May, was under less comfortable conditions. A boating accident at Murtaugh Lake could have ended in tragedy when Morgan's foot was injured by the propeller.
"I remember falling out of the boat, swimming back to the boat, everybody freaking out," Crane said.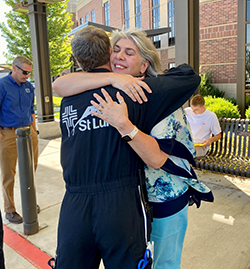 While the mood was anything but calm immediately after the accident, it didn't take long for emergency responders to arrive with expert care to both treat Morgan and help ease concerns of family and friends.
First on the scene was Dee Hunsaker, a battalion chief with Rock Creek Fire who lives in Murtaugh and was the closest to the lake when the call for help was sent out.
"When I got on scene, he was lying on the dock," Hunsaker explained. "I took a look at the foot and made some quick assessments."
As Dee was applying a tourniquet, Magic Valley Paramedics (owned and operated by St. Luke's and operates within the organization framework of St. Luke's Magic Valley) arrived in an ambulance. Thanks to good communication from the scene while on the road, Jac Davelaar had already called Air St. Luke's.
Daveleaar joined Magic Valley Paramedics as an EMT in 2022 and now has her paramedic's certification. Crane is the first patient to ask to personally meet the team to thank them since she started the job.
"It's awesome," she said of getting to see him again. "It's such a challenging career … stuff like this afterwards just confirms that I absolutely love my job."
While Davelaar is just starting her career, Hunsaker has been responding to accidents for a long time. But meeting with families in person months after an accident is fairly new to him as well.
"This is my second one and I've been in 30 years," he said, adding he was happy to have the chance to chat with Morgan and see his foot healing.
Air St. Luke's pilot Justin Mangum was also glad to see Morgan up and walking.
"When I walked over to the ambulance to get a game plan of where we were going … all I could see was his (injured) foot," he recalled. "This is amazing."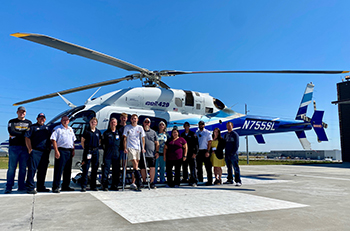 Morgan Crane with assorted members of the teams that helped him following his boating accident.
Morgan's parents had also rushed to the scene of the accident, where they were calmly greeted by the team treating their son. The parents were told they had time to collect themselves and pack some bags before driving to Salt Lake. Their son would be traveling by helicopter with Air St. Luke's, then heading into surgery.
"Because of you, we were able to make it to Salt Lake with our heads on," Crane's mother, Melissa, said to the group at the reunion.
She's able to smile now that Morgan is on the mend, but there were also tears in her eyes as she hugged the emergency responders that helped her son. While his parents drove several hours to the hospital, Morgan made the trip by air in about an hour.
"I remember going in the ambulance, going in the helicopter, the conversations in the helicopter," Morgan said.
When he first fell off the boat, he thought maybe he had broken a toe. When a second tourniquet was put on his leg during the helicopter trip, he realized his life going forward might look very different.
"'This is about to be big,'" he remembers thinking to himself while in the air.
Early assessments on the scene and in the hospital were that amputation would likely be needed, but Crane was able to overcome the odds. On crutches at the reunion, he's on the road to recovery.
"Touching Morgan's foot bothers him, but that's a great thing because he has sensation," Melissa Crane explained. "He should be able to do everything he used to do including skiing."
"And surfing behind a boat!" Morgan was quick to add.
The incident in May certainly didn't scare him away from water recreation, it just made him realize he needs to stay aware of what's going on around him and pay attention to potential dangers.
It also made him realize how important emergency medical services are — from the dispatchers that took the initial call, to the flight crew that transported him to the hospital and everyone in between.
As everyone gathered for a picture in front of the helicopter, Crane and his family again thanked the group for their service, and the team thanked Morgan for the opportunity to meet again.
"This is awesome," Hunsaker said. "This is why we do what we do."