Twin Falls Chamber of Commerce gets up close stroke training from St. Luke's team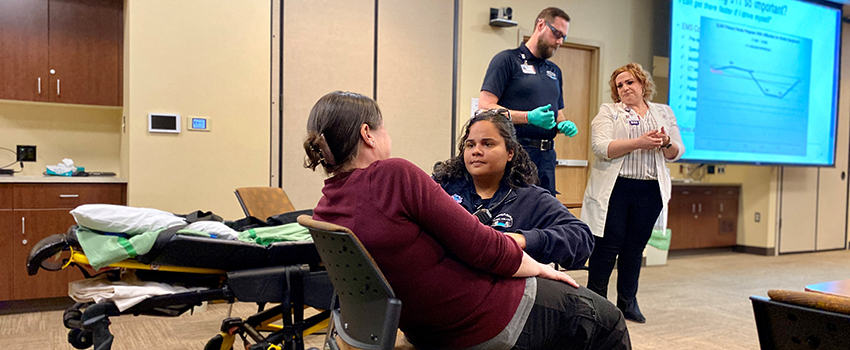 The training's mock patient gets checked out by St. Luke's team members.
By Kelly Franson, News and Community
Recognizing the signs of a stroke is an important lesson for any audience, but a Twin Falls Chamber of Commerce leadership group was recently treated to an eye-opening demonstration of life-saving skills at St. Luke's Magic Valley.
The presentation started like any other, with Stephanie Shawver, stroke program manager for St. Luke's Magic Valley, Jerome and Wood River, leading the group through a presentation on stroke recognition.
Toward the conclusion of the presentation, a member of the St. Luke's Magic Valley SIM lab team that was planted in the audience pretended to suddenly develop stroke symptoms.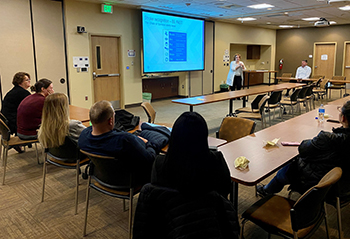 Presenting to the Twin Falls Chamber of Commerce group.
"This is not real, it is a planned demonstration for you," Shawver announced before guiding the Chamber of Commerce group through a real-time BE FAST assessment while another St. Luke's SIM team member, Michelle Eberle, was sent to "dial 911."
A Magic Valley Paramedics crew staged outside the conference room "responded" to the simulated emergency. The crew walked the audience through the EMS Code Stroke process, which includes IV starts, lab draws, in-field lab testing, a specialized neurologic assessment and notification of the emergency department physician and teams.
The EMS process is designed to fast-track patient care (with scene times of 10 minutes or less) by performing many of the tasks that normally occur after arrival to the emergency department. This allows the patient to seamlessly transition directly to CT scan upon arrival and ultimately speeds up treatment by an average of 13 minutes.
The specialized neurologic assessment performed by EMS not only confirms stroke as a likely diagnosis but also identifies large vessel occlusion stroke, a type of stroke requiring a time-sensitive procedure performed at only three Idaho hospitals, the closest being St. Luke's Boise.
If the assessment is positive for suspected large vessel occlusion stroke, Air St. Luke's is placed on standby in the emergency department, prepared to transfer the patient as soon as the diagnosis is confirmed on CT. This innovative solution saves an average of 60 minutes on time to definitive treatment and has received national attention as an emerging best practice in rural settings.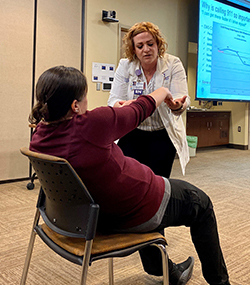 Magic Valley Paramedics manager Stan Flint appreciated the opportunity display his team's talents and skills, and to educate the public of the importance that a cardiac or stroke patient is better off waiting for the ambulance then attempting to get themselves to the emergency department on their own.
"All too often public perception of EMS is driving fast with lights and sirens," Flint said. "They understand that we perform CPR, respond to car crashes, and give pain medication, but they don't realize that we are the starting point to so many critical interventions and have highly specialized training. We do much more than pain control and CPR, we can blunt—and sometimes stop—the cascade of illness from becoming lethal."
The EMS crew then "transported" the "patient" from the conference room to the SIM lab to simulate the first portion of an ED Code Stroke with members of the emergency department, then transitioned into showcasing the SIM lab and their critical role in training staff to ensure readiness for any time-sensitive emergency, not just stroke.
"Our entire time at the hospital was one for the memory books," J.J. Shawver with Twin Falls Chamber of Commerce shared in an email thanking St. Luke's for their time and expertise. "Being able to see first-hand the hard work and precision of the situations your simulation team had set up was incredible. It gets your blood pumping when all the sudden you are witness to a life-or-death scenario."