Innovative St. Luke's speech therapy program partners with ISU to help aphasia patients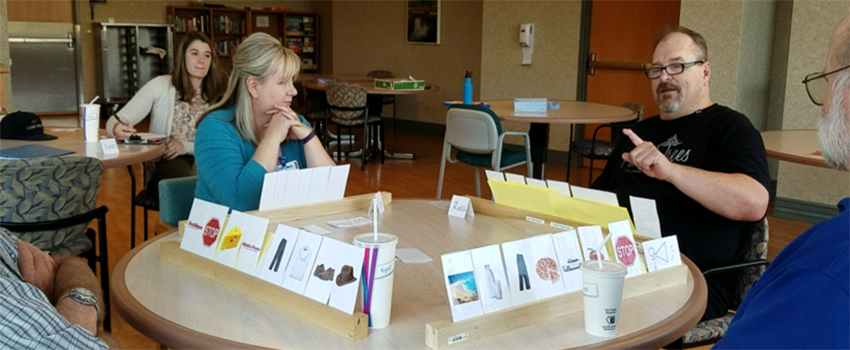 Russ Suprenand talks during a group session in a St. Luke's program for aphasia patients.
By Dave Southorn, News and Community
When Erica Suprenand became her father's primary caretaker a few years ago, trying to find help consumed her life.
Her father, Russ, had suffered a major stroke and had resulting aphasia, or a loss of ability to understand or express speech. An attempt to have him live at a care facility was unsuccessful, as he often tried to get out, not fitting in at a place where he was 20 years younger than just about everyone.
Erica eventually had him move in with her, something that meant taking care of Russ full-time. She had to quit her job as a hairstylist. Russ slowly improved as different therapists came by the house, but it was still difficult to communicate — until she heard from St. Luke's about a unique program.
The intensive aphasia group treatment program partners with Idaho State University speech-language pathology graduate students to offer patients three-hour sessions daily over a three-week span.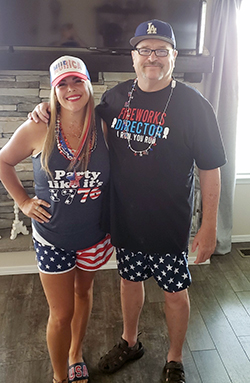 "I was very excited to hear about the program," Suprenand said. "He's so much better. He went from not being able to talk to speak in sentences again. Working with them, he's gained a tremendous amount of speech."
Select aphasia patients who may benefit from the group treatment program are typically six to nine months out from the onset of aphasia. The sessions are broken into one-on-one, small group and large group work, with Idaho State students helping run the group sessions.
"They get a little bit of everything that way, from conversation to repetition," said Tami Campbell, a St. Luke's speech-language pathologist and the program's clinical director. "We initially started about 15 years ago with volunteers, didn't have it for a few years, then about five years ago partnered with Idaho State.
"We were excited because we felt after the normal outpatient period, we felt there was still work to do. It was something new where we could treat the people that had done the basics … this was something for them to do and give them a boost."
Though using picture cards is part of the program, Campbell notes "it isn't three hours of 'Go Fish,'" incorporating breathing exercises, chair yoga and discussion opportunities. They even have homework, so they can practice at home, watching videos related to things discussed in the program. Campbell said the patients are often motivated to improve and thus see improvement in standardized test scores in most cases.
"It's made a huge difference in outcomes for patients, that concentrated effort has just been great," said Elizabeth Steger, St. Luke's senior vice president for clinical practice integration and chief nursing executive.
The program has led to positive improvements in patients. Having portions led by the Idaho State students allows it to be more affordable for patients and families. It gives those students great hands-on experience and allows St. Luke's to see up close potential new speech-language pathologists who are already making a difference for the communities we serve.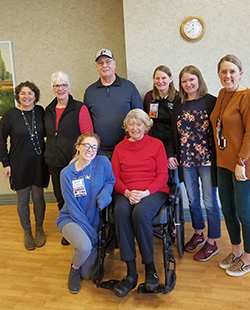 "I'd like to think it's a win-win for everyone," said Shauna Smith, clinical director of Idaho State Speech and Language Clinics. "And this program, it's interesting because it's something we don't see often in the community, the group work with adults … to see it implemented is different than just reading about it. You get to see quite a bit of change in a short amount of time."
For Suprenand, a once-distant relationship with her father has grown closer as they've experienced his continual recovery from his stroke. St. Luke's has also helped Russ with his previously undiagnosed diabetes, hearing loss and even depression following the stroke.
"All the programs have helped him, but I think the (intensive aphasia group) in particular," Suprenand said. "Being with other people like him, there's a camaraderie, a sense of belonging that helps motivate."
Smith noted that Idaho State has on-campus clinics in Meridian and Pocatello that offer a two-week summer session that works more broadly in individual settings on aphasia symptoms than the word-finding focus of the St. Luke's-led program.
"Those two intensive programs are the only two I'm aware of in Idaho," Smith said. "We have (speech-language pathologists) work in NICUs to help swallowing and sucking to working with kids on speech up to geriatric populations, so it's really important to have good experiences in the community like the St. Luke's partnership."
And, of course, seeing patients progress has been most exciting for everyone involved.
"Patients are finding hope … in the olden days, we thought, 'Here you are, you're at your place, we've worked with you for six months, you're done making progress,'" Campbell said. "I don't think that way anymore. People can make progress at any time post-stroke."