September, 1969.
Two months after Neil Armstrong and Buzz Aldrin stepped on the moon, the first ATM was installed in the United States in New York and John Lennon told his Beatles bandmates he was leaving the group.
That same month, Bob Holcomb started working for St. Luke's.
More than 53 years later, Holcomb will retire in April, having spent his entire career with the health system, first in housekeeping and the last 50 in maintenance.
"I just remember starting out as the youngest guy, then I look around and I'm the old guy," Holcomb said with a laugh. "St. Luke's has been great to me … it's been pretty special having the opportunity to grow and also see how St. Luke's has, too."
A Twin Falls native, Holcomb took on a position at St. Luke's in Boise cleaning operating rooms.
"I started out making $1.71 an hour," Holcomb said. "We had six rooms that I cleaned … I was 21, and it was honestly kind of exciting. I got to see a lot of things, got to know the doctors pretty well."
After three years in housekeeping, an opportunity in maintenance opened, meaning a raise of nearly a dollar an hour and something that fit well with what Holcomb enjoyed doing. And it's a team he's been with ever since, moving over to the St. Luke's Meridian hospital more than 20 years ago.
"I grew up on a dairy farm, and we didn't have a lot of money, but we could jerry-rig just about anything," Holcomb said. "I got to understand how things worked."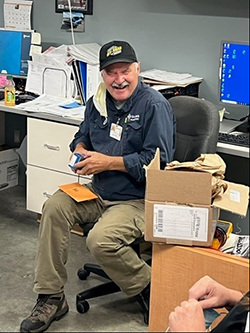 If something has needed fixing at the hospital, Holcomb has worked on it. He enjoys the industrial machinery side of work — pumps, motors and boilers — but he'll pitch in to fix a bed or light as needed, too.
"I trust him, I feel safe knowing we have Bob around since he's seen everything and can help anyone tackling a problem for the first time," said Helen Boller, building services administrative specialist. "He's always there to do whatever is needed … he drove me home during 'Snowmageddon' a few years ago."
In retirement, Holcomb is eager to spend time with his wife of nearly 50 years, Valerie, and enjoy Idaho's outdoors. At 75, he likes to get out on his dirtbike and is an avid hunter and fisherman. His mom, who turns 98 in May, and his sister still live near Twin Falls, so he will have more time to spend with them. He also jokes that now he'll have more time to watch YouTube with his days far more open.
But when you sit down with Holcomb for any length of time, what he will miss most is not the hands-on parts of his job — it's the people.
"What I really like is the camaraderie. You build a good relationship with your co-workers. We're all imperfect, we might irritate each other at times, but we're a family," Holcomb said.
Thinking of how St. Luke's has grown, Holcomb equates it to a machine — of course — that has plenty of moving parts, but operates well with each pulling its weight.
The first cardiac surgery on a human patient in Idaho was performed at St. Luke's nine months before Holcomb started. Mountain States Tumor Institute (now St. Luke's Cancer Institute) opened three months into his tenure. When he celebrated his eighth year of employment, the Boise hospital's five-story expansion was completed.
Today, St. Luke's Health System employs approximately 16,000 employees, all joining after Holcomb started. The system stretches from eastern Oregon to Riggins to Burley and everywhere in between.
But even after seeing all of that change, Holcomb still gained a further appreciation for his work and where he works in recent years.
"COVID really brought it home," Holcomb said. "You'd see people walk into the hospital, and a few weeks later, we'd see the funeral homes pick them up. The seriousness of the pandemic, you realized you were working in a place that was really, really trying to help people and that kind of inspires you to do your part, keep it running as best as it can."
Holcomb never sought out attention and even now, putting in an incredible 53 ½ years of work at St. Luke's, he shies from any sort of praise.
"A lot of people don't know who Bob Holcomb is, and that's how I have liked it," he said.
Sorry, Bob, but after so many years of great service, you're due for a moment in the spotlight!