Forty-five years at St. Luke's Jerome, one wonderful career for a nursing 'legend'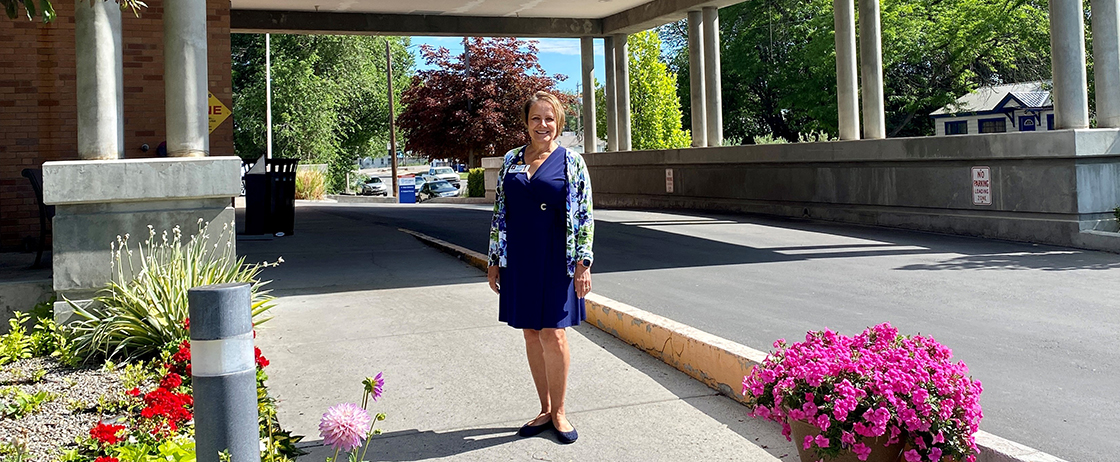 Jill Howell stands in front of the entrance to St. Luke's Jerome, a place she has called home for more than 45 years. She will retire in July.
By Kelly Franson, News and Community
Jill Howell, associate chief nursing officer and site leader at St. Luke's Jerome, is not only celebrating 45 years as a full-time nurse, but she's also celebrating an entire career at one location — the hospital on Lincoln Avenue in Jerome. And her history with the building goes back even further.
The hospital now known as St. Luke's Jerome Medical Center started as St. Benedict's in 1952. Howell was born at St. Benedict's in 1958 and grew up in Jerome, watching the city grow from a population of less than 5,000 people at the time of her birth to around 13,000 today.
"My first memory (of the hospital) was sitting outside the emergency room when I was probably less than 8," Howell said.
She waited outside while her sister received medical care, never imagining she'd grow up to care for patients inside the same building.
Howell started work as a full-time registered nurse at St. Benedict's in May of 1978, but her part-time work actually began at the hospital two years earlier.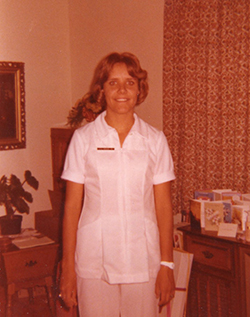 Said Howell: "I originally started at St. Benedict's on May 24, 1976, the day after I graduated from high school."
She worked as nurse's aide for two summers and would periodically get called in if she was home from college on a weekend or a school break.
Howell had thought about being an architect in high school but changed her mind after learning a family friend had gone to school for eight years to be an architect and was still looking for a job. She opted for two years of nursing school and job security, thinking she would always be able to find work as a nurse.
As it turns out, getting a nursing job was even easier than she thought, as St. Benedict's called her and said she was already on their schedule, knowing she would graduate soon.
Howell worked as a bedside nurse in Jerome for 10 years, followed by 20 years as director of the long-term care unit located in the same building. She then returned to the acute hospital care setting in a nursing leadership role.
While working in the long-term care unit, Howell went back to class to get her nursing home administrator's license. She was appointed by the governor to serve on the Idaho State Board of Nursing for three terms, serving from 2003 to 2015. She even earned her Bachelor of Science degree in nursing from Boise State when she was 60 — an age most people are thinking about retirement.
Retirement wasn't on her radar then, but it is now, with her last day of work for St. Luke's scheduled for July 5. A team player to the end, her original retirement day was set for two days earlier. She pushed it back when she realized that with the July 4 holiday on a Tuesday, her manager, Arlen Blaylock, might want a 4-day weekend. When she told him of her plan to change the date so that he could have the holiday off, she learned it wasn't just a four-day weekend but coincided with his wedding anniversary.
Blaylock serves as chief operating officer/chief nursing officer at St. Luke's Magic Valley. Thanks to Howell, he'll celebrate his anniversary with his wife but will miss Howell immensely after her retirement.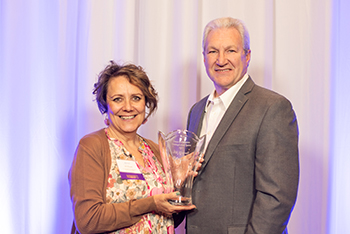 Jill Howell and Arlen Blaylock at St. Luke's 2023 Nursing Excellence Awards banquet in Boise in May. Howell earned the Dana Gulbranson Distinguished Nurse honor.
"Jill is always positive and ready to celebrate each and every success," Blaylock said. "She is a loyalist and 'bleeds Jerome,' working for that community at every opportunity … . She is a legend and leaves us a great legacy."
Part of that legacy is always looking out for her hometown and looking out for her co-workers, like Blaylock.
"She's such an advocate for this community," said Nancy Hicks, manager of nursing at St. Luke's Jerome. "You will frequently hear Jill say, 'This is a service we are going to provide for our community.' She truly cares about Jerome and that is shown by her actions, hard work and commitment to this hospital."
She's also led her team by example, demonstrating hard work and dedication.
"There's a lot of days where she beats me here when I'm working 12-hour shifts and she leaves after I do," said Jared Christianson, St. Luke's Jerome assistant nurse manager.
When asked what's next, Howell replied, "I think being a grandma and raising flowers sounds more fun than you know!"
But those who work closely with her know she'll also continue to take an active part in the Jerome community.
"She's always been very involved in the community, and I think she's going to continue to give back to the community by doing that," said Christianson. "She really has found deep meaning and purpose in helping the lives of others and I think that it's just going to transform from something that she's compensated for to something that she volunteers for."
Howell has no plans to resume her nursing career after retirement but plans to keep up her nursing license "just in case."
"I would love for her to come back so I could be her boss — that would be great!" Christianson laughed, though he expects Howell to make the most her retirement. "She's in a point of her life where there's time for her to enjoy other things that don't necessarily have to involve the hospital."
Jill Howell's 45 years of nursing service will be celebrated at a retirement party at the park next to St. Luke's Jerome at 11 a.m. on Friday, June 30. All are welcome.