The odds would seem to be against Coleen Leonard and Courtney Holley serving as pilots for Air St. Luke's.
After all, a 2021 report based primarily on Federal Aviation Administration data found that women make up less than 5% of the air transport pilots in the aviation industry. The same report found that women make up less than 20% in any given aviation career, aside from flight attendants.
Andie Woodward is a critical care flight paramedic who has been with Air St. Luke's for 11 years. She said because women are so outnumbered by men in the aviation industry, they must go the extra mile to prove themselves.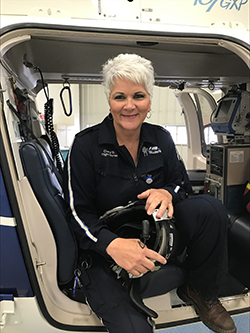 "This is a field, this is an occupation, where you have to be tough as nickels or you're going to get eaten alive," Woodward said. "The women in this field really have to prove themselves."
Leonard, a helicopter pilot, was hired by Air St. Luke's in April. Woodward said it didn't take long for Leonard to prove she was a worthy hire.
"In a male-dominated profession, when a woman comes along there is this sort of expectation that they won't be able to toe the line," Woodward said. "It takes a lot of gusto – that emotional and physical strength – to do it. But when you do, you're sort of accepted into the flock, and Coleen was accepted into the flock immediately. Everyone instantly loved her. She's thorough and she's careful. … She's just dialed in."
Male or female, Leonard was certainly qualified for the job. She has been a pilot for 17 years and worked as a tour pilot in Hawaii for five years. She also has flown in Texas, New Mexico, Oregon and Washington.
"I've done a lot of different types of flying, and I've lived all over the country," Leonard said. "But I got to a point where I still loved my job, but I didn't feel like I was contributing, and so that's why I love what I'm doing now."
Air St. Luke's provided what she felt was missing, as it is known for helping people in emergency situations, something fulfilling for Leonard.
"I'm from the Boise area … this is my community, and giving back to my community is important to me," she said. "To help somebody on quite possibly one of the worst days of their life and get them where they need to be, I'm quite passionate about that."
In early June, Leonard was joined by two other passionate members of Air St. Luke's – Woodward and critical care flight nurse Cheryl Bice – as they made history as the first Air St. Luke's rotor flight with an all-female crew.
"Andie and Cheryl are just both so knowledgeable and so experienced," Leonard said. "I knew Cheryl's reputation before I walked in the door, and all the women who work here are so knowledgeable. I know when I go someplace with them that I've got the best crew – male or female."
Not just helicopters
Helicopters are arguably the most visible aspect of Air St. Luke's. Many of us have seen them land at their bases in Boise or Twin Falls.
But there is another important aspect to the aviation services that Air St. Luke's provides: fixed-wing airplanes. There are some situations when it's not legal for a helicopter to fly into or it's not safe because of low clouds or icing. Other times, longer flights are necessary for transporting patients.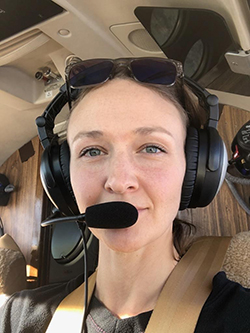 Courtney Holley in the cockpit.
That's where fixed-wing planes come into play. And – you guessed it – one of the fixed-wing pilots is a woman.
Holley got her commercial license in 2018, and she has been a pilot with Air St. Luke's since October.
"It's been amazing," Holley said. "The mission is important to me … and working with the team has been really fun. Everybody is just really dedicated."
And it turns out another woman – registered nurse Jill Glenn – assists on fixed-wing flights.
Needless to say, women are making a difference at Air St. Luke's – even if Holley is somewhat nonchalant about being a female pilot.
"I'm used to doing things that are more male-dominated," she said. "I just try to keep my head down and be qualified and competent and not even have the female component be a part of it."
That being said, Blaine Patterson, the director of Air St. Luke's, doesn't let the efforts of Holley and the other women on his medical transport staff go unnoticed. According to him, 42% of the Air St. Luke's team is women, from ambulances, helicopters and airplanes to support roles in the communication center and administration.
"I am proud that we have a diverse representation on all of our teams," Patterson said.