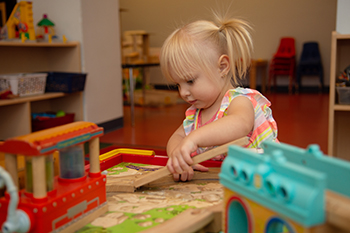 When choosing how to distribute the grants, St. Luke's gave special consideration to organizations whose proposals target needs identified through
St. Luke's Community Health Needs Assessment
.
Because the assessment is both quantitative and qualitative, it takes into consideration the voice of local experts and community members to identify needs from their lived experience.

"The (CHNA) allows us to pinpoint, assess and address each community's most critical needs," said Theresa McLeod, St. Luke's Health System administrator of community health and engagement. "St. Luke's uses the information to guide the types of health improvement programs we provide and support with community partners.

"In addition to identifying significant health needs, the assessment confirmed the negative impact of COVID-19 on social determinants of health. The combined needs generated the top priorities our CHIF investments seek to address."

The CHNA's top priorities are:
To improve availability of mental and behavioral health services.
To improve housing stability.
To improve access to substance abuse services and programs.
To improve services for families experiencing adversity.
To improve academic achievement via early learning and post-secondary education.
To improve access to healthy transportation.
To improve healthy air and water quality.

Here is how just a few of the programs St. Luke's is supporting make a difference:
Boise
The Boise Bicycle Project promotes cycling as a benefit for mental and physical health to community members and strives to make it accessible to everyone. They hit a major milestone this year by giving away their 10,000th bicycle.
This year, they are working toward supporting young people who experience barriers to sustainable transportation. The power of having a bicycle and transportation helps connect young people to the community, schools, a healthy lifestyle and other services while promoting the mental and physical health benefits of riding their bicycle.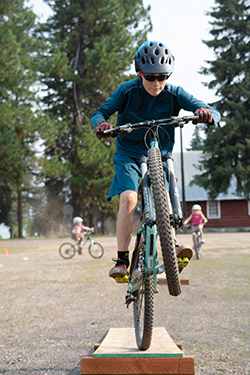 The Payette River Bicycle Movement, along with Boise Bicycle Project, are CHIF grant recipients helping get kids on bikes.
Elmore County
The Mountain Home Public Library is partnering with Boise State University's OnRamp program to engage teens in exploring the possibilities of virtual reality. They work with educators and libraries to develop and facilitate programs that utilize the technology. The program's focus is on using creative tools and coding skills to engage young people to make a positive impact in their community.
McCall
The Tutor Mobile, which is operated in partnership with the Shepherd's Home, McCall Public Library and McCall Parks and Recreation, is in its third year of operation.
The Tutor Mobile was originally started as a response to the COVID-19 pandemic by supporting students during the sudden shift to virtual learning. The organizers realized the need for additional educational support among students in lower income situations existed long before the pandemic.
Traveling to students' neighborhoods, the Tutor Mobile provides participants with engaging educational experiments and healthy snacks. Support is provided through many local community organizations and businesses, including volunteer mentors who are on hand to answer students' questions. By supporting students' literacy and scientific curiosity, the program encourages kids to grow into informed adults capable of improving themselves and the community at large.
Nampa
The funding to the Nampa Schools Foundation is for You Matter NHS (Nampa High School), which supports both teacher and students, in collaboration with the TRIO Upward Bound program. The program helps build mental health knowledge in the student population throughout the school year. Students can test their knowledge at the school carnival and awards celebration.
Wood River
Idaho BaseCamp, located in Ketchum, works to cultivate the leaders of today and tomorrow through individual and community development by creating a connection to nature. The program will focus on youth in the fifth grade and is open to students from across Idaho. Students will go on a two-night, three day stay at Idaho Base Camp's Big Lost Campus near Mackay.
The program includes a series of activities using outdoor adventure education to convey Idaho BaseCamp's three core values: courage, personal responsibility and respect for all. Activities include balance and trust exercises, STEM-based lessons using the campus' natural surroundings, creative art projects, group discussion, mindful movement and hiking will instill independence and encourage inclusivity.
Partnerships like those above help fulfill St. Luke's important mission of bettering the health of people in communities throughout Idaho.
Apply for CHIF
CHIF grants are announced and awarded in January and February each year, with special consideration given to applicants that align with needs identified through St. Luke's Community Health Needs Assessments.
St. Luke's begins accepting CHIF grant applications from non-profit organizations every summer. In the Treasure Valley, McCall and Wood River, applications open in August and close Sept. 30. Magic Valley accepts applications two times a year, February through March and in August through September.
Each application is reviewed by multiple committees, expert volunteers and St. Luke's leaders. As part of the grant award, receiving organizations must submit an "Activation Report" by Oct. 1, outlining how the grant dollars were used and where the impact was made.
Find program application forms on the
Community Health Improvement Fund Grants page
.
2023 CHIF Recipients
Advocates Against Family Violence
Alzheimer's Association, Greater Idaho Chapter
Angel Wings Network, Inc
Assistance League of Boise Baby Bundles
Big Brothers Big Sisters of Southwest Idaho
Boise Bicycle Project
Boise Public Schools Education Foundation
Boise Rescue Mission
Boys & Girls Club of Nampa
Boys & Girls Clubs of Western Treasure Valley
Boys and Girls Clubs of Ada County, Idaho, Inc.
Breaking Chains Academy of Development
Camp Rainbow Gold, Inc.
Cascade Food Pantry
Cascade School District #422
Charitable Assistance To Community's Homeless, Inc.
Children's Home Society of Idaho
City of Boise – Parks and Recreation Department
City of Good
City of McCall Parks and Recreation Department
City of Mountain Home Parks & Recreation
Donnelly Rural Fire Protection District
Dravet Syndrome Foundation
Family Health Services Corporation
Family Justice Center Foundation of Idaho
Genesis Community Health
Giraffe Laugh, Inc
Girl Scouts of Silver Sage Council, Inc.
Girls on the Run - Idaho, Inc. (dba Girls on the Run Treasure Valley)
Glenns Ferry Health Center, Inc. dba Desert Sage Health Centers
Higher Ground Sun Valley, Inc.
Hodia/Idaho Diabetes Youth Programs
Horizons Lifestyle and Education Team
Idaho Academy of Family Physicians, Inc.
Idaho Basecamp Inc
Idaho Caregiver Alliance
Idaho Farmers Market Association
Idaho Immunization Coalition
I Have a Dream Foundation – Idaho
Indigenous Idaho Alliance
Insight Matters
Jannus, Inc.
Jayden DeLuca Foundation
Jesse Tree
Leap Charities, Inc DBA LEAP Housing
Learning Lab, Inc.
Leukemia & Lymphoma Society (Light The Night)
Life's Kitchen
Marsing School District
Men's Second Chance Living, A Non-Profit Corporation
Mountain Home Public Library
Mountain Home Senior Center, Inc
Nampa Schools Foundation
National Multiple Sclerosis Society
Pancreatic Cancer Action Network
Parma Area Senior Citizens Inc.
Payette Lakes Ski Club
Payette River Bicycle Movement
Rise Up 2 Thrive, Inc.
River Discovery
Ronald McDonald House Charities of Idaho
Shepherd's Home, Inc.
Snake River Stampede for the Cure Foundation
St. Michael's Episcopal Cathedral
Surviving Hearts Cancer Support Group
The American Lung Association
The Mentoring Network Inc.
The Momentum Group DBA Create Common Good
The Salvation Army, a California Corporation
The Salvation Army, Boise
Third District Guardian ad Litem Program
Treasure Valley Food Coalition
Valley Regional Transit/Treasure Valley Safe Routes to School Program
Women's and Children's Alliance, Inc.
Wyakin Warrior Foundation