It did not need a fancy name — calling it "Jesse's Dream" says it all.
Last month, 30 ski racers gathered at Rotarun Ski Area in Hailey to compete in three slalom races, called Jesse's Dream, named after Jesse Foster, a St. Luke's physical therapist.
"It has been just amazing," Foster said. "It's cool to be like, 'I want to put on a race' and have it happen, but that hill, there's something magical about it.
"It has this calling for putting on something like this, and that mountain, it's touched so many people, it means a lot to this community."
Foster grew up skiing in New Mexico, but after leaving for college, said he "didn't really touch snow" for about 25 years until moving to the Wood River Valley about a dozen years ago.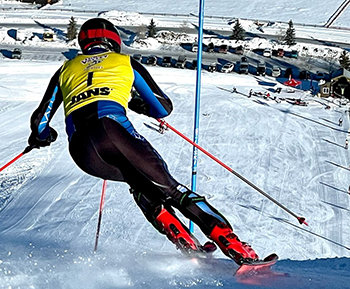 Since, Foster has become a world-class competitor in Masters races, winning the U.S. Masters National Alpine Championship for men 50-54 in 2022, medaling in four events. He remembers taking his kids to Rotarun, open since 1948 and operated thanks to volunteers and donors.
"The boys were like, 'Oh my god, this is amazing,' and I was seeing how a few feet from where you park, you could get on that lift … I just wanted to get involved," Foster said.
After teaching a learn-to-ski class at Rotarun for a few years, the Intermountain Masters racing series was looking for a new venue. Foster knew just the place — he just had to wait a few years.
"There was never enough snow to have a race from top to bottom, I was like, 'This is my dream, I have to find a way to make it happen' … (the board) finished a project we started to get snowmaking capabilities and that was the push to get it done," Foster said.
As a well-known member of the ski community in the Wood River Valley, Foster is happy to see the race get its legs under it and now be an annual event. He also has been pleased to have competitors from all over the region see the venue, with its unique accessibility to the people of the area, plus "keeping the mountain alive" with an event like Jesse's Dream.
Foster even competed in his own event, something he thought maybe a few years ago he would never get to again. He had decompression spinal surgery to fuse his L4 and L5 vertebrae six years ago, a procedure done by Dr. David Verst, a St. Luke's Wood River colleague.
And working at St. Luke's clinics throughout the Wood River Valley, Foster has been able to mesh his love of his sport with his work as a physical therapist.
"It allows me to treat athletes, acute pain, backs and the whole gamut of anyone that has some musculoskeletal problem … I can make a difference," Foster said. "Living here, I can help people in their 80s wanting to get back skiing 100 days a year. It's so awesome."