An organ donor's story: Kain Unzicker defied the odds, gave one final 'thoughtful' gift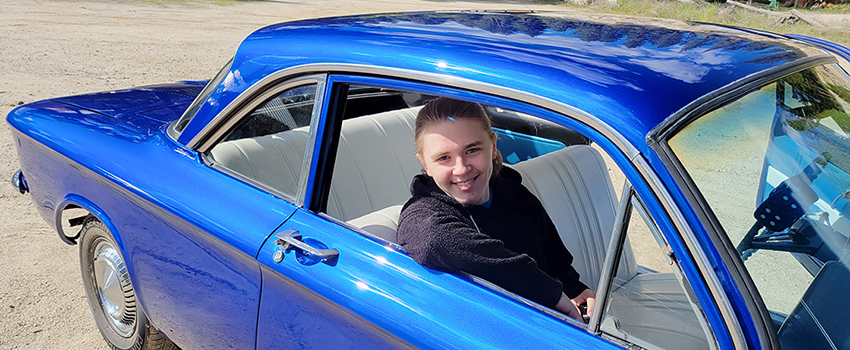 Kain Unzicker sits on the passenger side of the 1960 Chevrolet Corvair he restored with his dad, Dennis.
By Dave Southorn, News and Community
Just a teenager, Kain Unzicker carried with him an inconceivable knowledge for half his young life — he was going to die young.
When he was 10, Unzicker was diagnosed with Lafora disease, a rare and progressive neurodegenerative disorder that includes violent seizures and continual loss of intellectual function, or "childhood dementia."
And yet, he was never going to be defined by the difficulties. In fact, Unzicker's story is of a young man wise beyond his years, making others' lives better even after his death and making the most of what life we have.
"I love talking about Kain, thinking about Kain, because he showed more maturity and grace than most adults even would," said Whitney Price, a St. Luke's licensed social worker and program supervisor of Children's pediatric palliative and supportive care. "Until the end, he asked everyone around the hospital how their day was. Just an incredibly thoughtful person."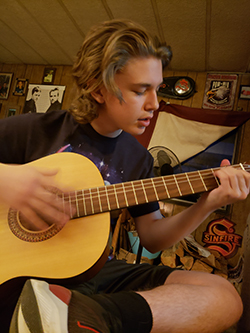 A month after he turned 19 years old, the seizures that would be so strong that they would dislocate his shoulders or hips became too rapid for Kain's brain to overcome. He died on Oct. 27, 2022.
But the story of that thoughtful young man, caring so much for those he knew, didn't end there. He still could help people he had never met and never would meet.
Kain's kidneys, heart and lungs were donated to patients around the West in need of a transplant.
"I can't think of a better way for his legacy to continue than still being able to help other people, even after his death," Kain's father Dennis said.
According to Cascade Life Alliance, a nonprofit organ procurement organization serving Oregon, southwestern Washington and western Idaho:
A woman in her 20s received the right kidney. She enjoys art and painting and is looking forward to going back to school to pursue a career in health care.


The left kidney saved the life of a woman in her 30s. She is thankful to have more time to spend with her fiancé, friends and family.


The lungs saved the life of a grateful woman in her 60s.


A man in his 50s received the heart. He is feels blessed to have this second chance at life.
Price was asked by the family to be with them as they said goodbye to Kain before the organs were procured at St. Luke's Boise.
"I have a lot of love for that family. I am still in awe," Price said. "The organ donation is just a piece of that … a selfless act of providing others the opportunity to live their lives."
Kain's donation was unique in that it was considered a donation after circulatory death, as opposed to the more common donation after brain death. According to the American Society of Anesthesiologists, 9% of organ donations in 2015 were DCD cases like Kain's but increased to 16% in 2021.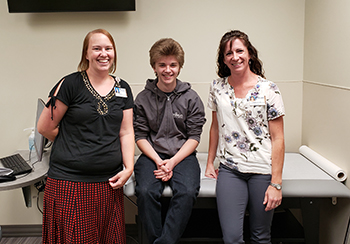 Kain is sits between pediatric care coordinator Julia Miller, left, and Dr. Lindsey Foy at St. Luke's.
Clayton Arnold, Cascade Life Alliance hospital development coordinator, said it was the organization's first known DCD case in the region where the heart and lungs were able to be transplanted.
"That made it even more incredible," Arnold said. "Four lives were saved … the liver wasn't able to be transplanted but was strong enough to be used for research and potentially could impact more people.
"You wouldn't believe the response from the St. Luke's staff after I told them where everything went. They love to know their work matters."
As unique and special as Kain's organ donation was, it is a fitting chapter in a life well-lived despite all the hurdles put in his way.
Dennis, a single dad, moved to Idaho from California with Kain and his sister Aja in 2010, settling in Idaho City in 2015. In 2020, Dennis got married to Amy, who Kain called "mom" since the pair began dating seven years earlier and was a caregiver to Kain every step along his health battles. Less than a year later, Kain achieved one of his biggest goals.
"His diagnosis was terrible … we were told traditional education wasn't possible, that it was best to just keep him safe," Dennis said. "Well, he refused to give up. He graduated from (Idaho City) High School when he was 17 (in 2021)."
The school and the community embraced Kain. Teachers rewrote curriculums to accommodate him and learned how to administer medications to him. The school even built a safe storage space for his medications. Despite having to use a wheelchair later in life, he walked at graduation, with some help from friends.
"He was fully aware of what was going to happen to him, but it wasn't just the medical stuff that scared him, it was not being able to do some of the things we're promised as we grow up — getting your license, falling in love …," Dennis said.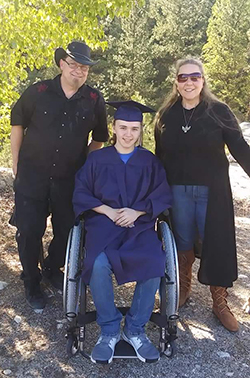 "But he still had these goals and fought like hell to achieve them."
Dennis and Kain worked together on restoring a 1960 Chevrolet Corvair that once belonged to Dennis' brother. Make-A-Wish Idaho helped pay for it to be painted. The pair drove it to his high school graduation. Kain was the first male Unzicker to graduate.
We couldn't have done it without the community's help, but especially the St. Luke's people like Whitney, Dr. (Lindsey) Foy, Dr. (Sean) Timpane," Dennis said.
"We couldn't have done it without everyone there … I don't know what expectations I had going into it, but I wouldn't have been able to process it in a healthy manner without the help of everyone there. His life would've ended sooner and been more difficult if not for them."
Price said Kain told her when they first started working together that he wanted to graduate. He also professed a love of music and had an idea — to write a song to capture his love for his family and to live on after he was gone.
With the help of St. Luke's music therapist Kathrine Lee, they put together a song. And soon after, Dennis wrote one for his son.
"That to me is a perfect example of how thoughtful he was," Price said. "He knew he'd die before them, but he made a song about comfort, about remembering his great smile. He was so courageous. I'm not sure I've seen a patient or a family so open to help and to maximize what they had."
The sting of losing a special kid at 19 years old still tears at Dennis. He says he wouldn't wish Lafora disease "on my worst enemy." But in light of the disorder that took his son, he's found peace in knowing how much support the family had from the care at St. Luke's, the community around them and right at home.
And now parts of Kain live on elsewhere, a gift that truly keeps on giving.
"The whole experience made the transition from normal life into death something we could bear," Dennis said. "I'm still so proud of him."