St. Luke's hosts CHIME event highlighting innovation, Boise State nursing facility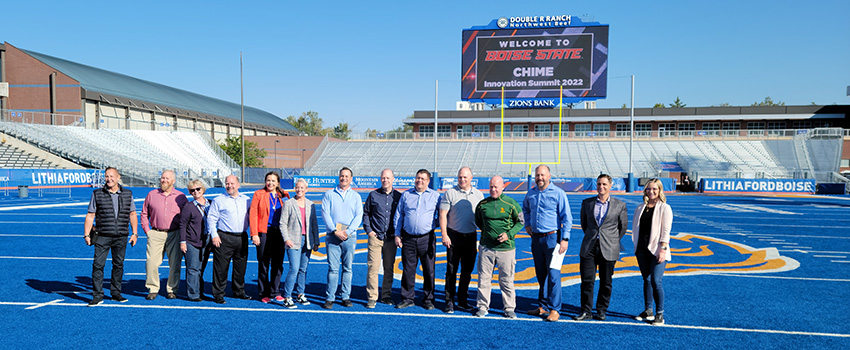 Boise State School of Nursing Divisional Dean Dr. Shelle Poole, fifth from the left in orange jacket, and St. Luke's CIO Reid Stephen, eighth from the left in dark blue, joined other members of the CHIME summit for an up-close look at the iconic blue turf at Albertsons Stadium.
By Chris Langrill, News and Community
Reid Stephan has thought often about the word "innovation."
"It's a word that gets used a lot, to the point that sometimes it loses context and meaning," said Stephan, vice president and chief information officer at St. Luke's.
But the concept of innovation is still vital for Stephan.
In fact, he recently hosted a conference in Boise that focused on, yes, innovation. The CHIME (College of Healthcare Information Management Executives) Summit included panels, workshops and discussions focused on the idea of innovation in the health care industry.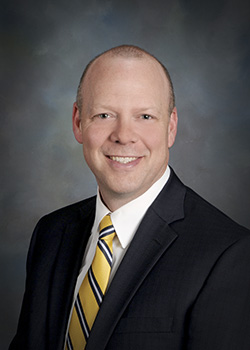 "CHIME is a professional organization for CIOs and IT health executives, and its purpose is to create shared learning experiences and connections," Stephan said. "The group holds conferences that focus on finding ways to improve technology that delivers on what we're all after, which is great outcomes, reducing cost and finding the best services in the communities we serve."
Stephan said if the summit was successful it will create some tangible results.
"The workshop we held was designed so people could go back to their organization immediately on Monday and start thinking about innovation differently than they had before," he said. "It's not just about buying something new or chasing after something you saw at a conference. It's really about figuring out what problem we're trying to solve and what's the best way to solve it."
The final morning of the summit featured an organization that has embraced that concept: The Boise State University School of Nursing.
"One of the reasons I think our school was chosen is because in the last few years we have been feeling weary and exhausted, but we decided that together we're going to rise," said Dr. Shelle Poole, divisional dean at BSU's School of Nursing. "We decided when the world shifts on you suddenly we have to decide how we are going to make new rules to operate.
"Our team decided that we were going to work better together, in everything we do."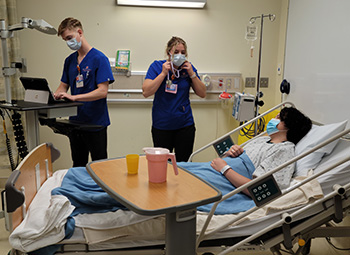 St. Luke's has been instrumental in helping develop a simulation laboratory for the Boise State School of Nursing. The SIM lab allows students to work with real people, manikins and extensive technology to help them better prepare for their careers as nurses.
CHIME members who attended the summit were introduced to the various features of the school's nursing simulation lab.
"We got to see the great innovation and progress that is happening there," Stephan said.
Some of that progress has been made possible because of the partnership between St. Luke's and Boise State.
"I think there's great synergy between Boise State and St. Luke's," Stephan said. "We support them, and in turn, obviously, Boise State educates and produces incredible nurses that we hire for the benefit of our community."
CHIME members were ushered to 12 different stations on the third floor of the School of Nursing's Norco Building.
One of those stations was hosted by Brittany Watson, a faculty member who also works part time in St. Luke's Meridian Medical Center's emergency department.
Watson obviously has a unique perspective of the partnership between St. Luke's and Boise State.
"I love marrying my two homes," she said. "I'm a Boise State alumna and I went through the nursing program, and then I was a new grad at St. Luke's in the (ED) and I've been there for almost 14 years as a nurse.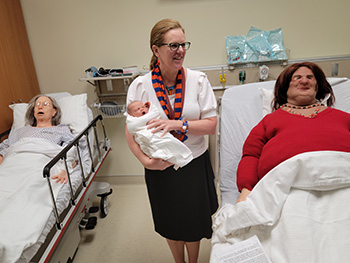 "I really love having the opportunity to share not only what Boise State is doing but also be proud of what St. Luke's is doing by investing in our nursing workforce."
Watson graduated from BSU in 2008, and she said the nursing program has evolved significantly since then.
"It's really cool to see how St. Luke's has decided to partner with Boise State and make some of this stuff possible and also see how Boise State has really worked to make this program something special," Watson said.
WORKING TOGETHER TO BETTER PREPARE NURSES: Getting back to the theme of innovation – and how it can benefit both St. Luke's and Boise State – Stephan recently had a revelation about the partnership.
"One of the things that was bothering me early this year was these nursing students were graduating, and the first time they ever touched Epic, our electronic health record, is when they're … out there on the floor," Stephan said. "I thought, 'This is madness that we don't have a way for them to have some hands-on experience before then.'"
So, Stephan reached out to Epic and asked if there was a way to introduce Boise State students to Epic while they were studying at Boise State.
"They have a process in place at Epic that allowed us to extend our Epic to Boise State nursing students to get hands-on training … so when they show up at St. Luke's it's not this foreign concept," Stephan said. "They're familiar with it and they understand it. So, they're much more effective from day one."