Helping black bears heal, return back to their homes a passion for St. Luke's spouses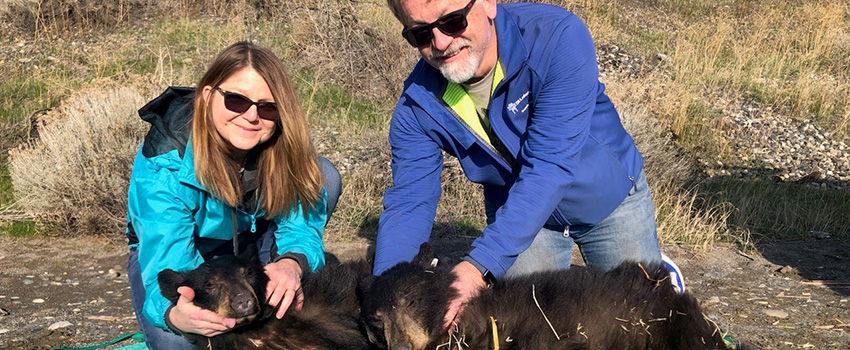 Ken and Brenda Sinclair with two bears, Skip and Georgie, before they were taken to Idaho from Washington. The bears are sedated for their road trips to Idaho for rehab or on their way back to their home states for release. See the video below of their release back into the wild.
By Dave Southorn, News and Community
No one alongside Brenda and Ken Sinclair had any idea what was sleeping in their horse trailer as they drove nearly 1,000 miles this summer to Arizona.
It wasn't horses.
It was Whiskey, a 250-pound black bear, ready for a new life after spending a year at Idaho Black Bear Rehab.
"When he first went to IBBR, I don't think anyone thought he'd make it, but being able to take him somewhere he could live a good life and provide years of education, it's a wonderful feeling," Brenda Sinclair said.
Brenda has worked for St. Luke's for 25 years, currently serving as executive assistant to President and CEO Chris Roth and Senior Vice President and Chief Operating Officer Sandee Gehrke. Ken is a fleet administrator at St. Luke's.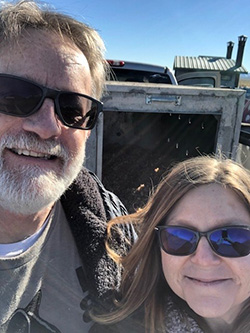 The Sinclairs, who have worked with IBBR for two years, handle most of their transports. They also gather food donations, help with fundraising and anything else to support IBBR President Amy Kidwell. They also put their St. Luke's skills to use — Brenda helps with paperwork and Ken maintains their vehicles.
"They've really enabled me to keep running the rehab," Kidwell said. "They have given me peace of mind. I know I can count on them for whatever I might need, and that's invaluable. I've adopted them as family."
Brenda got involved by chance. Scrolling through Instagram two years ago, she saw a post and was surprised to know there is a black bear rehab in Boise. IBBR rescues, rehabs and releases orphaned cubs.
"I immediately poured my heart and soul into it," Brenda said. "I've always been drawn to wildlife … I look at those bears, they're sentient beings. They have feelings. We all exist on this Earth and we aren't doing our part to make sure we're being respectful to the other beings we share our space with."
Typically, IBBR will rehab bears — most often younger cubs — until they are healthy and of the age and size they normally would have to strike out on their own. They are always brought back to the states they were found. Brenda said they come from all over the West.
The transportation goes both ways — sometimes bears are picked up from other states and brought to Boise or from Boise back to the area they were found.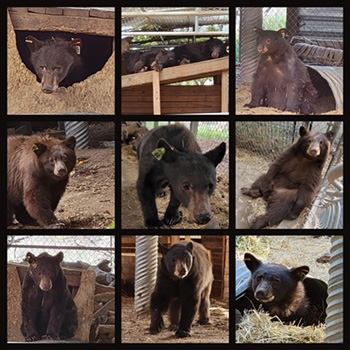 Bears rehabbed and released in Nevada by IBBR in 2022.
"I absolutely love being able to help in the process of saving a bear's life," Ken said. "These little bear cubs would not have a chance without some intervention, and I am happy to be part of that. I would not trade the experience of seeing the bears run free again for anything in the world. It is just amazing!"
Brenda said their volunteer work at IBBR is fairly regular, be it on nights or weekends. But often times, they'll get an unexpected call that a bear needs to be picked up.
"Chris and Sandee are so amazing; they're so supportive of the volunteer work I do," Brenda said. "I will say, 'Chris, there's a bear; can I take a half-day and go get him?' And he'll say, 'No problem.'
"I feel like I've grown up with St. Luke's. I think we had about 1,000 employees when I started (approximately 16,000 now) — I feel very, very invested in this organization."
When Brenda says she will do anything for IBBR, she means it. Once, after Kidwell called "with a really weird transport," she and Ken drove six hours to North Idaho to bring back three creatures a lot smaller than a bear — hummingbirds. Brenda, in the passenger seat, fed them with a syringe until arriving at Boise's Ruth Melichar Bird Center.
Later this month, Brenda and Ken plan to head to Lake Tahoe to take part in the sixth annual Human-Bear Conflicts Workshop to further dive into what has become a major part of their lives.
With a carving of a bear above her desk, Brenda now can't imagine not helping out IBBR.
"It's a bittersweet moment. It lasts for a few seconds, when we release them," Brenda said. "I'm overwhelmed with gratitude, knowing we played a small part in getting them back to where they belong.
"I'm excited for them. I'm scared for them. I never stop thinking about them, ever."
Learn more about Idaho Black Bear Rehab and ways to get involved on Facebook and Instagram.