'Compassionate' St. Luke's nurse gives stem cells to help patient like ones who inspire her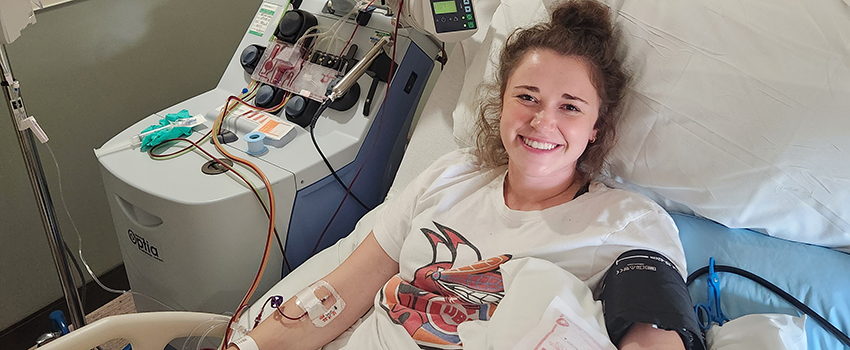 Lexi Olenick, an oncology nurse at St. Luke's Boise, during her stem cell donation Oct. 19.
By Dave Southorn, News and Community
Before she even finished high school, Lexi Olenick wanted to help cancer patients. It became her career, and recently, the inspiration to help a total stranger.
During her senior year, before she really knew what path her life would take, Olenick's grandfather died of leukemia.
"His nurses were, like, the most fantastic people," she said. "I wanted to be part of that."
Today, Olenick has been an oncology nurse for five years, the last three at St. Luke's Boise.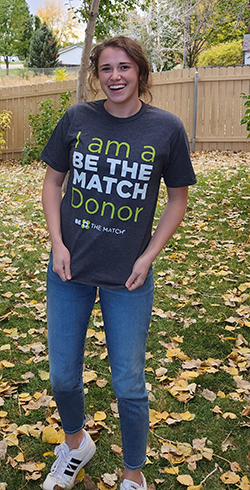 Like many of her fellow nurses who work on 4 South, Olenick has pondered ways to help patients not just in the hospital, but those in their community and even farther away.
Earlier this year, Olenick followed suit of some other nurses and signed up for Be The Match, a national bone marrow donor program. She registered online and sent in a simple cheek swab.
"You send it off and that may be the end of it; you might not hear anything back," Olenick said.
But she did.
In June, she was told she could be a potential match to donate stem cells to a patient, most likely fighting a blood cancer, such as leukemia. But even then, Olenick said she knew some other nurses who got that call but wound up not to be an excellent match needed for a stem cell transplant.
After some testing, Olenick found out in September she was an ideal match for a patient somewhere in the United States. She quickly agreed to donate, and in late October after five days of filgrastim (a stem cell mobilizing drug) and a panel of labs, had the procedure done.
"It's pretty cool to be able to help out that way," said Olenick, who felt back to her typical self in a little less than a week. "I'd given bags of stem cells to patients before, but being on the (donor) side gives you even more appreciation for it."
Olenick's co-workers at St. Luke's were very excited, most not knowing of any fellow nurses who wound up being a match. Olenick said she does not know anything about the person receiving her stem cells, only that they are not in Boise. She signed a form saying the patient and her could connect, if the patient wishes, in a year.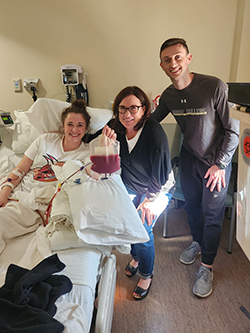 Lexi Olenick pictured with the bag of stem cells she donated Oct. 19, with her mom and husband, Ted.
"Lexi has absolutely thrived as a nurse on 4 South," assistant nurse manager Abby Tesar said. "… Something I love about Lexi is her kind and compassionate heart — this is evident in the way she interacts with patients and staff, and I believe her willingness to go through stem cell donation for a person she has never met is even further evidence of her generous heart.
"Lexi is truly giving a human a second chance at life, and that is an amazing gift to offer."
Now, Olenick can share her experience as a donor with the patients she gets to know so well. Chemotherapy destroys much of their bone marrow, but the stem cell transplant helps their bodies begin to create marrow anew.
At 4 South, that is often cause for celebration, as Olenick and her co-workers have seen it be successful. Olenick chuckles thinking about how nurse manager Meghan Cardoza sings a song on transplant day (to the tune of "Happy, Happy Birthday." Patients get a slice of cake. "It's a very hopeful day," Olenick said.
Now, Olenick gets to know that somewhere, her donation will lead to that special day for someone.
"The best days are when you get to see your patients go home," Olenick said. "I've seen this work. It's pretty special to be able to help like this — and I'd gladly do it again."