In babies and bees, St. Luke's midwife finds job, hobby that reflect love of nurturing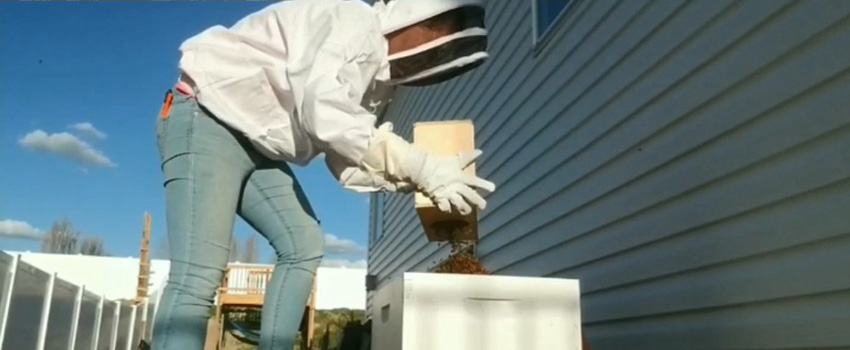 Paige Knickrehm, a certified nurse midwife at St. Luke's Meridian, took up beekeeping as a hobby during the COVID-19 pandemic.
By Chris Langrill, News and Community
During the height of the pandemic people tended to pick up new hobbies.
Some started knitting. Others dove into gardening. Many people got into jigsaw puzzles.
Paige Knickrehm took up a unique one: beekeeping.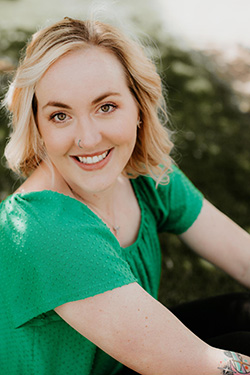 "I was looking for a hobby I could do without leaving the house," said Knickrehm, who began working as a certified nurse midwife at St. Luke's Meridian in August. "At the time, I was living in Chubbuck, and it's legal to have bees on your property in Chubbuck. So, I just thought I would go for it. There was a nurse anesthetist who kind of mentored me. It was a way for me to nurture something."
And it was a hobby with a purpose.
"I think everyone should do their part to protect the bees," Knickrehm said. "Bees are pretty much essential to the food chain. … They help pollinate vegetables, fruit, flowering trees. It's one of the reasons I decided to adopt some bees, so I could do my part to give back and protect them."
But her new hobby came with an interesting lesson — she's especially allergic to bee stings.
"A funny story," she said. "There are different breeds of bees, and some are super aggressive and some are not. I started with a really docile breed, but I found out quickly that they are only docile when you're not messing with their honey. So, I got stung and found out that I'm super allergic."
So, was that a sign it was time for a new hobby?
"No, I'm super stubborn, and I just refused to get rid of the bees," Knickrehm said. "They're living creatures, and I had committed to taking care of them."
Knickrehm is also committed to taking care of expectant mothers and their families.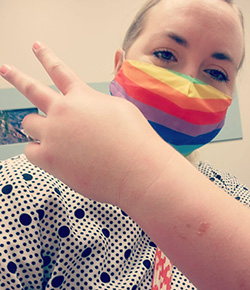 Knickrehm being treated, swollen arm and all, after finding she has a bee sting allergy.
"(Midwives) get to know people on a very intimate level," Knickrehm said. "That's basically the foundation of midwifery, protecting and supporting the woman and her entire family."
Knickrehm, 35, said she brings a unique perspective to her midwife career as a mother of three who has delivered children both in a hospital and at home.
"I have two boys, and they were both delivered in the hospital, and then my daughter, I had her at home," she said. "I just thought as a midwife it would help me to have a broad scope of experience, so I can relate to people who choose to have the same experience."
As for continuing to support her beekeeping hobby since her move to the Treasure Valley from eastern Idaho: She's run into a roadblock.
"My HOA here says no insects on the properties, so I'm trying to figure out where to set up a new hive. But I'd like to continue beekeeping," Knickrehm said.
After all, she has learned that the unique insects are, well, the bees' knees.
"Bees have their own personalities," Knickrehm said. "They're just really, really cool in how they communicate with each other. They're one of the most interesting creatures on the planet."