St. Luke's physician assistant and son come up with unique fundraising idea for patients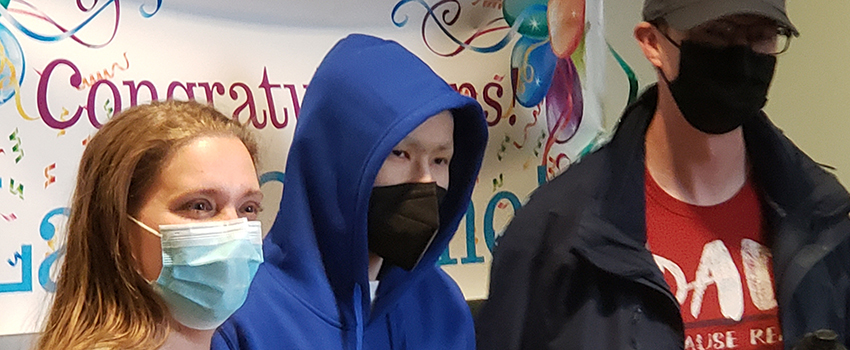 Sarah Maddux, her son Kam and husband Jesse at Kam's last chemotherapy appointment.
By Chris Langrill, News and Community
For the past seven years, Sarah Maddux has worked as an outpatient neurosurgery physician assistant at St. Luke's. Prior to that, Maddux worked in urgent care.
"I'm a bit of a Swiss Army Knife of a PA," she said. "I saw a lot of pediatric patients during my urgent care days, which I did for five years."
Needless to say, she's seen plenty of patients. But when her son Kam was diagnosed with cancer in April 2021, it gave her a new perspective when dealing with patients.
"I would say that I'm more grateful, knowing what's on the other side of the veil, knowing what we've been through and watching people selflessly sacrificing and advocating for my son so he got the best care," Maddux said.
And Kam, who was born in China, certainly deserved the best care after the difficult journey he's faced in his life. When he was 8 years old, he sustained an injury that resulted in sepsis. His biological family couldn't afford to pay for hospital services, so it made the difficult decision to abandon him in the hallway of a Chinese hospital. That helped save his life, but naturally, made him wary of hospitals.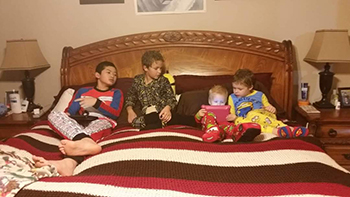 Kam Maddux, far left, with his three brothers soon after being adopted from China.
But his adoptive mom and her co-workers showed him what great care means. Maddux, her husband and their three sons welcomed Kam to their family when he was 13. There were tough times as Kam transitioned to life with his new family in Idaho, but eventually, he began to thrive at school and settle into his new world.
However, just weeks away from graduating from high school, Kam was diagnosed with osteoblastic osteosarcoma and he spent the next nine months battling the aggressive bone cancer.
As Kam fought on the fourth floor of St. Luke's Boise, he usually had a refrigerator in his room. It seemed like something small, but his mother said that refrigerator was more than just another appliance.
"It made a huge difference when he had a fridge in his room," Maddux said. "All cancer patients are prescribed antimicrobial diets, so their foods have to be kept at a proper temperature. It's kind of like pregnant women. We tell them they shouldn't eat certain aged cheeses or sushi because they can get a food-borne illness.
"So, a chemo patient can get sick very easily. In fact, we expect it. And they don't necessarily want to eat when the cafeteria is open. That's why having access to their own foods that are safe is so important because we want them to continue to eat. A side effect of chemo is weight loss. If we can keep them eating when they want to eat, that's helping everybody. It's better patient care, and it's good for the nurses and it's good for the family."
Maddux said the majority of the time when Kam was staying at St. Luke's, he had a refrigerator in his room. But she noticed a big difference during those times when he didn't have one.
"Those times were always a struggle because I watched him choose not to eat because he was worried that it wouldn't be safe," Maddux said. "That's just not a choice that cancer patients should have to make."
Meghan Cardoza, nursing manager on the 4 South unit, agreed.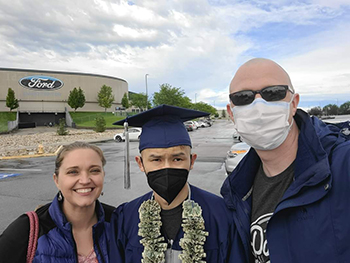 "Our patients spend weeks or months on 4 South, and it truly becomes a second home to them," Cardoza said. "Having the convenience of being able to have the food they like nearby gives our patients a sense of 'home' while they're on our unit."
For that reason, Maddux wants every patient room on the 4 South to have a refrigerator. She and Kam decided that a way to give back for Kam's care is to raise $21,000 to fund 15 refrigerators.
Achieving that goal would mean a lot to Maddux – and Kam.
"Kam is doing great, and he is cancer free," Maddux said. "He had his port out in February, and he will have his next scans (this month). … He's starting to dream dreams and move forward again."
Kam has one particular dream he and Sarah both hope comes to fruition.
"Kameron said while he was in the hospital that what he wanted when he was on the other side was to make sure that no patient should ever have to go through wondering if they would have a fridge or not," Maddux said. "So, he asked me to do (a fundraising drive), and I'm doing it because he's on the other side of cancer and that's what he wanted."
Said Cardoza: "It's rewarding to be able to give patients something small like this to make the hospital stay more comfortable and easier on them."
Want to make Kam's dream come true? Help families fighting cancer with a gift to the 4 South Fund today. When making a donation, please scroll down to "other" in the gift designation box and type in "4 South Fund."