Every year the Children's Miracle Network crowns "champions" from hospitals across the nation, including St. Luke's.
These champions serve as the face for children treated at their local hospitals.
When applications were sought from St. Luke's personnel for a 2022 champion it didn't take Colin Carr long to think of a worthy nominee: Kyrn Schaaf.
"When you fill out the application some of the things they're looking for are the ability to communicate with others, the willingness to help other people," said Carr, a teacher with the St. Luke's Children's Hospital School. "She's just about all of that. She's the most unselfish person I've ever met in my life. She would stop and ask me how I was doing while she and her family were going through all this crazy stuff."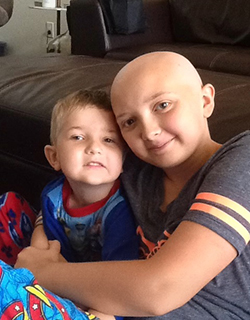 That "crazy stuff" began in June of 2017, when Kyrn, then 11 years old, was diagnosed with osteosarcoma in her right leg and underwent intense inpatient chemotherapy. She had surgery for a full distal femur replacement in Utah and then returned to Idaho, where she continued to receive chemotherapy and learned how to walk again.
After six months, she rang the bell at the St. Luke's Cancer Institute, hoping the long days of recovery were behind her.
"You get over that hurdle of all that treatment and it's like a breath of fresh air," Kyrn said. "It's like, 'I can finally kind of be normal. Kind of. A little bit. … I'm able to see friends again, I'm able to start doing things.'"
Then, in the spring of 2018, the bone that was holding the titanium rod to her femur snapped while she was walking to her bedroom. After an emergency revision surgery, doctors discovered that Kyrn's osteosarcoma had returned in her left wrist and she was admitted to St. Luke's Children's again for another round of chemotherapy, this time with an even more extensive therapy plan.
"I spent a lot of time at St. Luke's from 2017 to 2019," Kyrn said. "It's really like the nurses become your family because you see them so much. I would know every nurse who was on the floor and every nurse that was on call. It gets to the point where it's kind of like a second home."
Sam Mallory was an inpatient pediatric nurse who was part of the team that helped treat Kyrn. Mallory doesn't mince words when describing what Kyrn and other children with cancer endure as they try to beat the disease.
"People can't even fathom what these kids go through," Mallory said. "It's so bad, and some people have this image of young, cherubic bald children. But really, it's a battle zone. It's a war that they wage."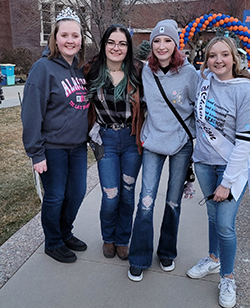 Kyrn Schaaf, right, along with, from left to right: Cortney Walters, a brain tumor survivor, Chiara Plaisted, Kyrn's best friend from high school and Jessie Severns, a leukemia survivor, at the 2022 Dance Marathon at Boise State.
Through all of that, Kyrn continued to amaze the St. Luke's staff with her positive attitude.
"I didn't look forward to getting chemo, but I definitely looked forward to seeing the people there," Kyrn said. "I try to think on the positive side of things. So, I'd tell myself, 'Yeah, I'm going to get pumped full of chemo and not feel great, but at the same time I get to see all these amazing people who have influenced my life.'"
Kyrn's mother, Kristen Schaaf, said she was constantly surprised by the bond that was formed between Kyrn and the nurses.
"They always made things special for Kyrn," Kristen said.
Kyrn remembers fondly one nurse bringing her homemade fettuccine and laughs when recalling another nurse who would break dance into the room every time he came to check Kyrn's vital signs. The fondness was mutual.
"I'm sure she was everybody's favorite at St. Luke's," said Carr, who helped Kyrn with her studies for two extended periods. "I'm sure the nurses loved her."
Kyrn is now 15 and a member of the first sophomore class at Owyhee High School in Meridian. She's been a member of the color guard team and has made new friends. In essence, she's just trying to be a normal teenager – even though she's more than that.
"I get asked all the time if I could take back my cancer experience and not have to go through it," Kyrn said. "And I'm like, 'No, it makes me who I am. I would go through it again in a heartbeat because I wouldn't be where I am right now, and I wouldn't be the person that I am if I didn't go through that.'"
That's the kind of wisdom and insight that Kyrn brings to the table as a Children's Miracle Network champion. She has a few different responsibilities in that role, but she believes the most important element is working with younger children and sometimes easing their fears about the treatment they're going through.
"I like to help other kids," Kyrn said. "I work a lot through social media, and I have kids reach out to me to talk about their experiences. It's just really cool to watch kids just power through things, and I get to be a role model, I guess, because I can help other kids get through some of the same things I went through."
A role model? Carr said you could do a lot worse than look to Kyrn for guidance.
"Boy, everything about that kid is what you want to see in a young person," he said.
Dance Marathon at Boise State raises $75,019.33 to help St. Luke's kids!
Adapting to change has been a must the last two years, and the Dance Marathon at Boise State is no different. Shifting last year to an online format, the overnight event was held Friday into Saturday outside on campus near the "B" sculpture.
But even if the event looked a little different than normal, it still did what it's always done best – provided a night of fun and raised a lot of money to benefit St. Luke's Children's. The grand total? $75,019.33. On hand were past Children's Miracle Network champions, including the newest, Kyrn.
The event has now raised more than $1 million since it was first held in 2013. A big thank you to our friends at Boise State for all of their support and living up to the dance marathon's motto: For The Kids!