The new St. Luke's Clinic – Lifestyle Medicine opened in fall of 2021 at St. Luke's Nampa, providing needed services closer to home for many residents. The clinic specializes in helping patients improve their physical and emotional health and their quality of life following a major health challenge.
"This has been quite the process to get this open," said Derek Kygar, manager of the Nampa lifestyle medicine clinic. "Almost five years ago, conversations began to get this clinic opened in Nampa. There have been difficulties with COVID-19 and restructuring within St. Luke's, and over the last year and a half, it has gotten a lot of traction and pushed by our leaders to be opened. We were finally able to get the approval and officially opened on Aug. 25, 2021."
A major driving force for St. Luke's Clinic – Lifestyle Medicine: Nampa was the location.
"There are many barriers to patients following through with a cardiac or pulmonary rehab program," said Dr. Rebecca Gettelman, a physician in the Nampa lifestyle medicine clinic. "They might have a job that gets in the way of participation or family obligations, or they do not get referred by a provider in the first place. Identifying that location was a significant issue as geographic expansion is a top priority for St. Luke's."
Many patients in the lifestyle medicine program live in remote areas across the valley and into eastern Oregon. Kygar said he knew they were losing a lot of patients in the west Treasure Valley area due to this barrier.
"It is a huge deal, and we had a lot of people excited within our current cardiac rehab in Meridian," Kygar said. "When we opened, we had a lot of patients transfer to Nampa to be closer to their homes."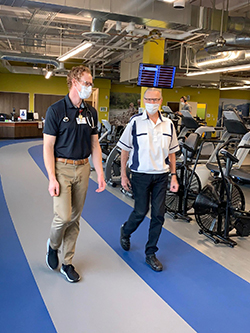 As an Ontario, Ore. native, Kygar is pleased with the number of patients the clinic is seeing from Canyon County, Weiser, Fruitland, Ontario and Payette.
"Growing up out there, I knew whenever there were medical needs, I had to drive into Boise or Meridian to get physical therapy or any kind of service. Now that this Nampa hospital and clinic are open, there is a huge spectrum of services available that are hopefully closing health care gaps," Kygar said.
Dr. Gettelman adds, "Nationally, we do not adequately capture patients who are eligible for cardiac and pulmonary rehab. St. Luke's does significantly better than the national average, but we have a long way to go to meet the needs."
Examples of eligible patients include those who are post-heart attack, bypass or valve surgery, or patients with COPD or other lung conditions.
"We know that the clinical outcomes are better for people with these disease processes if they do participate in rehab. So, it has been hard to accept that so many people who need the services were not getting them," Dr. Gettelman said.
The Nampa lifestyle medicine clinic currently offers three programs: cardiovascular and pulmonary rehabilitation, and a peripheral artery disease program. The clinic has had so many patients that the team expanded the number of classes offered.
Lowell Grim, a local farmer and Nampa resident, completed the cardiac rehabilitation program following a heart incident, then enrolled to participate in the peripheral arterial disease program too.
"I have been a farmer in Nampa for 50 years, and I thought I was perfectly healthy. One Saturday night, I felt really tuckered out and figured it had just been from working hard on my farm, but I could not get over it. My wife brought me in, and I ended up getting a stent put in my heart and ended up in the program here," Grim said.
Beyond being able to work closely with his physician, Grim has also been able to attend nutrition classes and have a variety of other health coaching and emotional wellness resources at his fingertips.
"I would say it was very successful for me. From what I have learned from my last (cardiac rehab) program to now, it has helped me make new patterns in my life," Grim said.
The staff at the lifestyle medicine clinic has helped Grim make small adjustments to his daily life to better his overall health.
"They help me with what I should eat for my meals, and I am walking more," he said. "I am also diabetic, so all the testing I do here is a real benefit to know what to do."
Grim is confident that the peripheral artery disease program he is currently enrolled in will be just as beneficial and notes how impressed he is with the level of care he has received from the staff at the clinic.