Back to the bedside: How some St. Luke's leaders stepped up during COVID-19 surge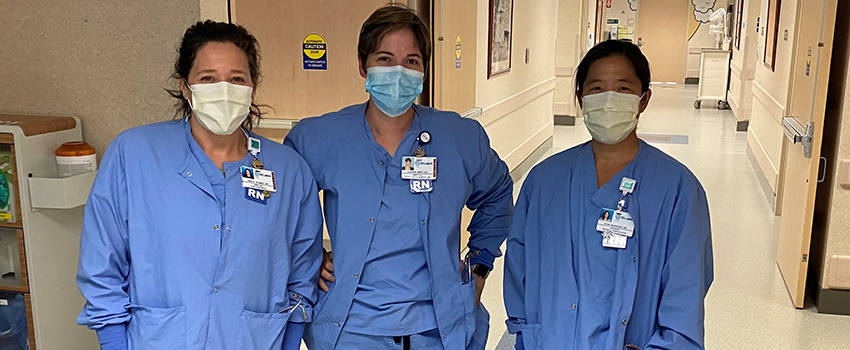 Kristy Schmidt, St. Luke's director of patient experience, Lauren Smith, orthopedic practice director and Kyan McKeever, clinical informaticist.
By Dave Southorn, News and Community
When COVID-19 numbers have risen, St. Luke's teams have also stepped up to the challenge.
During the pandemic, particularly during the surges in summer and winter 2020 and fall 2021, it has been an all-hands-on-deck fight.
Among those who rose to the occasion during the last surge, when Idaho operated under crisis standards of care for two months, were some St. Luke's administrators who returned to bedside care after years away.
For the four featured in this story, the experience gave them an even deeper appreciation for St. Luke's frontline workers and has them ready to step up again should another wave hit our communities.
Trish Heath
It had been more than 20 years since Heath was a bedside nurse before she returned to help at St. Luke's Magic Valley.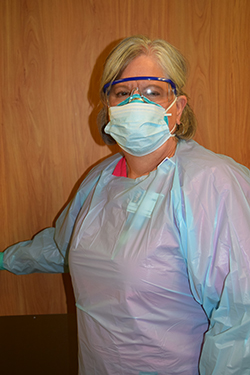 Heath is an accreditation specialist, helping guide the hospital through visits, inspections and surveys from various agencies. Since it had been quite some time away from working daily with patients, there was a lot of new equipment and technology she hadn't been trained in, but some hands-on work you'll never forget.
"I helped in the ICU in the morning and afternoons," Heath said. "We would put patients on their bellies around 4 p.m. and put them on their backs at 8 a.m. It takes six or seven people to turn a patient; it's a complicated process. I'd also help fill PPE or assist in bathing or catheter care, co-sign medications, those sorts of things."
Heath, through rounding and taking part in the hospital's crisis response during the pandemic, certainly knew all that nurses, respiratory therapists and others were going through, but it was another experience to see it up close.
"So many patients were so young, it reminded me of my own children — I had to learn to cope all over again, which I think was the hardest part," Heath said. "I knew how good ICU nurses were, how all nurses are – but seeing the level of caring they provide, even after all they've gone through and are going through, it was really amazing.
"They gave families hope when they needed hope and guided them through times of despair."
During the fall surge, Heath worked her normal job between the two hours or so she helped in the ICU. Those moments back in the hospital gave her a renewed outlook and a renewed appreciation.
"I felt blessed to go and help out," Heath said. "When you get in a role like mine, you miss the patient contact. It felt like I was really making a hands-on difference. It kind of fed my nurse's soul, if you will."
Andrea Milner
In her career, Milner had worked as a nurse in Burley, Pocatello, Salt Lake City and Las Vegas. When she moved to the Treasure Valley in 2017 with her husband, Scott, St. Luke's former director of pharmacy, Milner made a change to work in utilization management, doing Medicare audits and working on insurance denial cases. She also was a flex employee in the endoscopy unit in Meridian.
But once the COVID-19 pandemic began in the spring of 2020, Milner started to think of moving back full-time to bedside care. It became reality a year later.
"I knew these patients were just so, so sick and our bedside nurses must be exhausted," Milner said. "I guess I just felt a pull to help, as a matter of conscience. When the shift to crisis standards of care was announced, I knew it was time to make the switch."
After a "profound few months" in the ICU, she is now a full-time RN in endoscopy.
"I feel like through this whole pandemic, there's this feeling of 'how can I help … what can I do?'" Milner said. "I feel like this was a way for me to contribute, in the small way that I could."
Milner said the experience of caring for all sorts of people, who have come from far different circumstances, left a mark that has changed her for the better. And above all, she said her story can't be told without recognizing those around her.
"The nurses in the Meridian ICU were just incredible," she said. "I know it must have been so difficult for them to not only take on their own patient load, but to also mentor me and keep me on track, always willing to answer my non-stop questions. … They have such a great culture up there!"
Kristy Schmidt
Though she did some training during the initial COVID-19 surge in 2020, Schmidt dove in during the fall surge.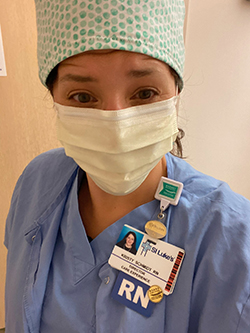 "I said I'll go anywhere … I'll literally do whatever," said Schmidt, St. Luke's director of patient experience. "I wanted to be there for our patients, but I knew the staff was struggling. They were fatigued, but I had time. If it was one call light, one sitting shift, it was like, 'let me go do that.'"
And that was what she got to do, despite being away from the bedside for about eight years, working in the Meridian ICU, Nampa emergency department and the medical-surgical floor in Boise. Schmidt worked two or three shifts a week.
"It was a little eye-opening … I went to the Meridian ICU one night, the oldest patient was 68, most were in their 40s and 50s," Schmidt said. "Seeing that first-hand, if anything, it gave me empathy, allowed me to be present and hopefully relieve some burden."
Following each shift, Schmidt tried to send some form of recognition to her colleagues or to let their group's leaders know about their hard work.
"It is good for our leaders to see what's happening first-hand and roll up their sleeves whenever they can," Schmidt said. "I think it's important."
Schmidt said it was grounding to see the "valid fears" patients had, and just being able to be there to hold a hand or listen "reminds you of why you're there."
Though Schmidt came from an administrative position, she frequently worked alongside travel nurses or staff redeployed from other departments. The unified front of being willing to help in the most taxing circumstances was truly impressive, she said.
"I never heard a single nurse complain about being redeployed. There was a lot of camaraderie," Schmidt said. "You have to thank the people that are showing up doing this every single day … I am happy to help, but the people over there, they deserve the spotlight."
Lauren Smith
When Smith began to help out in the ICU this past fall, she got a few inquisitive looks from her new teammates at her St. Luke's badge.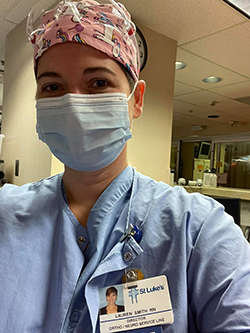 What was the orthopedic practice director doing there?
"The (other nurses) weren't too sure, and I got tested a little bit, helping put in an IV they said they were struggling with, and once I did that, they realized I knew what I was doing," Smith said with a laugh.
A St. Luke's team member for 21 years, Smith had started out in the nursing float pool and in the ICU. She handled a few shifts early in the pandemic, but in the fall started to take at least one a week.
She proved to be a helpful resource, connecting nurses with leaders who could help get them the supplies they need.
One night, Smith was helping a pregnant woman who had a 102-degree temperature and was intubated. The cooling system was being used on another patient, but she knew where another was – in the pediatric ICU supply.
"I left a nice 'thank you' note, explaining why we needed it and if they needed it back, to take it," Smith said. "She recovered, and I was able to put in a call to supply chain to get more funded."
Not only could she secure supplies, Smith also wanted to keep staff fed. She noticed that those she worked alongside in the ICU were missing meals because they were so rushed.
Ever since, she has delivered snacks and meals to St. Luke's units with help from other departments and a social media boost from KTVB's Maggie O'Mara that have kept her Venmo account stuffed.
"I'm going to take every chance I can get to make sure they know there are people outside of here that want to help, that are doing their part, cheering for them, but maybe they just didn't know how," Smith said.
Smith has shared her experience with leaders in her group to help them understand just what the COVID units go through. She said one night, six patients died in an eight-hour span, with two more dying before Smith came back the following day.
"It was very grounding," she said. "It's so different being up there, shoulder to shoulder with that team. It confirms why I got into this and how special those people are."