St. Luke's Magic Valley COVID patient reflects on 'humbling experience' after six-week stay
Jon Van Wagoner, pictured with his wife, Lenzi, and his four children while leaving St. Luke's Magic Valley. Van Wagoner was hospitalized for six weeks fighting COVID-19 and was inspired to talk about the realities of what he faced (photo courtesy Jon Van Wagoner).
By Michelle Bartlome, News and Community
Jon Van Wagoner has always been an active person.
The 35-year-old is an avid off-road driver, even teaching it to others. He loves to mountain bike and met his wife, Lenzi, in the lift line at a ski resort in Park City, Utah.
But Van Wagoner hasn't been able to participate much in those activities after being hospitalized with COVID-19 and spending six weeks in the hospital fighting for his life at St. Luke's Magic Valley.
The physical toll has been enormous, as has the mental challenge of not being able to enjoy the things he once did.
Van Wagoner said he became "really scared" during his hospitalization, during which he was intubated. He still is experiencing lingering symptoms nearly six months later. Van Wagoner reflected on his COVID-19 battle recently, discussing what it was like for him and what he has learned.
Hospitalized after 'getting pretty miserable'
Van Wagoner, Lenzi and their four children currently live in Twin Falls. Lenzi is originally from the Magic Valley. The family was living in North Dakota, but sold their house while Van Wagoner was in the ICU.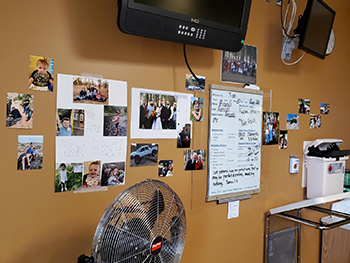 To keep spirits up during his stay at St. Luke's Magic Valley, Jon Van Wagoner had family photos displayed in his room (photo courtesy Jon Van Wagoner).
In July, after working all day in Texas, Van Wagoner flew back to North Dakota. He had a headache, which he said wasn't uncommon for him. He then drove to Idaho for a summer vacation in the area his wife grew up.
"I didn't feel great, but I just figured it was the smoke. The smoke was still bad here in Idaho and I just drove 850 miles in my race truck and so I was like, 'I'm just gonna get some rest,'" Van Wagoner said.
But his headache persisted. A few days later, he still wasn't feeling well so he went to get checked out. After taking a test, he received the news: he had COVID.
He went to stay at his in-laws' house where he quarantined in a bedroom. The headaches still hadn't gone away, and he wasn't sleeping well.
"I'd only slept really a few hours, and it was getting pretty miserable. Then, my breathing started to get really bad so I decided to go to the ER," Van Wagoner said.
Van Wagoner went to the St. Luke's Magic Valley emergency department on Aug. 9. With his oxygen level low, he was admitted to the hospital.
'Things weren't so good'
Van Wagoner spent two weeks on the cardiopulmonary floor. He doesn't remember much about the early days of his stay, which he believes could be a long-term effect from having COVID.
"Things were still just getting worse. I wasn't getting any progression or really any better with maintaining my O2 stats or anything like that," Van Wagoner said. "At some point, they said 'OK, it looks like intubation is gonna be your next step.'"
It was at that point that he realized things were getting very serious. Yes, it was even what he would describe as 'scary.' His parents drove up from Utah to be nearby.
Van Wagoner was intubated and on a ventilator for eight days.
"They thought I was doing good enough and they pulled me off of the ventilator and woke me up and things weren't so good," he said.
After being off the ventilator for 24 hours, he was put back on it for another week.
"… the tube down my throat and that was not a pleasurable experience. It's hard to communicate," he said. "Even if I tried to write, my hands were so shaky, I couldn't write anything."
After four weeks, Van Wagoner lost 50 pounds. He spent two more weeks in the hospital before being discharged.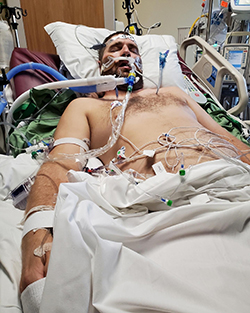 He credits Dr. Greg Ball, St. Luke's Magic Valley pulmonologist and ICU medical director, along with his wife's support, as major reasons he survived.
"I think that definitely made a difference in my care and in my outcome," he said.
He also thanks the nursing and respiratory therapy staffs as well.
"They made me feel like they cared for me personally and also made a big difference and really did a lot of the care I required," he said.
Despite being young and active, Van Wagoner saw first-hand that COVID-19, especially the delta variant, was striking younger patients than the original wave and was making them sicker.
In September, just as Van Wagoner was near the end of his stay at St. Luke's Magic Valley, St. Luke's Chief Physician Officer Dr. Jim Souza said approximately 70% of ICU patients hospitalized with COVID were younger than 55, with about 15% younger than 40.
After being discharged, Van Wagoner underwent physical therapy at his home for two months. For the last three months, Van Wagoner has been a patient of St. Luke's Lifestyle Medicine, three days a week. The hope is to regain muscle that was lost to be able to do daily functions once again.
"I had to learn to walk again. I lost so much leg mass and my job is hiking around the mountains. I couldn't walk," Van Wagoner said.
Typically, having an upstairs bedroom hasn't been a problem. But after returning home from the hospital, it turned out to be a challenge for Van Wagoner.
"It would take me five minutes to literally crawl on my hands and knees to get up the stairs," he said. "I'd have to stop every couple of stairs, just to get my breath back so I can get up the stairs and get into bed every night."
Other challenges for him include the anxiety he faced after being extubated.
"I've never in my life been sick like this. I've never experienced that," Van Wagoner said. "The worst injury I ever had was maybe a broken collarbone and so I've never experienced the total inability to function physically."
Sharing his message
After such a difficult experience, Van Wagoner offered some advice for people in the community to help avoid what he went through, even being an active 35-year-old.
"I think the vaccine is a beneficial thing for people to get. If I would've had it, if it would've eliminated my experience in the hospital and not stuck me in the ICU. I think I would've rather that happened," he told KMVT.
Hoping his voice would resonate with others, he decided to share his experience on social media. He described the seriousness of COVID-19 and the gut-wrenching emotions it creates.
"I've never seen anyone share that they're just lying in a bed and your parents, your family, wife and kids were all there praying you make it out," said Van Wagoner, who hopes to move to Nevada for a job opportunity when he's cleared.
He added, "(A friend from Twin Falls') funeral was the day I went under and he died from COVID, so it's a pretty humbling experience."