Teamwork helps create 'amazing' wedding for daughter of St. Luke's Meridian patient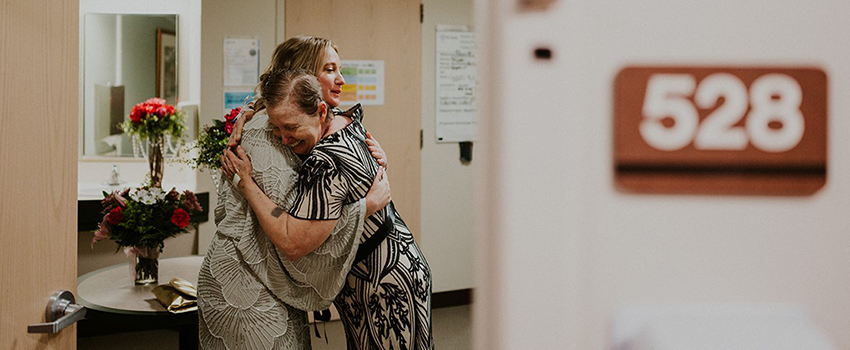 Priscilla Newman hugs her daughter, Heather, at St. Luke's Meridian on Dec. 3. The St. Luke's staff helped Priscilla, a patient, see Heather marry her husband, Demian, at the hospital. Photos courtesy Maggie Grace Photography.
By Dave Southorn, News and Community
It is very typical to want your wedding day to go without a hitch, smooth and with as few major changes as possible. Some envision it for years, and the planning is often meticulous.
On Dec. 3, Heather Newman and Demian Lashlee's wedding day did not happen remotely how they thought it would. They went to the hospital — for a very good reason — and wound up having not one, but two ceremonies.
With Heather's mother, Priscilla, in a hospital room at St. Luke's Meridian, the St. Luke's staff helped put together an impromptu wedding so Priscilla could see Heather, her only child, get married.
And right after, the couple went to their originally planned wedding in front of approximately 70 guests.
"It felt like an episode of 'Grey's Anatomy,'" Heather said with a laugh. "… it really was like something you see on TV."
On the evening of Nov. 30, Priscilla began experiencing seizures. Her husband, David, brought her in to St. Luke's Meridian. They were told she likely would have a prolonged stay — perhaps a month.
In October 2021, Priscilla was diagnosed with brain cancer. She was given 12-18 months to live.
"I just thought, 'Oh no, this can't be happening; it's so close to the wedding day,'" Heather said. "I wanted her to be there so badly. I thought maybe we should just cancel the wedding. But Demian had the idea to do something in her room."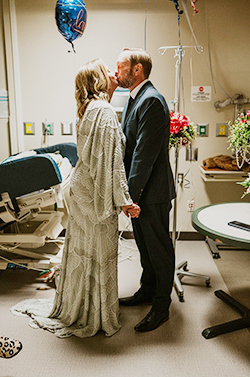 Immediately, St. Luke's Meridian team members on the fifth floor and everywhere else jumped into action — chaplains helped get approval for visitors, nurses helped decorate Priscilla's room and others gathered flowers. Dr. Dan Abenroth, Priscilla's neurologist, helped pay for the flowers.
"It was a very special moment shared by everyone who worked on our unit that day," said Tracy Stark, St. Luke's nurse manager.
Said David Newman: "Tracy was like, 'Are you kidding me?' She was so excited to help, just took the bull by the horns. (Nurse) Paula (Meyers) and the whole team just went all out to decorate and make it special. It was amazing."
Heather couldn't believe what she saw when she arrived: Staff lined the halls as she and Demian walked toward Priscilla's room, where their officiant held the ceremony. There, Priscilla waited, wearing the dress she had planned to wear for the special occasion.
"I didn't want to put anyone out; I didn't want to add any additional stress. I know they have difficult jobs," Heather said. "But everyone was so gracious. It was very, very moving, just precious. I can't thank the staff enough — security, fifth floor, chaplains — everyone was so incredible.
"It was like, 'Here's a joyous thing we can direct our energy toward.' I was so honored."
After sharing some special moments with Priscilla, the couple — followed soon by the father of the bride — headed off to their originally planned wedding at a Garden City winery.
There, another stroke of luck.
Heather had called the rental company to cancel the chairs for the wedding, assuming the hospital ceremony would be the only one they'd have. She figured they still may have a reception, so she didn't cancel the reservation.
Well, the chairs still arrived.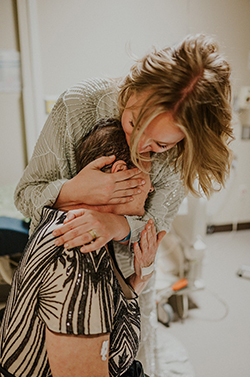 Heather gives a hug to her mom, Priscilla.
"So, we had two weddings about an hour apart," Heather said. "It's so incredible how things work out. I still got to celebrate with our family and friends, and I could be present. I didn't have to think, 'My mom's not here,' because we got to have that hospital wedding."
In the days since, Priscilla has talked about the wedding — something she had always wanted to see and something the family doesn't take for granted as her cancer has impacted her memory.
And somehow, perhaps given the experience she had wanted, Priscilla improved that weekend. In fact, she was able to go home the day after the wedding.
"I just keep saying the same thing — it is amazing," David said. "The blessings we received that weekend, I cannot believe it. I had a pretty great story to tell everyone at the winery. I get goosebumps thinking about it.
"I'm a flooring consultant, and I've told every customer."
The weekend has been another special moment for Heather and her mother that included a summer full of them. They went around together checking off "bucket list" items — visiting a horse farm, camping in an RV, seeing the Milky Way in the dark skies near Stanley and visiting old friends in San Diego.
Heather, Demian and David are cherishing whatever time they have left with Priscilla. Being able to have her see Heather be married, with the help of some caring folks at St. Luke's Meridian, may be most special of all.
"The one thing I want to give to her most was the wedding. It's a miracle how it all worked out," said Heather, who brought a card, some plants and treats to St. Luke's a few days after the wedding. "… it changed me a little bit, experiencing that wave of love and support."