When she thought of ways to help a humanitarian crisis in a place that means so much to her half a world away, Tatiana Petruchok thought of one that means a lot right here in Idaho.
Petruchok, who has spent the last 27 years working in nursing at St. Luke's Boise, was born in Ukraine and moved to the United States in the late 1980s.
In March, she, along with fellow members of Full Gospel Slavic Church and others from the community, wanted to spearhead a supply drive to support Ukrainians in the wake of Russia's invasion.
Thinking of "maybe getting a few bandages, small things like that," Petruchok reached out to St. Luke's President and CEO Chris Roth about obtaining some medical supplies. He quickly connected Petruchok with St. Luke's supply chain and pharmacy leaders.
In the first load of supplies that went out, it was a little more than just a few bandages – 210 boxes of medical supplies, to be specific, with more added to subsequent shipments.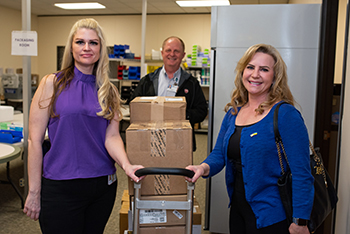 "The reason I stayed with Luke's so long is because I've always loved the people I worked with," Petruchok said. "I didn't realize how much of a team effort it was … everyone was talking to everyone and all of the sudden we got 12 pallets of stuff. Everyone wanted to help."
The items were sent to aid doctors and volunteers in Ukraine, plus refugees at the border with Poland. Among the medical supplies were, yes, bandages, but also syringes, gowns, ABD pads, crutches, scrubs, burn treatments and more. St. Luke's also supplied approximately $10,000 worth of antibiotics and other medications, some of which were obtained last week and will be on the next shipment.
When Petruchok, her three siblings and her parents arrived in the United States, they had a grand total of six suitcases representing all of their collective possessions. Seeing history repeat, as her family fled the Soviet Union, has been "so incredibly sad," she said. Her mother has 13 siblings, many still in Ukraine.
"It was like, 'We've got to do something,' so our church members, others wanted to do a little drive," Petruchok said. "We did a little flyer; it went crazy with social media. KTVB ran our story, and we had about 70 volunteers to help sort and package by the end of our drive. It was amazing."
In total, more than 3,000 boxes of medical supplies, non-perishable food, baby items, essentials and survival supplies were sent in three semi-truck shipments from mid-March through April 4. Brighton Corporation is covering shipping costs, while Dnipro LLC, a New Jersey-based company, is delivering the items to Poland, where some are taken to refugee gatherings and some into Ukraine.
Another drive is set for April 21-23.
More medication from St. Luke's, along with other medical supplies, is expected to be included in the next shipment. Petruchok said her group has contacted doctors in Ukraine, who have requested more specific items that St. Luke's plans to give.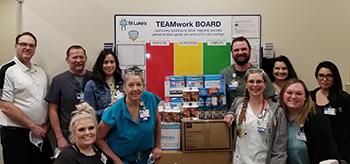 From left to right: Dr. David Jensen, Donnie Johnson, Kim Furrow, Jacob Klimes, Coleen Cline, Alexis Marcetic, Bernie Rodriguez, Bobbi Reddick, Alicia Harris and Alicia Garza from Twin Falls.
"It has meant so much to me," Petruchok said. "It just solidified why I've been with St. Luke's – on the same floor I started (5 East) – for 27 years. It's been a blessing and a source of inspiration for us."
In March, St. Luke's hosted a series of online roundtable discussions for employees to discuss the events in Ukraine and how to possibly support the country's people. St. Luke's has a number of employees, like Petruchok, who are Ukrainian or have family there.
A team from St. Luke's Clinic – Physical Medicine and Rehabilitation in Twin Falls also has organized supplies to support the humanitarian crisis in Ukraine. The group assembled items like baby formula, gloves and over-the-counter medication to assist. It has paired up with a Magic Valley-based charitable group to have items sent weekly to Ukraine.
"I could not be more proud to work for an organization who not only serves our surrounding communities but those far and wide," said Kim Furrow, St. Luke's practice director.