St. Luke's nurses, co-workers rally around family following tragic suicide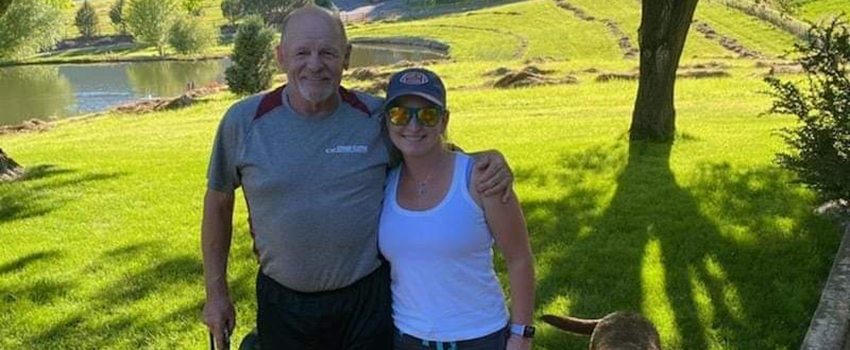 Kerri Massoth, right, and her father, Larry Szurgot at the Szurgot home near Horseshoe Bend.
By Dave Southorn, News and Community
One word quickly comes up – quickly, repeatedly – to describe Kerri Massoth.
Giving.
It was in her nature as an emergency department nurse at St. Luke's Meridian. She loved to plan vacations and friendly get-togethers. Each year, she would "adopt" a family in need, often one with children in one of her two sons' classrooms, buying holiday gifts for them.
"Just a wonderful soul," said her mother, Barbara Szurgot.
But Massoth was carrying a burden that no one fully realized – until she took her own life, on June 14.
Massoth's suicide shook her St. Luke's co-workers and family to the core.
"I was completely gutted," Larry Szurgot, her father, said. "It's been two months and it still is so fresh.
"The last thing she said to me was, 'You're my best friend.'"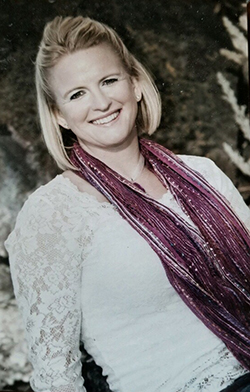 September is National Suicide Prevention Month, Sept. 5-11 is National Suicide Prevention Week and Sept. 10 is World Suicide Prevention Day. Below, you'll find resources and information from St. Luke's suicide prevention team.
Barbara Szurgot said that since her daughter's death, "having support has been the most helpful." Some of that support has come directly from Massoth's friends at St. Luke's.
Emergency department Supervisor Melissa Volkers was among the first to reach out to the Szurgots. She knew their pain all too well.
In December 2013, her son, Tanner, died by suicide while stationed at an Air Force base in Alaska.
"It's really strange, because I feel Kerri and Tanner were so similar – they both just gave and gave, took care of everyone, but not always themselves," Volkers said. "Never in a million years can you imagine it. I still ache all the time."
Volkers quickly became an important resource for the Szurgot family as someone who knew their daughter and who could understand. Even Barbara's 90-year-old mother, Elsie, chats frequently with Volkers.
Volkers and other St. Luke's nurses recently paid a visit to the Szurgots' property near Horseshoe Bend and planted two trees in her honor. They shared stories, shed tears and said goodbyes.
They also put together some money to help Larry build a gazebo near the pond on their property.
"That was Kerri's favorite place," Larry said. "The tears came out, but it's so good because you remember the good things. I'll talk, probably blubber a bit, but it feels good.
"Those nurses have been a rock for me, for us. They've taken care of us."
At St. Luke's, the nurses all wrote letters to Kerri, which they keep on a wall. Larry recently visited, as emotional as it can be to see it, it reminded him of how much his daughter was loved.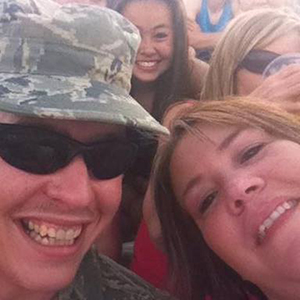 "I brought them a big thing of jelly beans last time, so I'm going to make it a point every time I'm in town to bring them something," Larry said. "I want to keep up that relationship."
As difficult as it can be, talking about Kerri, her suicide and the feelings it brings up has been helpful for families like the Szurgots and Volkers.
"You never think it will happen to your family, but when it does, you realize just how many people are affected by it," Barbara Szurgot said. "Your world collapses, but you have to move forward. Talking about it, it helps you get through it and it can hopefully let other families be aware of it.
"Once it happens, you will do whatever you can … if telling your story prevents it from happening to even one family, it's worth it."
It is an ongoing fight for the families.
Volkers, about six years after her son's suicide, was in a "bad place." She took an intensive course in Boston with other parents who had lost children in the military to suicide. A few years ago, she started "Operation Snowflake" to honor those fellow military families.
Her advice applies to not just those who have had suicidal thoughts, but those dealing with the aftermath of a suicide as well.
"I did not want to die, but I could not live in the darkness any longer," Volkers said. "There is so much help out there and so many resources. Do not be afraid to ask."
Suicide prevention information and resources
St. Luke's strategies during and beyond the month of September include informing and educating Idahoans about suicide and suicide prevention through public messaging and trainings.
We are joined in our efforts by numerous state and local organizations, mental health advocates, partners with lived experience and dedicated providers, all deeply committed to decreasing deaths by suicide in the state of Idaho, which is among the top 10 states with the highest suicide rate.
If you or someone you know is struggling, don't wait. Reach out to the Idaho Suicide Prevention Hotline by calling or texting 988. If someone is in crisis and they get the help they need, they will likely recover and go on to lead a full life.
You do not have to be a mental health provider to help someone. Talking about suicide does not increase the risk of a suicide attempt and 95% of adults surveyed in the U.S. would do something if someone close to them was thinking about suicide. In partnership with the Speedy Foundation, St. Luke's is offering free virtual "Question, Persuade, Refer" gatekeeper training, where you will learn the three skills to save a life. Join the 95% who would reach out and act! Click here for more.
Connect! Attend the American Foundation for Suicide Prevention's World Suicide Prevention Facebook Live Event on Sept. 10. Follow St. Luke's social media for more information to build your awareness and confidence as an advocate for suicide prevention and mental health promotion. Together we can reduce the risk of suicide in our communities.