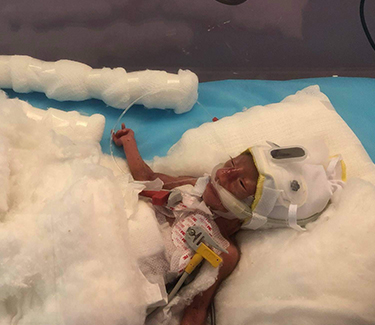 Photo courtesy of Open Hearts for Orphans. 
A baby born prematurely in Iraq is receiving lifesaving care thanks in part to a team of nurses at St. Luke's Children's in Boise.
In early August, a nonprofit organization devoted to helping abandoned children around the world reached out to St. Luke's RN Chelsie Phillips about a baby born at 25 weeks in desperate need of medical supplies.
Phillips, part of the neonatal intensive care unit (NICU), was already familiar with the organization, Open Hearts for Orphans, from volunteering as a medical assistant for children in China in 2016.
The baby weighed just 1.4 pounds. The team caring for the baby needed IVs and a preemie CPAP mask — and they needed the items as soon as possible.
"I really doubted that we would be able to get the items together in time," Phillips said. "But I thought I could try."
Phillips reached out to St. Luke's Children's nurse manager Kendall Connors and assistant nurse manager Christine Aragon to see if they could help.
Connors and Aragon assembled a kit of the requested supplies and additional items to support the baby, including skin products and intubation equipment.
"They rounded up a variety of supplies. We sent everything we could think of that would be beneficial for this baby," Phillips said.
St. Luke's shipping and receiving team overnighted the package to a person in Minnesota, who departed the following day for Iraq with the items.
After the supplies arrived, Phillips received a photo of the baby with the new CPAP mask helping her breathe and the tiny IV successfully inserted.
"We're still so amazed and grateful to the NICU management team at St. Luke's in Boise, ID, who scrambled and rallied and went way above and beyond to help save the life of this 25-week-old baby born prematurely across the globe," Open Hearts For Orphans shared on its Facebook page.
Phillips said the efforts of her colleagues to support a baby in need, thousands of miles away, has brightened up the NICU.
"It was incredible, and it's been a big morale booster for our whole unit," Phillips said. "I've had a lot of feedback from my co-workers saying, 'That was so great!' People have been really excited that we were able to send stuff."