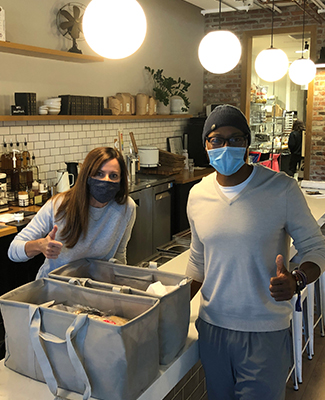 Ashley Syms, founder of ā café, and Malcolm Brown.
In April 2020, Malcolm Brown went for a calming walk that turned out to be very productive.
Strolling through the blossoming streets in his Boise neighborhood, he listened to a podcast that focused on the importance of positivity, despite so much pandemic-induced fear and uncertainty.
"It prompted me that day to go do something good for someone," Brown said.
Brown, a clinical athletic trainer with St. Luke's Sports Medicine, came up with an idea.
"I went and bought a coffee to support a small business at that time and thought, 'Wouldn't it be cool if we had a way where other people could do this and pay it forward to someone else and support local businesses?'" Brown said.
Brown thought it was a win-win — he just needed some help bringing the concept to life. After sharing his story with a neighbor, he was introduced to Thamu Dube, a new Boise resident and digital marketing expert.
Together, they developed WeLoLo, which stands for "We Love Local." The website allows users to contribute small dollar amounts to pay for someone else's coffee or food at a local business, like ā café in downtown Boise.
A variety of frontline and essential workers, like teachers, emergency responders and health care workers can visit the participating businesses and claim the paid-for treats.
Brown and Dube recently funded breakfast burritos from ā café to be delivered to St. Luke's employees and caregivers at the Boise Medical Center.
"We are always wanting to find ways to give back, and we started with our ICU and emergency department workers," Brown said. "We just want to say 'thank you' for what they are doing and acknowledging them.
"We hope that sending food over there is just scratching the surface of what we would like to do, not just for health care workers but for so many other people."
Brown's St. Luke's colleagues know well his drive to help people and support his community. He credits much of that passion to his grandmother — and growing up with 10 brothers and sisters on the clay dirt roads of Georgia.
"Even though we didn't have a lot, we still had more than some people," he said. "As kids we would complain about certain things; she would do a really good job of helping us put things in perspective and think about others who might have less. We were blessed."
After high school, Brown served 11 years in the Air Force as a crew chief on Boeing KC-135 Stratotanker airplanes. He served another three years in the Air Force Reserve.
"Getting an opportunity to travel the world and meet people from all walks of life helped me realize there is definitely more that combines us and ties us together than separates us," Brown said. "We are all human beings."
After completing a graduate degree in his home state and an athletic training residency program at the University of Wisconsin, Brown joined St. Luke's in early 2017.
Brown brought that enthusiasm for connecting with others to Boise — something he hopes to continue to do with WeLoLo.
"Everyone has a story to tell and a journey they've gone on," he said, "and if I can potentially take a moment out of my day to make them feel good, even if it's as simple as buying someone a coffee, I want to do it."