Rosa Paiz knew there was something not quite right within her body. She could feel it but did not know quite what it was.
So, the Jerome resident made an appointment to see a doctor.
A mammogram and an ultrasound of her breast were performed. The mammogram didn't reveal cancer – but the ultrasound did. It was so deep that the doctors asked how she could feel it.
"I just knew that something wasn't right. I could feel a little bump," Paiz explained.
That was seven years ago.
Today, Paiz is an advocate for breast cancer awareness. October is breast cancer awareness month, but Paiz speaks to others year-round and reminds them to go visit a doctor if they think that something may be wrong.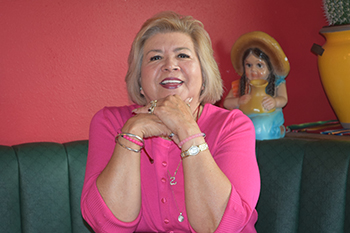 Paiz has checkups every six months and continues to be cancer-free. She credits it to taking swift action.
When she was diagnosed with breast cancer, she decided to get a double mastectomy, not wanting to take any chances. Paiz was diagnosed and treated at St. Luke's facilities.
After her surgery, she took a month off work to recover. When she returned to El Sombrero, the restaurant she owns in Jerome, she would sit and visit with patrons.
"I was just here and it was nice," Paiz said. "People say I'm like a local celebrity and people know me, so I hope that they listen when I tell them to take it seriously."
She understands all too well what others affected by cancer go through. She has hosted multiple benefits at her restaurant, helping people in and around Jerome affected by cancer.
"I know it's hard on them, the costs, so it's good to be able to help," Paiz said.
Paiz is a vital member of the community and one who often wears a pink shirt with pride, a symbol of her being a breast cancer survivor.
And her message for others going through their own journey with cancer, as difficult as it can be, reminding them they have a lot of support: "It's OK to fall apart. We all do, but we still love them."