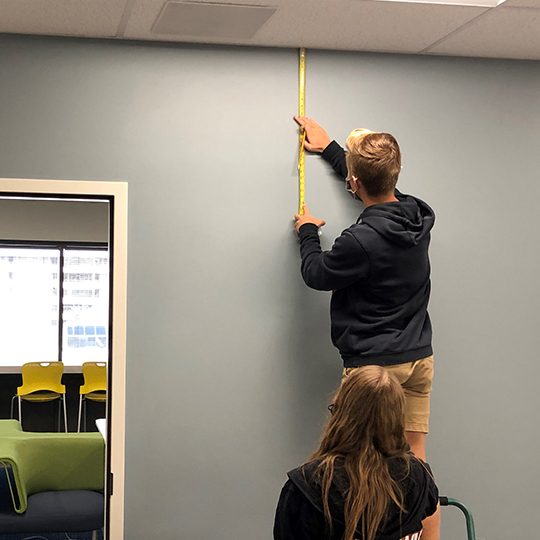 Ridgevue High School teacher Rachel Popovich and her design students have a running joke.
"We've got a problem," she often tells them.
The students' response: "What else is new? We can fix it."
That problem-solving mindset is common among Popovich's classes — and something of which she is particularly proud.
"That's super rewarding, going from no understanding of graphic design and application in their freshman year to finishing my sentences and reading my mind in four years," she said, smiling.
Popovich and 10 of her troubleshooting students recently visited the St. Luke's Plaza near downtown Boise, leveraging their new design skills to decorate the office walls of the Integrated Health Technology (IHT) department.
Mostly juniors and seniors from the Nampa school's Warhawk Design Studio, the students installed large-scale inspirational quotes across several conference rooms, meticulously leveling and applying their artwork.
"We were thrilled to partner on this project with Rachel Popovich and her graphic design class at Ridgevue High School," said St. Luke's Vice President and Chief Information Officer Reid Stephan, who leads the IHT team.
"The students learn job-ready skills in the classroom and it was rewarding to be able to provide an opportunity for them to apply these skills in a real-world setting."
Over four hours, Popovich's students applied vinyl signage in 24 rooms.
"I was very impressed by their professionalism and the quality of the finished product," Stephan said.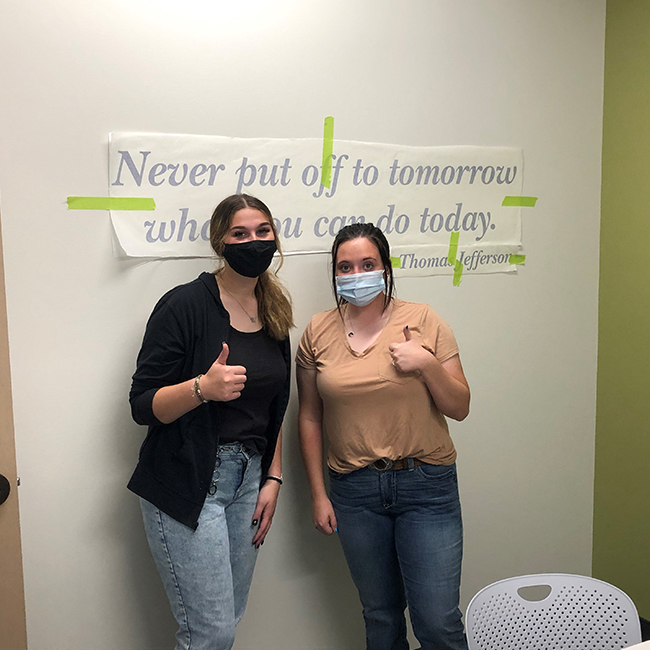 Popovich, who received much of her education and training from Idaho State University, is in her fourth year leading the graphic design courses. She said many students start as freshmen with little knowledge of graphic design or application. They learn graphic design principles and how to use Adobe software before learning about how to apply their training outside the classroom.
"We take in different projects from the community," said Popovich, who worked as a professional graphic designer for 10 years before moving to Ridgevue. "The students are really focused on learning businesses practices and professionalism skills and practical application — how you transform something that is designed digitally to produce it and put it physically on a platform."
Popovich and her students have done projects with CapEd Credit Union and also installed a 20-foot print of the school's star logo inside one of Ridgevue's stairwells.
"That was one of the most rewarding projects for our program because it got students interested who didn't know about the program," she said. "The kids who worked on the project got to sign their work, and now they can walk around and say, 'I did that piece; see my signature.'"
Most students hope to pursue careers related to graphic design, photography or another aspect in the creative field. For Popovich, the students' growth in their time together is satisfying.
"The best part is when I ask, 'Do you know what the problem is?' during a project, and they say, 'Yep, we know what the problem is. We got it. We will fix it,'" she said.