Morgan Messmer and Tyler Osgood need to bring a level of passion, care and expertise to their jobs on a daily basis.
Both pharmacists in pediatrics at St. Luke's in Boise, they also realized not taking "no" for an answer could be critical to their roles – and the health of a young patient in dire need of specialized care.
A few months ago, an infant was admitted to St. Luke's in need of BabyBIG (Botulism Immune Globulin), which is used to treat infant botulism. Cases like it are rare but happen a few times annually.
"Dr. (Natasha) Erickson came to us at about 2 or 3 in the morning and let us know about this kid who potentially had botulism," Messmer said. "At that point we didn't even wait for results, we just ordered it immediately."
St. Luke's is only able to order BabyBIG from one source – in California – because it is heavily regulated (it can be used for bioterrorism). But Messmer and Osgood went through all proper channels to assure it would arrive in Boise as soon as possible.
"It's an emergent drug, which means it calls for prompt action," Messmer said.
Osgood added: "The little bit of time you wait – let's say an extra night – and that baby becomes paralyzed to the point that it becomes intubated. Well, you can't undo that. Time becomes the only medicine at that point, and that can mean weeks and months. It can be a long, long, long time for a baby."
So, both pharmacists were anxious about receiving the expedited shipment later that day from the Infant Botulism Treatment Program in Ontario, Calif.
Unfortunately, they learned the courier company had not scheduled delivery from the airport to St. Luke's and the BabyBIG was locked in a holding room at the Boise Airport. Plus, the employees who had access had left for the day.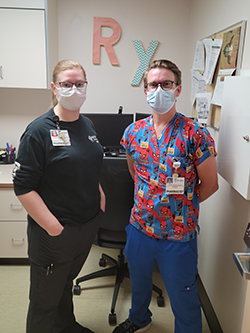 Both Messmer and Osgood reached out to various personnel at the airport without immediate success. They were told that no one had access to the room.
"It finally got to the point where I was making a big stink," Osgood said. "(I said) 'Guys, I'm driving there right now. I'm showing up.'"
Meanwhile, Messmer continued to try to do what she could on the phone.
"So, we were kind of tag-teaming," Osgood said. "Morgan was talking from the hospital, and I was talking from my car, and we were getting through to different people. I got transferred multiple times before I got through to someone who understood how important this situation was."
That person helped Osgood gain access to the room – and the BabyBIG.
"In the end, I have to give credit to the guy at the airport," Osgood said. "Sometimes it's really hard to break the rules, and he had to break the rules for us."
Debbie Mackenzie, lead pharmacist for the St. Luke's Children's pharmacy team, said Messmer and Osgood also deserve credit for their passion and fortitude that day.
"They are both incredible," Mackenzie said. "It was just an extension of their baseline passion for caring for our pediatric patients at St. Luke's. They knew what that baby needed … and they weren't going to settle for delaying care for this baby."
For their part, Osgood and Messmer were pleased that technicians, nurses, doctors, pharmacists – and even airport personnel – came together to produce a winning solution to a tough problem.
"In the end, I was able to hand deliver the BabyBIG downstairs," Messmer said. "So, it started with teamwork between Tyler and I and then it became a total team effort to get the medication we needed to get to our patient.
"We're willing to do what we need to do."