St. Luke's military moms keep sons' memory alive by helping families affected by suicide
By Dave Southorn, News and Community
What initially drew them together was a shared experience, one that no parent wishes to go through, from which has grown a strong friendship.
Melissa Volkers and Bridget Frank have united to help other families that have lost current or former members of the military.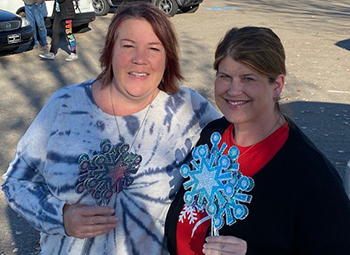 Volkers and Frank are St. Luke's team members – Volkers is an emergency department supervisor and Frank a patient access specialist on the COVID-19 hotline team, assisting the public with questions and helping to set up vaccinations and testing.
They did not know one another until meeting in April of 2018 at a Ride for 22 event. The Idaho-based charity works to help prevent veteran suicide and eliminate the stigma around post-traumatic stress.
Volkers' son, Tanner, died by suicide in December 2013 while stationed at an Air Force base in Alaska. Frank's son, Destin, also took his own life, in September 2017 in Georgia, where he was stationed at a Navy base.
"They have lost their voice, so now it's our turn to be theirs – our biggest fear is that they'll be forgotten," Volkers said. "We don't want any family to feel that pain, but if they're going through it, we want them to know their loved one will be remembered."
According to the Department of Defense, the suicide rate of active-duty military personnel increased by 41% from 2015 to 2020.
Outside of working with the team seeing the most critical patients at St. Luke's, Volkers' mission has been to keep her son's memory alive. She has traveled around the country, as far as New York, to tell his story.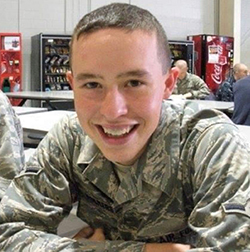 But she also has served as a vital listener. She is a resource for the Army's Survivor Outreach Services, which will connect families dealing with a loss by suicide with Volkers.
"We all grieve differently. As long as it's healthy, there's no wrong way to grieve," she said. "I tell them, 'You can call me, cry, scream, whatever' …
"Sometimes you just need someone to listen. I'm happiest when I can help others."
Volkers was able to do just that when she connected with Frank. They quickly realized that together, they could be even more helpful.
"Melissa's been my saving grace," Frank said.
Together, they have volunteered at events like Ride for 22 and Operation Grateful Hearts, helping at a potato gleaning to raise money for the charity. They've even sold pumpkins.
They host frequent barbecues for families, not strictly military, that have lost relatives to suicide. They have attended funerals together, even not knowing the deceased, being there to support the bereaved and provide their contact information for those seeking support.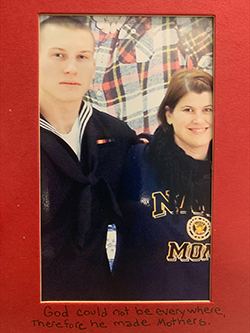 The photo Bridget Frank keeps on her desk that features her son, Destin, just after completing boot camp.
"Our mission is to be there for those families, let them know they're not alone," Frank said. "It may not make it easier to know we've been through the same thing, but military families endure a lot, so we can help understand."
Frank also in recent years has gone to Volkers' house and helped with a project started to remember those lost by suicide at a time difficult for so many of those families. Every year, Volkers (with help from people like Frank) makes and displays hundreds of snowflakes on her Canyon County property with the names of service members who have died by suicide.
Volkers remembers Tanner as someone who "always wanted to be better," glued to the radio when his mom was an EMT, a drive to help in his DNA. Frank recalls how Destin read all of Gray's Anatomy (the medical reference book) while in junior high, inspired by a St. Luke's doctor who was his best friend's mother.
They are not forgotten, and their mothers' goal is to help remember others like them for the rest of their lives. The pair of St. Luke's team members, who have found strength in one another, is proof that families are not alone.
"I think we're stronger in numbers … it's hard to have too many people in your village," Volkers said.
…
Please see below for more information and resources from St. Luke's suicide prevention program:
There is no single cause of suicide. It is often the result of a complex interaction of risk and protective factors at the individual, interpersonal, community and societal levels. There are strategies to build protection and reduce the risk of veteran suicide deaths. These strategies include providing basic need support, building social support and belongingness, and promoting lethal means safety.
The Veteran's Crisis Line is 24/7 if you are a veteran in crisis or concerned about one. Call 800-273-8255 and select 1 or text 838255 to connect with caring, qualified responders for free, confidential help. Many of the responders are veterans themselves. Click here to learn more.
You do not have to be a mental health provider to help someone. Talking about suicide does not increase the risk of a suicide attempt and 95% of adults surveyed in the U.S. would do something if someone close to them was thinking about suicide. In partnership with the Speedy Foundation, St. Luke's is offering free virtual "Question, Persuade, Refer" gatekeeper training. Learn the three skills to save a life.