St. Luke's same-day discharge for joint replacement returns patients to action sooner
Dr. Jeffry Menzner's team at St. Luke's orthopedics clinic on Americana in Boise was part of the total joint same-day discharge pilot. From left: Cindy VanSchoiack, CMA; Jerome Hugo, RMA; Jenny Carr, RN-BSN; Dr. Menzner and Bradley Heninger, PA-C.
By Dave Southorn, News and Community
When he retired in the summer of 2020, Will Quinlin set a goal to be as active as possible with his new-found free time.
Just one thing limited those aspirations – his troublesome knee.
Quinlin tore his ACL playing basketball almost 30 years ago, triggering knee problems that worsened as the years rolled by.
"I knew knee replacement was my best option, and I thought after spending half my working life in airplanes, another third in meetings, I should make the most of retirement," Quinlin said.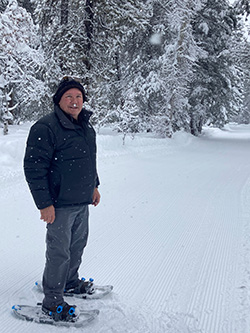 Quinlin connected with Dr. Ron Kristensen at St. Luke's Meridian about the possibility. As it turned out, Quinlin also was a good candidate for something unimaginable not that long ago.
When Quinlin had his knee replacement in late March, he was able to go home the same day.
"I was really surprised that was an option. I wasn't aware of the technology and the way they did it," Quinlin said. "It's really fascinating, less invasive.
"I didn't realize it was possible."
Quinlin was part of a pilot program that St. Luke's launched Jan. 18 in Boise and Meridian, soon followed by Twin Falls, that provided same-day total joint replacement for hips and knees. Among the 137 patients in the pilot program that ran through April 2, there was a 94% overall satisfaction rating.
Even with the pilot completed, it is becoming a standard of practice around the health system. Wood River's program has recently started and is also showing successful results.
For qualified patients, the process allows recovery in their homes, potentially reducing costs and freeing up needed beds at St. Luke's facilities.
"Some of it is technology. A lot of it is improved work processes," said Lauren Smith, St. Luke's orthopedics service line director. "Ten years ago at St. Luke's, patients with hip and knee replacements would stay overnight four or five days … we found patients do better recovering at home for these types of procedures, too."
A key part of the program was the inclusion of a "coach," someone who can ensure a safe recovery environment and help the patient get home after surgery. The coach also attends a class and reviews pre-operational safety instructions, including how to assist with a walker and support other needs.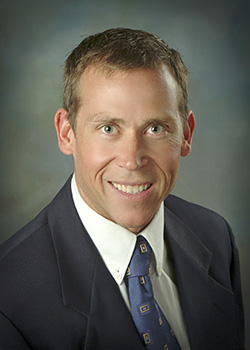 Dr. Ron Kristensen performed Quinlin's knee replacement surgery.
Quinlin's coach was his wife of 40 years, Kathy, who was pivotal in the first week after surgery making sure he had his medication. He said the inclusion of a coach is "tremendous."
"One of the biggest things we've learned from our patients is that having that coach provides a lot more support," said Tim Nicolello, St. Luke's orthopedics program manager. "All these details of things they were taught before surgery … it's not easy to have that in your mind while also thinking about your surgery."
Smith said the pilot was a success, not just in the numbers of satisfied patients, but also in the process of designing an approach that can be sustained. Groups of surgeons, staff members from surgical services, nurses, physical therapists and others have been involved so that the model can be implemented across the system. Other areas within St. Luke's have taken note and are looking at it as a template for other procedures.
Quinlin said he experienced very little pain following the surgery and went to his first physical therapy appointment a week afterward. Within three weeks, he had the recommended range of motion.
Then he moved on to his bucket list, starting with an activity he hopes to do a lot more of in the coming years – Quinlin went on a bike ride.
"The way I saw it, Dr. Kristensen did his job, and it was mine to make sure it worked," Quinlin said.
"I want to get 25, 30 years of use out of it, so a month's hard work of stretching and therapy is well worth it."
Check out the graphic below on the patient's journey for the same-day discharge program.