After a winter hiatus, work to expand and refresh the linchpin medical center is set to resume next month.
The St. Luke's McCall facility replacement project was paused after framing and exterior work were completed on the 50,000-square-foot, two-story expansion last year, but design updates and activity have been occurring throughout the past few months and construction activity will resume with final construction documents and additional site work.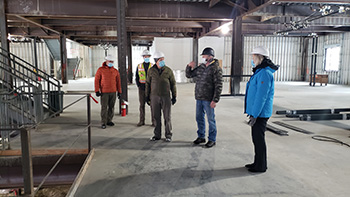 Completed plans will be resubmitted to the City of McCall for final review, and an updated building permit is expected to be issued; onsite construction is expected to begin in mid- to late-June.
Projected completion and occupancy schedules and timelines will be updated as permits are received and bids are issued to subcontractors. Additional community updates will be forthcoming closer to the start date.
Initial work will focus on interior construction, including HVAC, electric, plumbing, fire and sprinkler systems, framing and drywall.
The new two-story expansion will house all the hospital's clinical departments, including cardiopulmonary, emergency department, infusion, inpatient rehab (physical and occupational therapy) rooms, labor delivery and recovery rooms, laboratory, medical imaging, patient registration, pharmacy, surgical services and social services.
Once all clinical departments have moved into their new locations, work will more to remodeling and partial demolition of the current hospital. The refurbished section will house support services, including administration offices, conference rooms, environmental linen services, food and nutrition services and other supporting departments.
Once completed, the new hospital will be approximately 65,000 square feet; the current hospital is 30,000 square feet.
The St. Luke's McCall Foundation is supporting the expansion project. More than $5 million has been raised through community generosity, facilitated through the foundation's Right Care, Right Here capital campaign; that amount includes more than $300,000 contributed by the St. Luke's McCall Auxiliary from Thrift Shop proceeds.