St. Luke's finds a place in Filer couple's long love affair – along with their convertible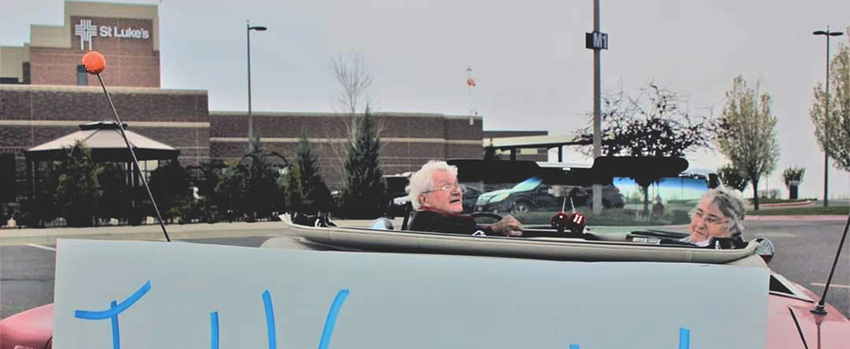 Gerald and Twila Knutson, of Filer, in their 1964 convertible in front of St. Luke's Magic Valley.
By Dave Southorn, News and Community
So many important moments in Gerald and Twila Knutson's lives have centered around their 1964 Chevrolet Chevelle Malibu convertible.
When they got married in 1968, they drove home in it. They celebrated their 50th anniversary by taking it out for a spin.
Gerald even hurriedly drove Twila in it to deliver two of their four daughters – and one of those daughters later had it as her "getaway" vehicle when she got married.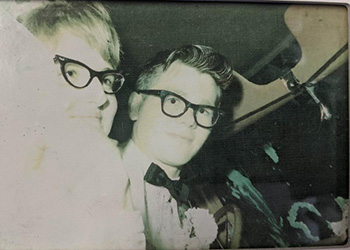 "It was a requirement, whenever they had new boyfriends, that they like old cars," Gerald said with a laugh.
The latest Malibu memorable moment was shared by thousands of people across the world.
On April 24, the Knutsons, who call Filer home, celebrated being vaccinated against COVID-19 with a photo in front of St. Luke's Magic Valley.
"They were really excited to celebrate it and kind of capture that feeling," said their daughter, Sabrina Harrison, who took the photo.
Unlike their wedding 53 years ago, this photo was not going to be seen only by family.
Harrison's friend, Danica Rhoades, posted the photo on Twitter with the caption, "My best friend's parents just got their vaccines. And this is the greatest thing ever."
Then things got surreal.
People in Idaho first, then stretching across the world, began to celebrate online with them. The relief and joy so many felt getting their COVID-19 vaccinations, and even those anxiously awaiting theirs, were palpable.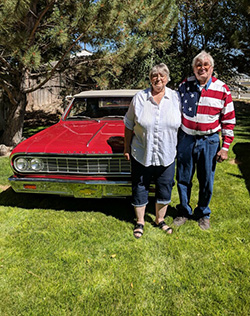 Within 48 hours, the tweet had more than 95,000 likes and more than 7,500 retweets. In the same span, it got nearly 40,000 upvotes on Reddit.
"It was just crazy," Gerald said. "I figured we'd get a few likes or whatever, didn't think it would be like that. You started seeing comments in just about every language you can think.
"Who would have ever thought when we were kids that something like that would happen?"
Harrison said her parents "have loved it," even if they aren't the most technologically adept couple, asking about how much people have seen it on "Tweeter" and requesting "email numbers."
"It's been fun," Harrison said. "It's a good reminder to celebrate even the small things."
Gerald said he got the idea for the photo seeing a cartoon in a newspaper that had a couple driving off with a "Just Vaccinated" sign. He thought taking a photo would be apt, considering what the red convertible has represented, and that Harrison has a talent for handmade signs.
The Knutsons got their vaccines at a St. Luke's Magic Valley clinic, so a photo in front of the hospital provided a nice backdrop – and yet another precious moment, shared by thousands worldwide.
"I'm not sure when everything will seem 'normal' again, but getting the vaccine, feeling safer and doing our part, it felt good," Gerald said.