Improvements at St. Luke's Elmore stem from keeping the focus on patients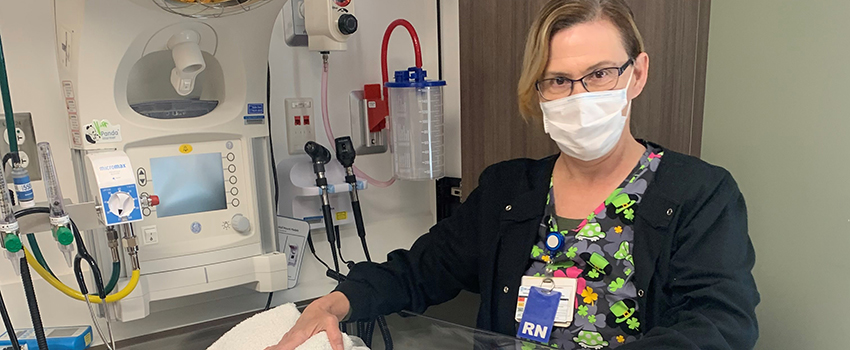 Katrina Southworth prepares an infant warmer in the labor and delivery unit at St. Luke's Elmore.
By Dave Southorn, News and Community
There has always been a family feeling about the Mountain Home hospital. It's not surprising; St. Luke's Elmore serves a county of only about 25,000 people, and there are close connections among many residents and team members.
Take the recent exchange between Tara Owens, an assistant nurse manager, and Katrina Southworth, a registered nurse. Southworth had recently taken her grandchildren to see Mountain Home High School's drama students put on a play. Owens' daughter was one of the stars.
The community showed up strong, and Southworth and her grandchildren only got a brief moment to say hello before many others stopped by with congratulations.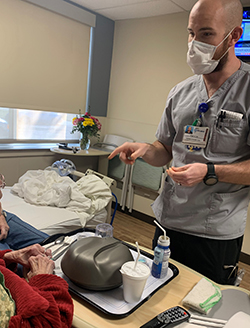 Ryan Kerouac speaks with a patient about her medication.
In small ways and large, St. Luke's Elmore is evolving – and both employees and community members are noticing.
"The culture has definitely changed, and in such a better way," Owens said.
Improvements have happened over several years, but community memory and sentiment run deep. So when St. Luke's Elmore Chief Nursing Officer/Chief Operating Officer Lisa Melchiorre moved to Mountain Home in November 2017, she got an earful.
She went to buy a car her first week on the job and the salesperson referred to the hospital with a less-than-flattering nickname. The next weekend, when Melchiorre got breakfast and met some locals, she heard it again.
"I'd ask around … it had this reputation" that preceded St. Luke's acquisition in 2013, she said, "and you realized it was going to take time to get it where it can become a beloved part of the community again.
"Now, we don't have employees afraid to say where they work. They're proud of it."
Some of that proof is anecdotal and qualitative, such as the feeling of being a part of the community.
But it's also there in the numbers.
Patient surveys show a marked improvement in patient satisfaction – in 2017, the "likelihood to recommend" was 56 percent, putting Elmore in the bottom 7 percent nationally. In 2021, it was 79.5 percent, putting Elmore in the top 18 percent.
"It's very exciting to see," said Southworth, who joined St. Luke's in June 2017 after 13 years as a registered nurse in California.
"When I started, it felt a bit like going back in time, to be honest. I think having the backing from St. Luke's has been huge, but the biggest thing is the people who are here now are so willing to learn and to figure out what we can do best to help patients."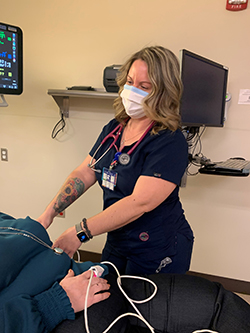 The success has been years in the making, from operations to capital improvements, all of which were stated as goals when Elmore joined St. Luke's Health System eight years ago this month. The clinical structure has continuously evolved, additional space has been created for meetings, the campus has been given a facelift with better parking, landscaping and a redone main entrance.
The hospital, which has been open since 1955, is the only one in a 40-mile radius and can handle incidents like traffic accidents on the long stretch of I-84 east of Boise.
Mountain Home Air Force Base ended inpatient care in 2017, making the St. Luke's Elmore location even more important. That was planned for more than a decade, but was contingent on accreditation from the Joint Commission, an independent, not-for-profit organization that accredits and certifies more than 15,000 health care organizations and programs in the United States. Elmore got accreditation after joining St. Luke's, in 2015.
Today, Southworth said there is receptivity to improvements; holders keeping oxygen canisters in a more upright position in patient spaces were placed recently after her suggestion.
Every day at 10 a.m., the staff holds care collaboration meetings, with everyone from nurses, doctors, pharmacists and physical therapists gathering to discuss every patient. This set of meetings goes a long way to improving the patient experience, the team has found.
"That's awesome as far as their care, because you have everyone right there to get all the information and to discuss anything that may come up," Southworth said.
"You don't get that at a bigger place."
Perhaps not surprisingly, the three highest-scoring areas in recent surveys have been communication with nurses, communication with doctors and discharge information.
Melchiorre said nursing rounding became a focal point three years ago. Rounding subsequently was expanded.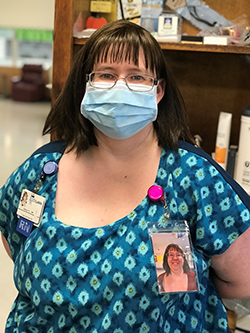 Elmore caregivers in the long-term unit, like Jessica Kerr, wear badges with their photos on them so patients can feel more comfortable during the COVID-19 era.
"We got the whole site involved, setting goals for every department, and that translates to helping patients, when you can be efficient, knowing their care is good, the food is good, the room is clean …" Melchiorre said. "It all goes into it."
Physical improvements have made the hospital a more comfortable stay for patients, too.
In January 2018, an 18-month project to improve and expand the emergency department was completed. Labor and delivery suites were upgraded later that year.
As services at the base wound down, the need for care at St. Luke's increased. A Quick Care clinic, opened near the hospital in August 2019, filled that void.
And long-term care at Elmore, rated 5-star by the Centers for Medicare & Medicaid Services, will mark the completion of the first phase of renovation with a celebration next month. The substantial refresh includes new on-call rooms and telehealth capabilities for residents and updated laundry and shower facilities, a beauty salon, storage and sleep lab space.
"We've come a really long way," Melchiorre said.
The team knew it would take time, but St. Luke's Elmore is changing attitudes and perceptions, along with the care it gives to its neighbors.
"We have a great team that works really well together," Southworth said.
"Everyone advocates for their patients, and I think it shows."