St. Luke's athletic trainer's quick thinking makes the difference in car accident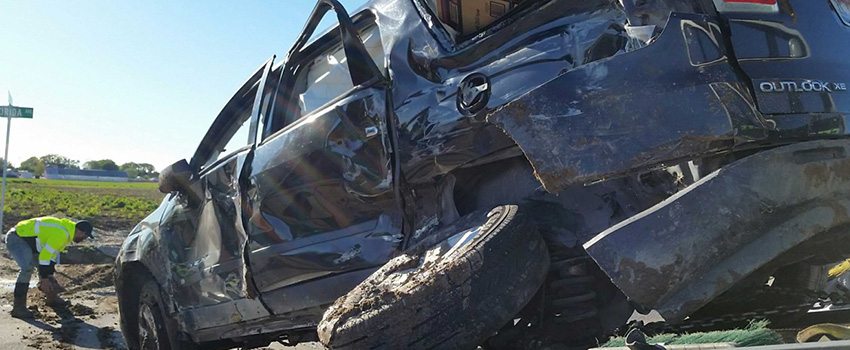 Following a collision with a bus in Caldwell, this SUV ended up in a ditch with the driver's side down. That's what St. Luke's athletic trainer Holli Jackson saw when she went into the car to help a girl and her mother. Photo credit: Paul Boehlke/KTVB
By Dave Southorn, News and Community
As she approached the totaled car, lying on the driver's side in a Caldwell ditch, Holli Jackson kept focusing on a screaming child.
Jackson, a mother of two, had been taking her son and daughter to school on May 26 when she saw a bus parked on the side of the road and an SUV in the ditch.
A St. Luke's athletic trainer who works full-time at Caldwell High School, Jackson's maternal instincts – and training – took over.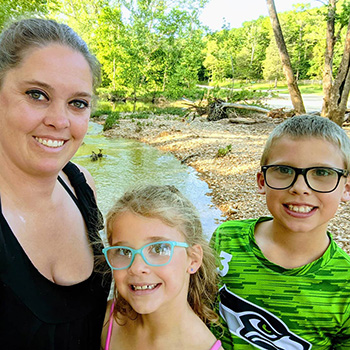 "I just parked my car, told my kids, 'Stay put, mommy has to make sure everything's OK,'" Jackson said.
Bystanders had fearful looks in their eyes – some with their hands on their heads, "freaking out," as Jackson recalls. But with her St. Luke's jacket on, she approached the vehicle, and someone said the screaming child possibly had been ejected from her car seat.
After checking to see that no gas was leaking, Jackson climbed in through the back window and saw a 4-year-old girl with some minor facial injuries. Her mother had a laceration on her head and was unconscious.
"She kept saying, 'My mommy's dead,'" Jackson said. "I reached in and got her, tried my best to console her. But I could see the mom was breathing."
The little girl clung to Jackson as Caldwell police and firefighters arrived and removed the mother through the windshield. The girl wanted Jackson to ride in the ambulance with her and didn't want paramedics or anyone to get close until it was clear her mother would be all right.
"I just put my own kids' faces on this young girl," Jackson said.
Both occupants of the car were taken to St. Luke's Nampa and released that evening with non-life-threatening injuries. No one on the bus was injured.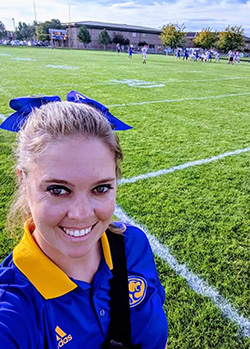 Holli Jackson will enter her third season working with Caldwell High this fall.
"I was only a part of it," Jackson said. "Police, firefighters, paramedics, it was a team effort to make sure everyone was taken care of."
Caldwell High athletic director Jon Hallock was not surprised to hear about Jackson's actions when he got a call that morning. He saw Jackson come to school that day still covered in mud.
"She's one of a kind. She works her tail off," Hallock said. "It just says a lot about who she is …
"You don't find a lot of people out there willing to go above and beyond for the people around her."
Jackson recently completed her second school year at Caldwell High. Hallock said pairing up with St. Luke's and having a dedicated trainer with a deep bench of support has been "super beneficial." Jackson, he said, has been ideal, "putting in just a ton of hours" and willing to help in any situation.
"She's been invaluable," Hallock said. "It's a constant thing where you think, 'We don't know what we'd do without her.' It's great to know I have someone like Holli … she truly cares about our kids."
That dedication to kids clearly isn't just applicable to her own or those at the high school. A 4-year-old girl in the scariest situation of her life felt a lot better, thanks to Jackson.
"I just reacted," she said, adding, "I'd love to see that girl again and just give her a hug."