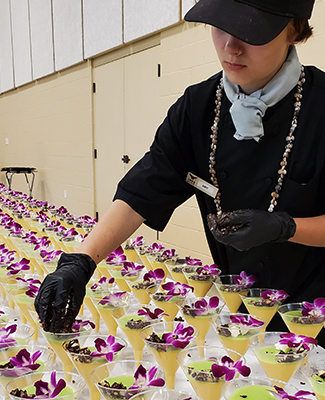 A Life's Kitchen trainee prepares food (courtesy photo).
Life's Kitchen, a Boise-based nonprofit organization, aims to prepare young adults for jobs in the food service industry, but also much more.
About 12,000 people in Boise between the ages of 16 and 24 were either not working or not in school in 2019, said Tammy Johnson, executive director of Life's Kitchen.
That number likely increased significantly in 2020 throughout the COVID-19 pandemic, she said.
Johnson and her team are trying to close that "opportunity gap" by providing culinary job training, resume-building skills and GED services.
"Our kitchen provides a hard skill that they can always use but it also provides a soft skill," Johnson said. "No matter where they go, you know how to communicate with your peers, your supervisors, you know how to work as a team."
Life's Kitchen, which started in 2003, recently moved into a new building on Fairview Avenue in Boise, doubling its capacity.
"We are so excited about that," Johnson said.
The organization's 16-week training program can now accommodate 24 students at a time. They also prepare and deliver about 800 meals a week to Interfaith Sanctuary, a local shelter for people experiencing homelessness.
St. Luke's, in partnership with SelectHealth, provided grant funding to augment the organization's expansion.
"When it comes to supporting our program, we couldn't do it without our donors like St. Luke's and other donors in the community," Johnson said. "The donations make it possible to continue to train and teach these young adults so they themselves can be confident and independent as they move forward in their life."
"Meaningful work" is considered one of the seven vital conditions for individual well-being — and a healthy and thriving community — according to Well Being Trust.
"We at SelectHealth promote living the healthiest life possible, and Life's Kitchen is dedicated to helping at-risk young people in the Treasure Valley achieve educational and vocational stability," said Jon Larkin, who leads the not-for-profit insurer's community engagement and business development in the Treasure Valley.
"There isn't much I can think of that fits better with our mission and addresses the social determinants of health way upstream. It's our pleasure to partner with Life's Kitchen in the critical role they play in the health of our communities."
The new building includes a training kitchen and a café open to the public. Proceeds benefit the organization's nonprofit mission.
"Our social enterprise business is what helps us support the program, but more importantly it helps the trainees with that real-world workforce development, like in the café," Johnson said.
The new location is already paying dividends. They are seeing 15-30 customers a day at their café, compared to 10-15 a month in their former location, a city-owned property near downtown Boise. Life's Kitchen also partners with local coffee shop Caffé D'arte to provide barista training for the enrollees.
"The experience that the students are going to get in customer service — how to take an order, how to interact with customers — is huge," Johnson said. "Their training is going to be so much better."
In addition to culinary training, the program provides financial literacy education and healthy relationship tips. The staff's program director, Sue Olszewski, also coordinates tutoring services four days a week for those seeking to earn a GED.
The program, free to enrollees, supports young people from "all walks of life," Johnson said, including some who not have fit in traditional school settings, those who have aged out of foster care, survivors of abuse and young people who have been placed in juvenile detention.
Approximately 80% of the trainees get placed into jobs after completing the program. Olszewski works with many of the graduates to find gainful employment in the local restaurant scene. Some, Johnson said, ultimately choose different career paths.
"We also ask them to dream a bit while there are here because many of them have not had the opportunity to go, 'What do I want to be when I grow up?'" Johnson said. "That's why we are here."