Prom night will forever be memorable for a pair of Filer teenagers – and a Ketchum man whose life they saved thanks to an incredible convergence of factors.
Taylor Zamora and Anna White were driving home from their prom on May 9 when they saw a car that had crashed through a fence. Their quick actions prevented that crash from being fatal.
"It was the right place, the right time," White said.
But that's not all it takes in this instance – it takes the right individuals who make a split-second decision that can save someone's life.
White said she and Zamora weren't initially planning on driving home at that time, and the route took them to a road White said she doesn't remember ever being on.
It was extremely fortuitous, as they saw Jordan Sears' car smoking after the accident.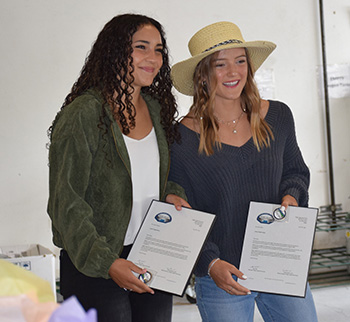 "The chances of us taking that crossroad at that time of night, it was so slim and this had to have happened for a reason because I don't just believe in coincidence," Zamora said.
The pair jumped into action, calling 911. And in another twist of fate, it just so happens that both Zamora and White recently completed a certified nursing assistant (CNA) program.
They started CPR, and in the process, opened his airway and he started to cough. They kept him safe until the ambulance arrived.
"Without their courage and selflessness, the patient would likely have succumbed to his injuries at the scene," said Magic Valley Paramedics manager, Stan Flint. Magic Valley Paramedics is owned and operated by St. Luke's.
After receiving trauma care, Sears went to St. Luke's Magic Valley inpatient rehabilitation unit for 11 days. He had a few injuries and still struggles with short-term memory, but is doing well in rehabilitation. He will need a few future surgeries, including one for his left eye.
"I'm glad we were there at the right time. I'm just glad that we were there to help," White said.
Recently, Sears got connected with Zamora and White on a Zoom call, giving a heartfelt "thank you."
On June 10, Zamora and White were presented with honors – including a challenge coin from Magic Valley Paramedics, a recognition on behalf of United States Senator James E. Risch of a flag that was flown over the United States Capitol, an Extraordinary Citizen Award presented by Twin Falls Mayor Suzanne Hawkins, a gift bag from St. Luke's Magic Valley Health Foundation and an Extraordinary Lifesaving Action recognition from the Idaho Time Sensitive Emergency System.
"Magic Valley Paramedics respond to approximately 11,000 calls a year," Flint said. "It's the bystanders who render aid before the ambulance arrives who are the unsung heroes in the patient's care."