St. Luke's program can prepare pharmacy technicians like no other in Idaho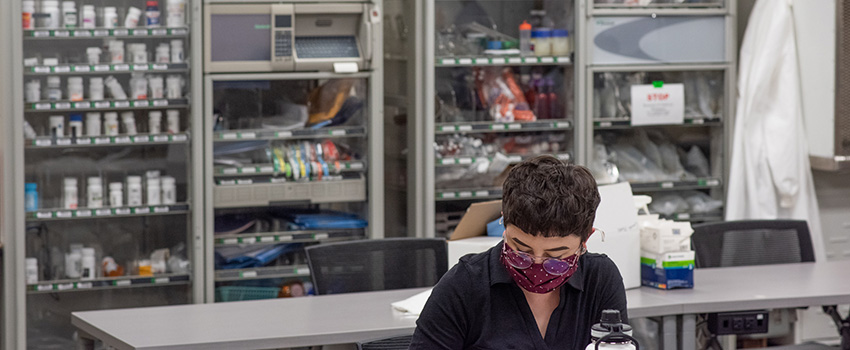 The pharmacy technician apprenticeship is a 10-week onsite program that involves classroom, lab work and practice in St. Luke's settings.
By Dave Southorn, News and Community
Great pharmacy technicians are hard to find. Which is why St. Luke's is helping to grow them.
In January 2020, the organization's first pharmacy technician apprenticeship class began with a 10-week course. Taught at St. Luke's, the program prepares would-be pharmacy technicians for hospital and clinical settings; the fifth class will finish July 30.
For participants and organizers, the concept has been a winner – all the way around.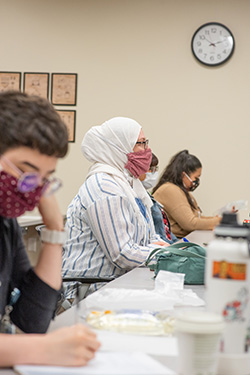 "There was a knowledge and skill gap," said Jessica Bowen, Boise inpatient pharmacy director. "We also had this concern because it was difficult for them to pay off student loans, so we wanted to internalize this program to develop people, have them ready and have our investment match the need."
Beyond a hands-on approach in multiple health system settings, the program has offered additional benefits.
"The cool part was that you got paid at the beginning and the end, even when you took the (Pharmacy Technician Certification Board) test," said Taylor Searle, a graduate of the first class.
Whereas other programs through trade schools or community colleges cost thousands of dollars, the St. Luke's program has made it so that those who complete the 10-week program aren't saddled with debt.
The first seven weeks of the program are a class/lab experience with in-person instruction, along with a simulated lab starring a supply cabinet formerly in use at St. Luke's Magic Valley and an 8-foot hood from the Boise hospital. The classroom includes a cheeky reminder – a sign that reads, "When life gives you mold, make penicillin."
A rotational experience in the hospital environment takes place during the last three weeks of the program, and most of the graduates, like Searle, are placed in positions at St. Luke's. Searle was taking an online course when he heard about St. Luke's initial class and opted for that, saying the pace covered more ground quickly.
"It provides a really good foundation for their roles … it could (otherwise) take up to three months to orient that person, but in these apprenticeships, they can be up and going in about two weeks," Bowen said.
"It greatly expedites the time allowed for them to be successful."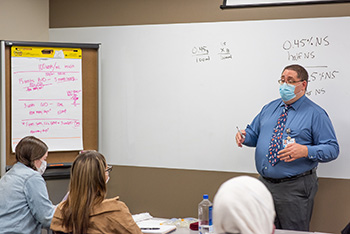 Zach Moore teaches the pharmacy technician class in June.
Though a pharmacy technician doesn't require the same level of schooling as a full-fledged pharmacist – they must have a high school degree – the role is vital to the health system.
Pharmacy technicians fill and maintain medication dispensers, prepare them for patients, prepare IVs, deliver drugs and even interview patients for their medical histories. During the course of the pandemic, they have been instrumental in COVID-19 vaccine delivery.
"The people I get to work with is my favorite part. Also helping the sick," Searle said. "There are a lot of daily duties and a lot of tasks that take multiple people to get done."
Bowen said Medication Access pharmacy technicians at St. Luke's have helped patients save their homes or cars by finding more affordable medication.
St. Luke's, which advocates further employees' education, has understood the benefits of having a homegrown program like the pharmacy technician apprenticeship to teach new potential employees a trade. The Student Nurse Apprenticeship Program (SNAP) and medical assistant training programs have been successful. Proposals for training programs for other positions are currently being discussed at St. Luke's.
As the program has grown, and with five class cycles about to be completed, the next step is national accreditation from the American Society of Health System Pharmacists. St. Luke's is in the process of application, with hopes of earning accreditation next year.
"We've aligned our program to meet their standards and we had to be up and running before we could undergo the process," Bowen said.
Interested applicants can apply through the St. Luke's careers portal. A regular interview and selection process will take place. Class size is currently capped at 11, with the next class starting Aug. 2. You can also learn more here.