St. Luke's patient, daughter reach Idaho's greatest heights after major heart operation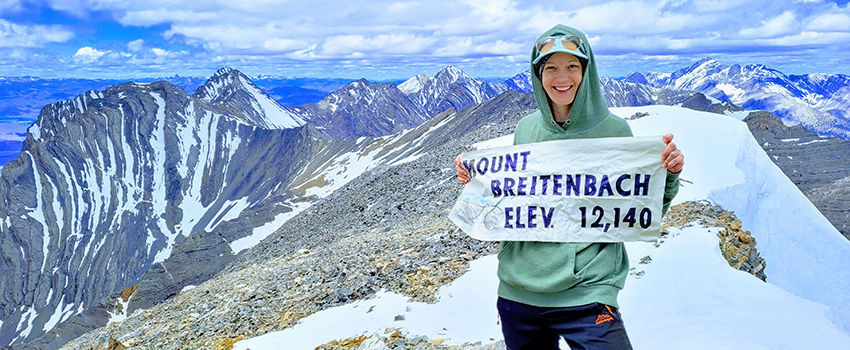 Selina Paul, a St. Luke's employee, is climbing all nine 12,000-foot peaks in Idaho with her father, Guy, after he had a heart operation at St. Luke's.
By Chris Langrill, News and Community
Guy Paul is a mountain climber.
Sure, Paul might tell you he is not the most technical climber in the world. But when you have climbed all nine of Idaho's mountain peaks that are higher than 12,000 feet? You're a mountain climber.
"When I first climbed Mt. Borah in 2008, I guess, I made a goal for myself to climb all nine of them before I hit 60," said Paul, who is now 64. "So, I did that, and I just kept going from there."
At the beginning of this year, however, Paul had an incident that put a halt to his often strenuous hobby.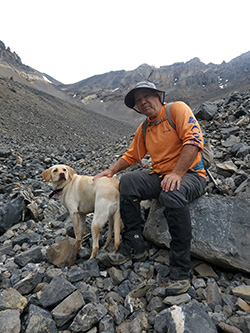 Guy Paul with Kinsey the dog on a mountain climbing trip.
"I was climbing a trail out by Lucky Peak and it's pretty steep," Paul said. "So, I was climbing it and my shirt felt too tight. So, I just said, 'OK, I'll take my shirt off.' That helped me a little bit, and I made it to the top.
"Ten days later, I did the hike again and felt the same thing, but this time it was worse, and I didn't make it to the top."
Thankfully, rather than pushing on and trying to get to the top, Paul went to a St. Luke's clinic and described his symptoms. An EKG was inconclusive, but a treadmill test at St. Luke's Idaho Cardiology Associates (SLICA) immediately proved to be worrisome. Doctors discovered that he had severe blockages in his arteries, 99% on his left and 50% on his right.
Dr. Brian Nolan and Dr. Nathan Green performed surgeries to clear the blockages and implant a stent.
Needless to say, it was a scary time for Paul's daughter, Selina Paul, who has worked for St. Luke's the past nine years.
"He was so humble about it: 'Oh, it wasn't that big of a deal. I'm fine. I'm fine,'" said Selina, who is a trainer for nonclinical staff at St. Luke's. "And I just tell him, 'No dad, it was a big deal. You almost died.'"
Paul may have been nonchalant about the event with his daughter, but he has been profoundly serious about making changes since his surgeries.
"Guy is a rock star patient," said Laura Franz, a registered nurse in the Lifestyle Medicine department who works with patients who have had a cardiac event. "He was very self-motivated and willing to put the work in, so that makes a huge difference when I'm working with people in our program."
The program promotes better choices in six key areas:
Increasing consumption of whole, plant-based foods
Increasing aerobic activity
Getting enough sleep
Decreasing use of tobacco, alcohol and other unhealthy substances
Maintaining healthy relationships
Managing stress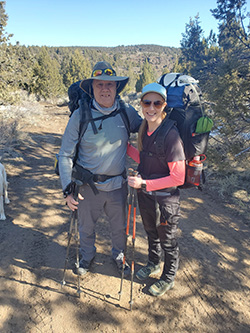 Most people might have looked at Paul several months ago and assumed he was in perfectly fine health. After all, he was a mountain climber.
"What we try to teach people is that heart problems can come from any of these areas," Franz said. "Even if you're an avid exerciser and you look super fit, if your diet is not good and you're not sleeping well or you have a lot of emotional stress, you can be at risk for a cardiac event."
Paul looks back and realizes there were some areas that especially contributed to his event.
"I've always been pretty good about eating healthy and doing all the right things," said Paul, who is a longtime engineer at Hewlett-Packard. "But I let my guard down, and that's what got me."
Paul also realized that he wasn't managing his stress very well.
"I've got to say that one of the main things that has helped me a lot is just turning off the news," he said. "I can't believe how much stress that was adding to my life."
Today, Paul is eating healthier, and his cholesterol numbers are way down, and so is his stress level.
Paul also made a promise to Franz.
"She pretty much made me promise to stay on Plavix and Lipitor for a year," he said of his medications aimed at lowering heart attack risk and cholesterol levels.
Franz has no doubt that he'll keep that promise.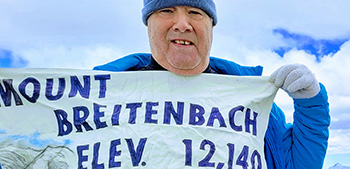 Guy Paul scaled Mt. Breitenbach a few months after a major heart operation to clear blocked arteries.
Paul also intends to keep a promise he made to his daughter, which is to climb all nine of Idaho's 12,000-foot peaks with her. They've done three so far.
"He's already done all nine, but he's prepared to do six more with me so we can say we did them all together," Selina said.
She knows there will be plenty of challenges to be faced, but she also knows overcoming them will be extremely satisfying – and emotional.
A few months after Paul's cardiac event, he and his daughter climbed to the summit of Mt. Breitenbach, a 12,140-foot peak in the Salmon-Challis National Forest.
"It was so rough," Selina said. "It wasn't just the terrain, but there were 40 mph winds and it got really cold on the mountain. I wanted to quit many times.
"But my dad kept saying, 'We're almost there.'"
Eventually, Selina reached the summit just before her father.
"That's when I just started crying," she said. "It was special not just because I wanted to give up and I didn't, but also because I was there with my dad. (I thought) 'He didn't die, and he's here with me.'"
Heart Attack Warning Signs
If you experience ANY of the following, call 911. And remember "HEART"!
Heavy chest pressure: Squeezing or burning in your chest or fullness in your abdomen
Extreme discomfort or symptoms: Light-headedness, nausea, unusual fatigue
Arm pain: Feeling pain in one or both arms, back, neck, or jaw
Respiratory difficulties: Shortness of breath with or without chest pain
Time to call 911 now: Do not drive – call an ambulance
Knowing the signs of a heart attack can save your life. The most common symptom in men and women is chest pain or discomfort. Women are somewhat more likely to experience some of the less common symptoms of heart attack, including shortness of breath, nausea/vomiting, unusual fatigue and back or jaw pain.
Time is muscle! Every minute treatment for a heart attack is delayed, more heart muscle dies.
How to act quickly
Call 911 immediately. Clearly tell the dispatcher all the symptoms you're experiencing and if you have any history of heart problems.
Chew one adult-strength (325 mg) tablet of uncoated aspirin.
If you have been prescribed nitroglycerin, take it.
Don't drive yourself or have someone drive you. Paramedics are your best option – they can begin treatment in the ambulance, perform an ECG on the way to the hospital and transmit results to the ER before you arrive.
Learn more about heart disease and stroke, including how to improve your cardiovascular health, at the American Heart Association's website, heart.org.