Heroes come in all sizes: Remembering a friendship built at St. Luke's Cancer Institute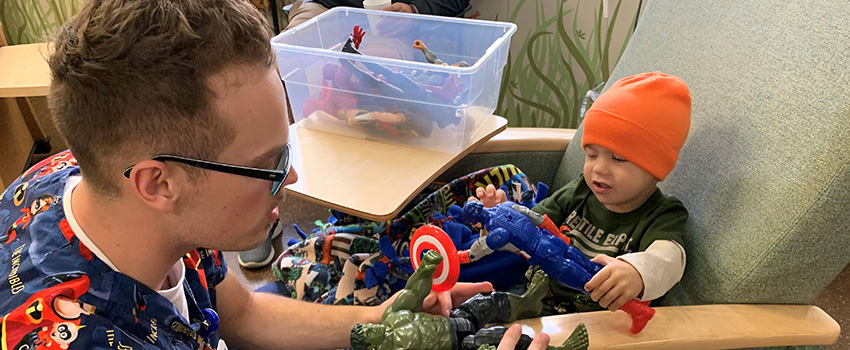 In this 2019 photo, St. Luke's Cancer Institute pediatric oncology nurse Sam Dulski plays with an Incredible Hulk action figure, while patient Luke VanWagoner holds Captain America.
By Dave Southorn, News and Community
For a little guy, he had a lot of fight hiding inside of him.
That is how Luke VanWagoner lived his short life. It also might be said of the comic book character that inspired him and led to a very special friendship.
In September 2019, Luke was diagnosed with rhabdomyosarcoma, a rare cancer that often afflicts children. Luke was 2 years old. His family had just moved from Utah to Meridian, and he quickly began treatment at St. Luke's Cancer Institute.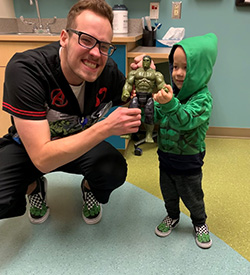 "The first time we walked through the doors, he was so scared," said Luke's mom, Christie. "But when he met Sam, things started to turn around."
Sam is Sam Dulski, a certified nursing assistant in pediatric oncology who routinely wears scrubs featuring superheroes or cartoon characters, over which he and the kids can bond.
To his family, Luke was like the Incredible Hulk, fighting the bad guys (the cancer cells). So it was kismet when Dulski walked in one day wearing a pair of shoes that looked like the Hulk's foot.
"Just an instant bond," Dulski said. "I told him every time he came in, I'd have my Hulk stuff on. We even had a Hulk action figure we'd play with when he'd get there, make him feel more at ease."
For Christie, it was too much of a coincidence. And once Luke said he wanted shoes like his new friend's, she was going to do whatever it took.
"We'd lived in a few states, so I called all around the country, trying to find some in his size – turns out they had been discontinued – but luckily, I found a pair in Washington, D.C.," Christie said.
Luke wore those shoes with pride on every Monday visit, when he went in for chemotherapy.
Once, Dulski remarked how much bigger Luke was getting, and they compared shoe sizes. And Christie snapped a photo that her family, Dulski and the SLCI pediatric oncology unit will always cherish.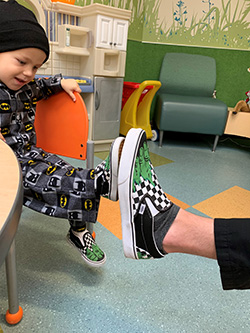 Even as Luke's cancer progressed, spreading from behind his cheekbone into his central nervous system, he continued to fight – until he died Dec. 15, 2019.
At his funeral, the photo of the two comparing shoes was displayed, along with text that read, "Heroes Come in all Sizes."
"Luke's a hero because he never stopped fighting, and Sam was because he shows up to work every day and loves those kids, helps them get through the toughest thing they can face," Christie said.
Dulski was unable to attend Luke's funeral in Utah, and until recently, the VanWagoner family has found it difficult to visit downtown Boise. They decided a perfect opportunity to heal and to say thanks would be Dec. 15, 2020.
On that day, the family visited Dulski and the staff for the first time since Luke's death and presented the photo to display in the team's break room as a reminder of why they do what they do.
"It was really powerful," Dulski said, adding that he plans to stay in touch with the VanWagoners.
"It meant so much for me to see them again."
Added Luke's mother: "I think we found a peace we didn't have. I had tears, and it was a very difficult memory in a way, but now it's replaced with a realization of how special it is because of the people that work there."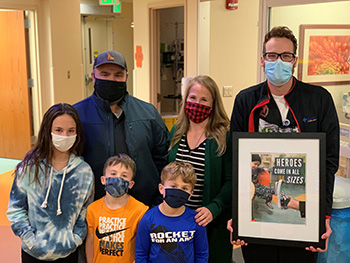 Sam Dulski, right, with Luke's parents Josh and Christie, sister Kylie (13) and brothers Porter (10) and Mason (7).
She had gone that day with a profound question about her son: "He had such a short life, you wonder if he made an impact on anyone else's life."
The answer is a resounding yes.
"They wondered if we'd even remember," Dulski said. "But I'll never, ever forget Luke.
"Kids like him, when they go through it, we do, too. It weighs heavily on us, too."
Luke's fourth birthday would have been Jan. 11. That day, Dulski will see a certain angry green guy in purple shorts and smile. And it just so happens to fall on a Monday — the day of the week, every week, that Dulski still wears his scrubs and shoes that feature The Hulk, in memory of Luke.
"I have a new favorite superhero, and you can thank Luke for that," he said.