It started like any other day for Johnathan Davenport, but quickly turned into a fight for his life.
Davenport went to his job as a mechanic as usual Aug. 14, but suddenly, the Twin Falls father of four felt something was wrong. He hadn't previously had serious health concerns, but after being examined, Davenport was transported to St. Luke's Boise.
"They did the MRI and they said that he had a brain bleed, and he had a stroke," said Kilee Davenport, Johnathan's wife. "It wasn't supposed to happen to him because he's only 36."
Davenport spent two weeks in the ICU before moving to a different floor for an additional week, all during a time when hospitals were deeply tested by a surge in COVID-19 cases.
He was then transferred to the inpatient rehabilitation unit (IRU) at St. Luke's Magic Valley to be closer to his family. Davenport spent two months in the IRU and was discharged Nov. 5.
"I shouldn't be here, but I am," Johnathan said, adding that he was told he initially had a 15% chance of survival.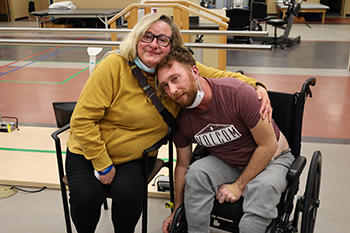 Added Kilee: "His progress from when he got into the IRU, he couldn't hold his head up, he couldn't sit up on his own. Now, I see him sit on the side of the bed and him eating."
Three days a week for three hours, Davenport is in therapy at St. Luke's Magic Valley. His therapies include occupational, speech and physical therapy.
"The therapists push him and push him and push him and that's what he needs," Kilee said.
The Davenports' children are between 6 and 17 years old. Despite all the challenges, their love and support for each other has been clear, a motivation for Johnathan.
"We're still like the same old Kilee and Johnathan. We still tease each other. I was very thankful that he was there," Kilee said. "He is the strongest person and his attitude, it's the best thing and seeing that, he is just a miracle and he is such a message of hope."
The couple, like so many others, is looking forward to 2022.
For the new year, Kilee is hoping to go back to work at Little Leaders Daycare Academy. And, while Johnathan has a job waiting for him, he can't work just yet. Every day, he gets closer thanks to his resolve and the care he gets as he rehabs from a major life event.
"I'm going to walk again," Johnathan said.
"You will walk again," Kilee responded.
"It's going to just take a little time," Johnathan said back to her. "Nobody should give up. Nobody."