St. Luke's orthopedic, sports medicine team to help Special Olympian get back on her feet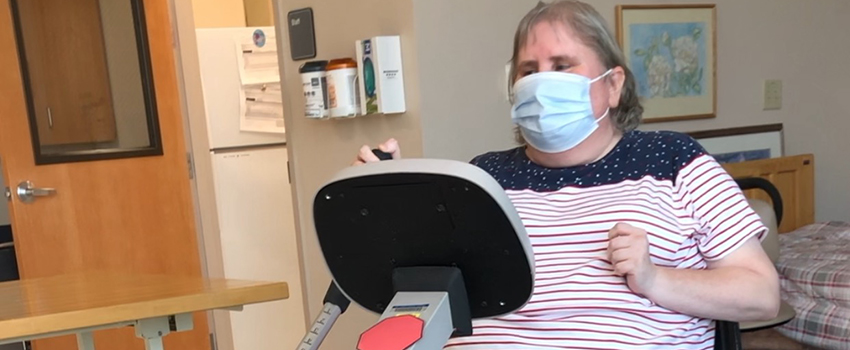 Christine Crockett put in the work after having double knee replacement surgery on both of her knees this past summer.
By Chris Langrill, News and Community
From the beginning, Christine Crockett's life hasn't been easy.
A complicated birth was just the start. Soon, the family learned that Christine – friends and family call her Tine – is developmentally disabled.
Yet, her best trait – an infectious personality – belies those challenges.
"We don't know why she has the developmental disabilities and the physical disabilities, but we do know why God gave her to our family," said her father, Quinten Crockett, who is 78. "She has a spirit when she smiles that could melt steel."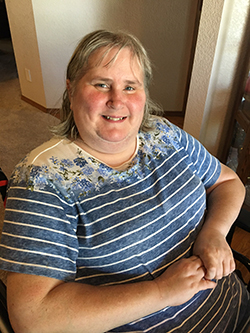 Christine Crockett is known for her upbeat personality and sunny smile.
Christine, now 41, was born in Hawaii, but she and her family moved to Boise 37 years ago. Christine has been a St. Luke's patient ever since.
"St. Luke's has always taken care of her, for everything that has come up," Crockett said.
Unfortunately, a few years ago the pain from arthritis in her knees started to dampen her spirit and led her once again to St. Luke's, this time to see Dr. Christopher Lawler.
Dr. Lawler was as frustrated as the family as Christine's knees deteriorated.
"We tried all of the pain medications, but they really just got her through the day," Dr. Lawler said. "It was a bad cycle."
Eventually, the pain medications she was taking had little effect.
"It got so bad that she would just sit and sob," Crockett said. "She's always had a high tolerance for pain, and this was the only time in her life where she used the word hurt. She would just look at us and say 'hurt.'"
Dr. Lawler eventually referred Christine to Dr. Ronald Kristensen, an orthopedic surgeon who specializes in hip and knee replacements.
Crockett said that Dr. Kristensen expressed some reluctance about replacing Christine's knees, that it could be difficult with a unique patient like her.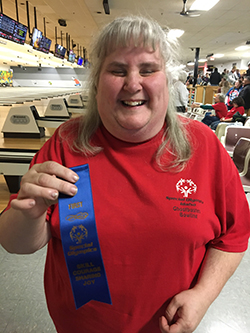 "With a hip replacement, as a surgeon, if I do a good job (the results are usually positive)," Dr. Kristensen said. "But with a knee, if patients don't do what they're supposed to do, the outcome could be potentially worse."
On top of that, Christine wasn't facing just one knee replacement, but two.
"I usually try to talk the average patient out of doing both knees at the same time," Dr. Kristensen said. "It's a big hit. … Some patients just crumble, they can't handle it."
Crockett said Kristensen made a point of keeping the family's expectations realistic.
"He was very clear that he could not perform miracles," Crockett said. "He was just hopeful that the knee replacements might alleviate the pain some, and perhaps lead to some mobility."
Regardless, Crockett said his daughter was ready to put in the work needed after her surgery.
"(Dr. Kristensen) did the operations on July 6, and after that we went over to Elks Rehab for 28 days, four weeks," Crockett said. "They just treated us like family, every one of them. It was like they were treating their own daughter, their own child."
Crockett said he was hopeful that Christine would eventually be able to walk with a walker. Some told him his expectations might be too high.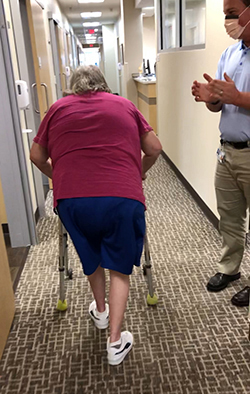 St. Luke's staff clapped for Christine after her last post-op visit.
Turns out, they might not have been high enough.
"After her last post-op visit … she walked down the hallway with her walker, which is decorated with streamers and bells and a horn. It's decked out," Dr. Lawler said. "We kind of lined up and down the hallway, and everybody clapped for her."
Said Crockett: "She was just zooming along. … That was an amazing, amazing thing."
Now Christine has set new goals. Perhaps a visit to Disneyland or Seattle to see relatives. Perhaps she'll compete in the Special Olympics again, and win more ribbons in the bowling and bocce competitions.
And Crockett couldn't be more thankful for the care his daughter received from all the St. Luke's staff members they encountered.
"We have 30 grandkids, and 20 of them were born downtown at St. Luke's," Crockett said. "We've always been pleased with St. Luke's. They've been kind, they've been thorough, they've been empathetic in everything they do."
Said Dr. Kristensen: "She had horrible knees and faced a horrible challenge, but she and her family got through it. It's really quite remarkable what they achieved. It's a tribute to the whole family."
Dr. Lawler, for one, said Christine's story reaffirms his commitment to his work.
"She's done her part, and I think she's only going to get stronger," he said. "One of the reasons we do this is to see that result.
"It's just one of those stories that makes you feel good."