St. Luke's partners with Meals on Wheels to bring food to Elmore County residents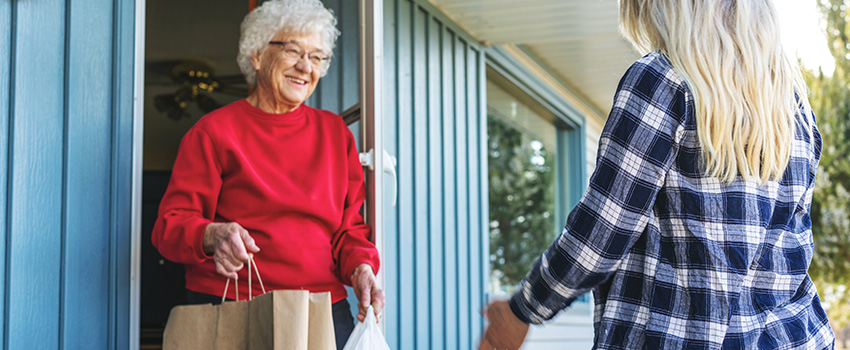 By Daniel Mediate, News and Community
Two years ago, before COVID-19 cases popped up in Idaho, Bill Heitman attended a luncheon at the Mountain Home Senior Center.
Heitman was relatively new to his role as the St. Luke's Elmore Foundation executive director and lead for community engagement. He heard about a need for volunteers to deliver food through the senior center's Meals on Wheels program.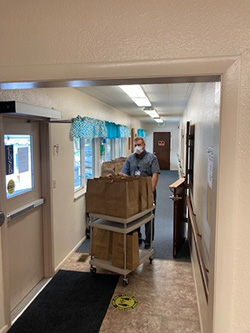 He remembered his aunt in his home state of Iowa ran a Meals on Wheels effort, and it was her passion. He jumped at the idea.
"I was going to do it no matter what," Heitman said. "I took the idea back to the senior leadership at St. Luke's Elmore and everybody loved the idea. It wasn't just me. It was our Chief Operating Officer/CNO Lisa Melchiorre, and three or four others."
Heitman, Melchiorre, St. Luke's HR Business Partner Charles Martin and a rotating crew of hospital staff members have ventured across Mountain Home twice a month for the past two years, delivering food to seniors and community members with limited mobility and resources.
Heitman and Martin tackle the program's "west route," typically visiting 10 to 14 homes on the first Monday of every month. Melchiorre and others — staff members take turns via a sign-up sheet — handle the third Monday.
"Since COVID hit, we've had a few more stops, adding two or three stops of people not wanting to get out," Heitman said.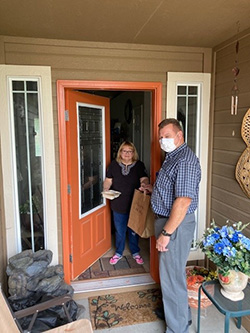 Heitman's accrued a plethora of stories from his time in the field, from eclectic residents to barking dogs — Martin usually carries treats to help them befriend skeptical canines. The best part, though, is ensuring people have access to healthy, nurturing food, Heitman said.
"There are so many parts of my job that I love because I get to do community engagement, but this has to be one of my favorite parts because the first couple times I did it was an eye-opener," Heitman said. "Just to see the living conditions and to see food as a basic need that people not only wanted but needed."
The Meals on Wheels program in Elmore County shifted to no-contact delivery since the start of the COVID-19 pandemic. The individually wrapped meals are prepared in the kitchen at the Mountain Home Senior Center.
St. Luke's has awarded Community Health Improvement Fund grants in recent years to the center, including $5,000 in 2020, to support the organization's programs, like Meals on Wheels.
"They are so appreciative of the support," Heitman said. "They are small. St. Luke's funding is really crucial, especially when they shut their doors during COVID. This last year, more than anything, they needed the funding just to keep the food going."