Valley County has been ranked the healthiest county in Idaho for the second year in a row in the Robert Wood Johnson Foundation's County Health Rankings & Roadmaps Report.
The remainder of the top five? Teton at second, Ada third, Latah fourth and Blaine County at fifth.
Rankings for other Idaho counties served by St. Luke's are as follows: Canyon, 19; Elmore, 21; Jerome, 23; and Twin Falls, 24. St. Luke's supports the health and well-being of residents across the organization's footprint through direct care, community partnerships and education, events and a variety of programs.
The rankings, a collaboration between the Robert Wood Johnson Foundation and the University of Wisconsin Population Health Institute, measure the health of more than 3,100 counties in the nation and rank them within each state. They consider quality of life, economic and social factors, personal health behaviors and environmental health, in all more than 30 factors that influence health, including high school graduation rates, access to healthy foods, clean air, rates of smoking and obesity.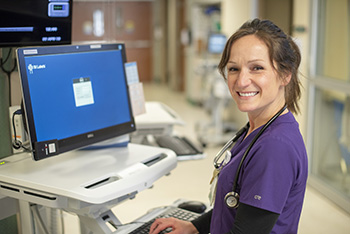 St. Luke's has long conducted assessments along these same lines, to ensure that programs are meeting the needs of communities. For example, every three years, St. Luke's undertakes community health needs assessments where the organization has medical centers. The Robert Wood Johnson reports provide gauges that factor into St. Luke's three-year implementation plans that come of those assessments.
The rankings reveal Ada, Valley and Blaine counties were in the top five when it comes to health outcomes such as premature death, overall physical and mental health. Ada and Blaine counties were in the top five for health factors such as uninsured rates, access to primary care physicians, mental health providers, preventable hospital stays, social and economic factors and physical environment, while Valley County was eighth.
Ada County ranked first overall in clinical care. Clinical care measures for those counties in which St. Luke's has a presence have trended in a positive direction over the past several years.
Valley County took the top spot for length of life and quality of life, while Blaine County ranked second in health behaviors, in the recently released report.
The Robert Wood Johnson Foundation encourages communities to use the rankings to help identify issues and opportunities for local health improvement and to garner support for initiatives among government agencies, healthcare providers, community organizations, business leaders, policy-makers and the public.
Funding from the foundation has supported multiple initiatives across the region, including The Idaho Resilience Project, a partnership of more than 80 organizations working together to create shared understanding about adverse childhood experiences and the impact of trauma on individuals, families and communities. St. Luke's employees have taken part in the foundation's health leadership program.
"While these rankings indicate we are doing well in a spectrum of health categories, there is room for improvement," said Lyle Nelson, former St. Luke's Health System community health administrator.
"St. Luke's, in collaboration with our schools, local government, and non-profit community partners, continues to build a culture of health."