St. Luke's FitOne virtual move allows runners to find their own course — even in Hawaii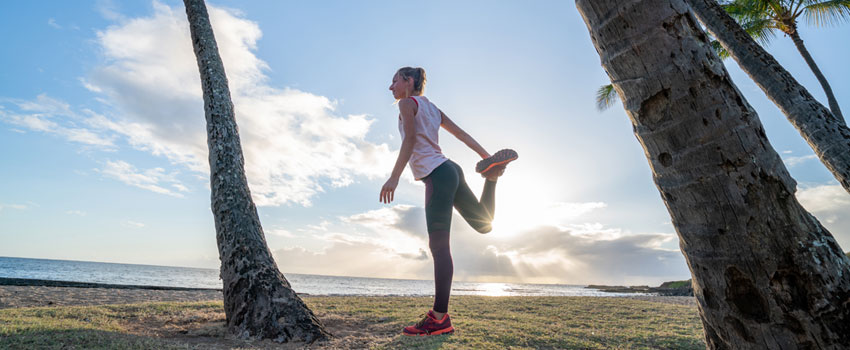 By Dave Southorn, News and Community
Katie Mower
Six months ago, Meridian native Katie Mower was looking forward to running a half marathon in the place she now calls home: Laie, Hawaii.
What made it even more motivating, was Mower's friend, Jessica Edwards, would join her. It was going to be Edwards' first half marathon. Mower had run four, including St. Luke's FitOne in Boise.
However, as with so many others, the pair had to put their planned Hawaiian race on hold thanks it being cancelled because of the COVID-19 pandemic.
"It was going to be fun, I was excited to have someone do it with me, then all of the sudden, it was like 'well, guess we won't be doing that,'" Mower said.
Nearly 3,000 miles away, FitOne Director Eric Stride had to similarly adjust. And what a major adjustment it had to be, shifting from an event that takes over downtown Boise and had 12,771 race signups in 2019.
"When you work in events, you have to think ahead to the second, third, fourth thing that can go wrong, so our group handled it really well … even though something like this definitely isn't in the handbook," Stride said.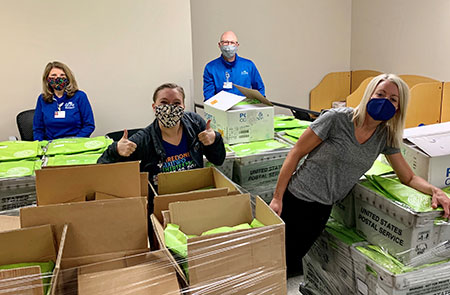 Lynn Neil, Sammy Fisher, Eric Stride, Alissa McKinley stand near hundreds of FitOne race packets set to be mailed out to participants of the Sept. 18-30 event.
On May 22, it was announced the race, which now isn't limited to one day (it can be run any time Sept. 18-30), would go virtual. Runners can choose to participate in a 5K, 10K or half-marathon. Pre-selected courses for all three races in Boise were posted to the FitOne website, as were 5K courses for Twin Falls, McCall, Wood River and Canyon County.
Teaming up with the RaceJoy app, runners also have been able to create their own courses, wherever they choose.
"That's been kind of a cool part of this, having people take part wherever they live, and it gives us a chance to have a little more engagement in those communities," Stride said.
Mower's mother, Issa, has participated in the FitOne half-marathon multiple times. After she signed up this year, she mentioned to Katie that the race could be done anywhere.
So, Mower asked Edwards if she still wanted to run the 13.1 miles, and she agreed. By then, they were able to recruit another friend, Danielle Knox, who also will be running her first half-marathon.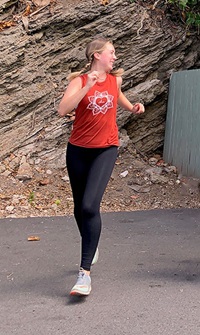 All three plan to run the 13.1 miles Sept. 26 along Oahu's north shore, the Pacific Ocean on one side, the island's verdant hills on the other. A former track and cross-country runner at Meridian's Rocky Mountain High who moved to attend BYU-Hawaii, Mower is more than happy to have two friends alongside her – and another pushing her from a few thousand miles away.
"I usually train by myself. To have them with me, doing it for the first time, that's pretty cool," Mower said.
"We'll get up pretty early to beat the heat, so I told my mom we'll be doing it at the same time, even though we're far apart."
More than 4,600 people have signed up to do the virtual FitOne race, Stride said. That number has exceeded his expectations.
Stride's FitOne team, along with a handful of volunteers from the Junior League and Downtown Boise Association, put together all the race packets in three days. While placing shipping labels for addresses across Idaho, and to other states, Stride was impressed: "I'm blown away by the (participation) out of state."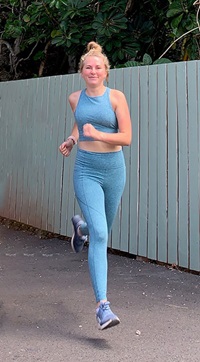 Danielle Knox
One upside for participants? Packets mailed right to their doorsteps – no lines, no worries about parking to pick them up.
"Our event is high-energy, so to duplicate that virtually has been one of the biggest challenges," Stride said.
"We tried to do that through what everyone gets in the mail – the copy, the design, the packaging – it arrives and it's a compelling moment, like 'I'm still taking part.' It creates a little togetherness."
The race will feel a little more real for participants like Mower, Edwards and Knox as the packets arrive, with a race shirt, finisher medal, race bib and a breakfast bag from Albertsons.
FitOne fans can count on one thing this very odd year, and that's the fall tradition they've come to look forward to – even if it's in an untraditional format.
"It's pretty awesome, still getting to do the race, even if it's virtually," Mower said. "I'm glad they still decided to do it however they could."