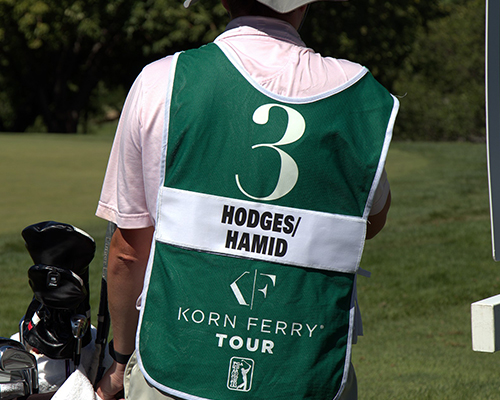 Lisa Bisterfeldt hasn't had much of a chance to catch her breath since the onset of the COVID-19 pandemic in March.
As emergency management specialist for St. Luke's Health System, Bisterfeldt plays a vital role in helping the health system navigate the pandemic, coordinating with state and local officials on disease mitigation strategies and responses.
Her hard work has not gone unnoticed. Bisterfeldt was one of 20 St. Luke's employees to have their last names featured on the caddie bibs during the recent Albertsons Boise Open golf tournament at Hillcrest Country Club.
The long-running professional tournament brings together elite golfers looking to make it to the PGA Tour. This year, as the world grapples with the novel coronavirus, the caddies for the field's 144 players sported the names of local 'frontline heroes,' in addition to their players' names.
Unbeknownst to them, the honorees were nominated by their peers and hospital leaders.
"It was such an honor to be recognized during this time when so many people have been working so hard," Bisterfeldt said. "It was humbling. I was taken aback when I found out."
Bisterfeldt, an expert in crisis management, said that for every person recognized, there are multiple others who deserve acknowledgement.
Other honorees included people from the Boise Fire Department, Saint Alphonsus Health System, the Idaho National Guard and more.
"Throughout the Covid-19 pandemic, frontline workers throughout the community from doctors, nurses and first responders, to food workers and others have remained dedicated to serving their neighbors," tournament officials wrote in a letter to volunteers.
"The top priority of the Albertsons Boise Open has always been to give back to the local community and we were proud to recognize some of the many heroes throughout the Boise community who are helping to keep us safe!"
Trenton Horrocks, who serves as the director of food and nutrition for St. Luke's, was also recognized. His responsibility includes meeting the dietary needs of hospital patients, visitors and staff. When Horrocks learned of his special recognition via email from a tournament official, he was stunned.
"I'm very humbled, proud and privileged to represent our organization," he said. "I'm truly at a loss for words."
Professional golfer Stephan Jaeger won the tournament. His caddie wore the name of Jason Merrill, St. Luke's senior director of supply chain management.
St. Luke's Health System employees honored during the Albertsons Boise Open:
Sky Blue, M.D.
Aimee Baerlocher
Adam Balinger, M.D.
Lisa Bisterfeldt
Jessi Bond
Amy Bradley
Meredith Fehringer
Sandee Gehrke
Nabila Hamid
Claire Hanson
Jackie Hone
Trenton Horrocks
Sara Loree
Jason Merrill
Kola Ogunrinola, PhD
Chelsie Shakespeare
Jessica Sloan
Jim Souza, M.D.
Adrian Wengert
Alicia Young
(Photos courtesy of the Albertsons Boise Open.)