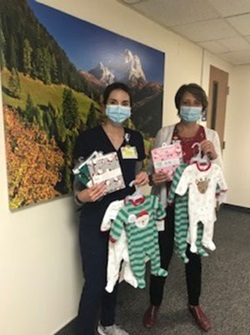 One of the previous drives employees held was this summer, gathering pajamas and pillows.
A lot of people are willing to help.
Sometimes, they just need someone to make it possible. That's where people like Mo McCue come in.
McCue is a motivator with a knack for organization. An anesthesia coordinator at St. Luke's Magic Valley, she has a soft spot for "the kiddos in our community."
For the past few years, she has helped put together drives to fulfill various needs for Court Appointed Special Advocates (CASA) in Twin Falls. CASA is a resource that supports children who have suffered abuse or neglect and are in the foster system, or who are transitioning back into their parents' care.
A summer effort provided new pajamas and pillows. Others have included school supply drives, comfort bags for kids new to foster care and Christmas gift packages designed for boys and girls by age group.
McCue's latest effort? A Halloween costume drive, which brought in about 75 new costumes for children who badly need a break and a bit of playfulness in their lives.
"People around here have big hearts," she said. "It sometimes takes someone to get it going – it's a great cause, and we like that there can be something fun that lets them have some normalcy."
McCue and other St. Luke's team members have supported CASA over the years, along with many other community organizations. Children's needs strike a special note, however.
"Foster care isn't anyone's wish, but we try really hard to make it as positive an experience as we can," said Denise Martin, an advocate coordinator at CASA.
"We couldn't do it without some of the things the people at St. Luke's have done."
McCue's got a partner in crime in Rose Smith, a certified surgical technician at St. Luke's Magic Valley and longtime CASA volunteer. Smith's involvement helped spur the desire to help out.
In September, McCue put together a flier and asked St. Luke's employees to contribute to the drive. It got some attention in local media, too. People dropped off costumes at the hospital's front desk; someone in the St. Luke's lab in Boise sent a box of them.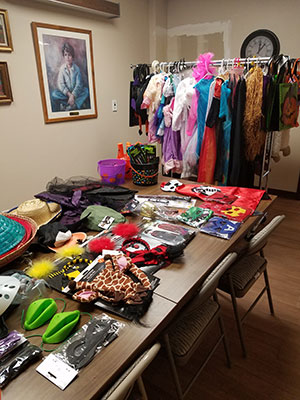 And it wasn't just costumes – treat buckets, accessories and candy were provided, too. When McCue and some of her co-workers brought racks of costumes to CASA, they also came bearing boxes of those other goodies.
"We had a really great response – some people just wanted to donate some money, so we used that to buy more costumes," McCue said.
That proved to be very helpful, when Martin realized there was a need for smaller-sized costumes, and that one boy in particular wanted to be a ninja. McCue found the coolest ninja costume she could find.
Last week, a single father of four came into CASA and picked up Halloween gear for his kids and items like shampoo and deodorant – all free of charge, and in part due to St. Luke's involvement.
"It's those little extra things that make a big difference for the kids, the foster and biological parents, that we are here to help and it's nice for the kids to see us all work well together," Martin said.
"If I bring a pillow to a kid, they'll remember me the next time I visit. When I speak to a judge, if the kids came in and got Halloween costumes and had a fun experience, I tell them about it."
Halloween this year is bound to be different, and even though trick-or-treating is not encouraged during the COVID-19 pandemic, dozens of kids involved with CASA will still be able to dress up at home – and have a little fun in trying times.